FMC Technologies (FTI) "Trading Transparency'
Hello Friends! Thanks so much for stopping by and visiting my blog, Stock Picks Bob's Advice! As always, please remember that I am an amateur investor, so please remember to consult with your professional investment advisers prior to making any investment decisions based on information on this website.

A few moments ago, I exercised my prerogative that I have established to 'break the rules' with one position in my portfolio. With that in mind, I noticed that an old favorite of mine, FMC Technologies (FTI) had made the list of top % gainers on news. I say 'old friend' because I have owned FTI in the past and first wrote it up on Stock Picks Bob's Advice back on January 30, 2006, almost two years ago! With that in mind, and sensing that the market was going to turn positive, I purchased 400 shares of FMC Technologies (FTI) at $63.52 earlier this morning.
FMC TECHNOLOGIES (FTI) IS RATED A BUY
Let me briefly review the usual factors that went into my decision.
This morning, FMC announced that it had been awarded a $980 million contract to "supply deepwater processing and production systems to Total Exploration & Production Angola."
Probably in light of this contract, Wachovia upgraded the stock from "underperform" to "market perform".
Regarding the latest quarter, FMC reported 3rd quarter 2007 results on October 29, 2007. Revenue came in at $1.1 billion, up 22% over 3rd quarter 2006. Diluted earnings per share came in at $.60/share up 46% from $.41/share the same quarter last year.In the same report, the company raised guidance for full year 2007 to $2.16 to $2.21.
With this report, the company beat expectations of $.55/share and met expectations of revenue of 1.14 billion.
Longer-term, the Morningstar.com "5-Yr Restated" financials page is solid with strong revenue growth, a resumption of earnings growth (after a slight dip from $.84/share to $.75/share between 2004 and 2005, then $1.97/share in 2006 and $2.32/share in the TTM), and stable outstanding shares. Free cash flow has improved from $16 million in 2006 to $174 million in the trailing twelve months (TTM). The balance sheet appears reasonably solid.
Finally, the chart looks strong. Checking the StockCharts.com "point & figure" chart on FTI: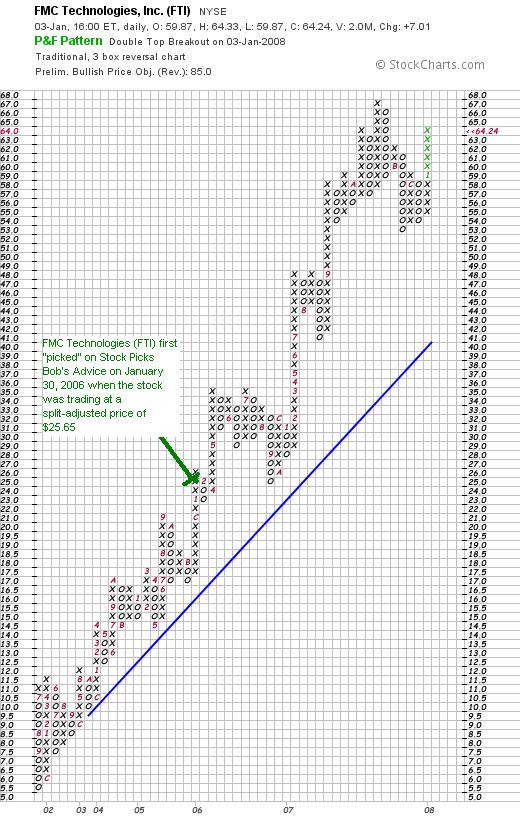 Anyway, I am 'back in the game!' I don't think I should be 'day-trading' a quality stock like this for a point or two. I don't know if that's a mistake or not. I shall stick with my disciplined portfolio management for my other holdings, but this holding shall continue to be an ongoing experiment for me as I try to think 'out of the box' and purchase and sell stocks in a more unrestrained fashion. Wish me luck!
Thanks again for visiting. If you have any comments or questions, please feel free to leave them on the blog or email me at bobsadviceforstocks@lycos.com. If you get a chance, drop by and visit my Covestor Page where my Trading Portfolio is analyzed and compared to the indices and other investors, my SocialPicks page where my stock picks are reviewed since the first of last year, and my Podcast Page where you can listen to me discuss a few of the many stocks I have reviewed here on the blog.
Have a great 2008!
Bob