"Uffdah"
In this section of the United States, there is no better word to explain my feelings towards the stock market today and the last several weeks.
As this 'Minnesotan' blog explains
"UFFDAH!: @($#@#!&!!

It's the PG-rated version of what you'd really like to say but can't in front of the kids or whomever. Example: You go out to your car and see a tire is flat and you exclaim, "Uffdah!""
This Norwegian expression says it all.
I am long this market. That is, I remain an optimist while my stocks mostly decline and head in the opposite direction than my preferred outcome.
How do I deal with these declines?
As I have written many times over, I have not built a portfolio management system that is designed just for good times. Anyone can do that. My portfolio strategy is to respond to market activity instead of anticipating the future direction. Frankly, I don't know how stocks are going to move tomorrow, next week, next month or next year. However, if my stocks decline to sale points, they shall be sold. If I sell positions, I shall be 'sitting on my hands' with the proceeds, continuing to 'pull in my horns' so to speak, or pull in my head and legs like a turtle.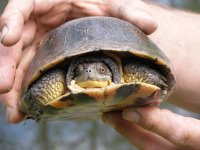 My own portfolio can drift between 5 and 20 positions. This 'posture' of my own investments is in response to these sales on bad new or sales on good news. They give me the permission slip to add postions or direct me to stay away from the market. I don't know if this is the best process, or even if this strategy will work! But I shall be sticking with it and reporting back to you.
Currently I am at 11 positions--having recently added Graham (GHM) on a signalled purchase by my partial sale of Meridian (VIVO) at a targeted gain. I like all the stocks I own. I like lots of other stocks as well. But more than owning stocks of great companies, I have a strategy of when to be 'holding' and when to be 'folding'. This, I hope, will give me an edge.
Wishing you all a better trading day tomorrow.
Meanwhile,
"uffdah" is the best way to put my own reaction to the day's trading.
Bob