Dover Corporation (DOV) "Trading Transparency"
Hello Friends! Thanks so much for stopping by and visiting my blog, Stock Picks Bob's Advice! As always, please remember that I am an amateur investor, so please remember to consult with your professional investment advisers prior to making any investment decisions based on information on this website.
I think that interview with the Associated Press went right to my head.
Or perhaps it is just very dangerous to trade in these volatile waters. Bullish advances turn on the dime like they did today and turn a profit into a loss in minutes. I should have known better but after this "trade" turned south, I pulled the plug and took a loss. Even though I like this stock.
In a nutshell, I purchased 800 shares of Dover (DOV) at $42.184. With the market heading south and Dover pulling back from its large move to the upside, I started unloading my shares--selling 100 at $41, 100 at $41.01, 200 at $41.07, and 400 at $41.18. That was a loss of a little over $1.00/share, or somewhere north of (2)% on these shares in a matter of minutes.
Yikes.
Let me explain briefly about why I liked Dover, and why I still feel
DOVER (DOV) IS RATED A BUY
even though I personally just lost a handful of change on this stock and I do not currently own any shares.
It still deserves a spot in my blog.
Dover made the list of top % gainers on the NYSE today, closing at $41.04, up $2.66 or 6.93% on the day.
According to the Yahoo "Profile" on Dover, the company
"...together with its subsidiaries, manufactures industrial products and components, and manufacturing equipment in the United States and internationally. It operates in four segments: Electronic Technologies, Engineered Systems, Industrial Products, and Fluid Management."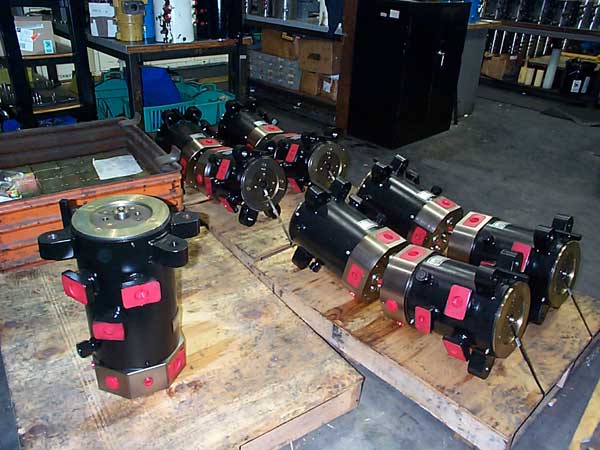 What drove the stock higher today was an outstanding fourth quarter earnings report. Sales climbed 11% to $1.86 billion, exceeding forecasts of $1.8 billion. Net earnings jumped 56% to $185.4 million or $.94/share ahead of the $118.5 million or $.58/share a year earlier. Earnings from continuing operations came in at $.86/share 4 cents ahead of expectations.
Longe-term, the Morningstar.com "5-Yr Restated" financials look outstanding with steady revenue growth, steady earnings growth, steady dividend growth (!), and a steady number of outstanding shares. Free cash is solid and has grown in the past few years and the balance sheet appears solid.
Valuation-wise, checking the Yahoo "Key Statistics" on DOV, we can see that this is a large cap company with a market cap of $8.16 billion. The trailing p/e is cheap at 14.18 and the PEG works out to an estimated 0.79. Even so, there are 6.26 million shares out short as of 12/26/07, representing 6.8 trading days of volume. The company pays a dividend of $.80/share yielding 2.1%. The last stock split reported on yahoo was a 2:1 split way back in December, 1997.
Probably the weakest part of this analysis is the chart. Looking at the 'point & figure' chart on DOV from StockCharts.com, we can see a very nice move higher from $22.00 in March, 2003 to a hnigh of $54 in july, 2007. The stock broke down in October, 2007, and is now struggling to resume its upward momentum.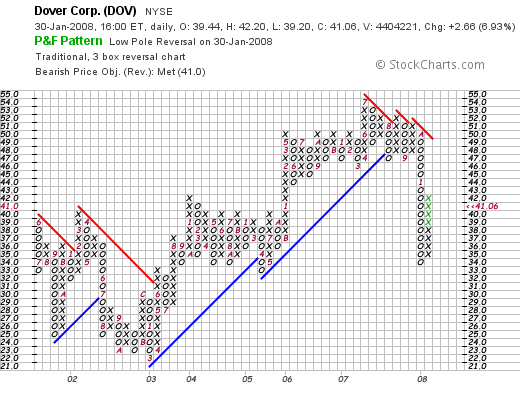 In any case, I got 'whipsawed' and got caught in the violent volatility of this stock market that moved sharply higher on the Fed rate cut and then turned on a dime and dropped lower. Yikes.
Thanks again for visiting! If you have any comments or questions, please feel free to leave them on the blog or email me at bobsadviceforstocks@lycos.com.
Bob