Buckle (BKE) "Revisiting a Stock Pick"
Hello Friends! Thanks so much for stopping by and visiting my blog, Stock Picks Bob's Advice! As always, please remember that I am an amateur investor, so please remember to consult with your professional investment advisers prior to making any investment decision based on information on this website.

Scanning through the list of top % gainers on the NYSE from earlier today, I was pleased to see an 'old favorite' of mine, Buckle (BKE) on the list, closing at $46.99, up $4.57 or 10.77% on the day. I say 'old favorite' even though I do not own any shares or options on this stock, because I have written this one up previously. Almost three years ago, on April 8, 2005, I wrote up the Buckle (BKE) when it was trading at $35.60/share. Buckle split 3:2 on January 16, 2007, making that price effectively $35.60 x 2/3 = $23.73. Thus with today's close at $46.99, this represents a gain of $23.26 or 98% since that post!
I next wrote up Buckle (BKE) on December 23, 2006, when the stock was trading at $50.90. Again, adjusted for the 3:2 split the following month, this works out to a price of $50.90 x 2/3 = $33.93. Again, with today's close at $46.99, this represents a gain of $13.06 or 38.5% since that post!
Since we are talking about prior stock prices and picks and the current price, let's take a look at a 'point & figure' chart on BKE from StockCharts.com which can give us some perspective. Certainly we can see the extremely strong price performance of this stock which broke through resistance last in June, 2003 at the $11.50 level and hasn't broken down this uptrend since then!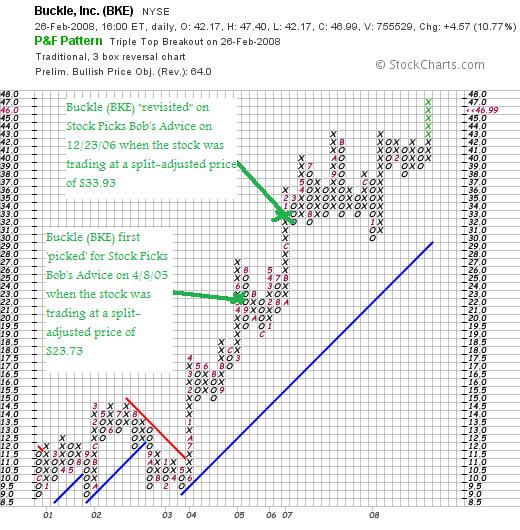 We can see how strong the chart on Buckle (BKE) is. Let's take a closer look at this stock and I will explain why
BUCKLE (BKE) IS RATED A BUY
Before I go over some of the figures for this company, let me refresh your memory, if you are not familiar with this company. According to the Yahoo "Profile" on Buckle (BKE), the company
"...operates retail stores that offer casual apparel, footwear, and accessories for young men and women in the United States. It markets casual apparel, including denims, bottoms, tops, sportswear, outerwear, accessories, and footwear under the Buckle and The Buckle brand names. As of April 1, 2007, The Buckle operated 351 stores in 38 states in 4 downtown locations, 9 strip centers, 20 lifestyle centers, and 318 shopping malls."
While the economy may well be struggling with a possible recession, retail sales actually climbed in January, 2008. Lowes is seeing reduced same store sales, Macy's is experiencing declining same-store sales, Nordstrom is also experiencing declining same-store sales.
I am a very big fan of 'same-store sales' results As Wikipedia explains:
"Same-store sales are widely reported by publicly-owned retail chains as a key element of their operational results. For chains that are growing quickly by opening new outlets, same store sales figures allow analysts to differentiate between revenue growth that comes from new stores, and growth from improved operations at existing outlets."
So I was extremely impressed when I read this story from February 7, 2008, in which Buckle (BKE) reported same-store sales increase of 19.1% in January. And this growth was not a fluke; same store sales increased 18.7% in the fiscal fourth quarter which ended February 2, 2008.
What about the latest quarter?
On November 21, 2007, Buckle (BKE) reported 3rd quarter results. Net sales for the quarter increased 17.1% to $167.6 million from $143.1 million the prior year. For the quarter, comparable store sales increased 14.3% over the prior year. (This sales growth actually accelerated in the 4th quarter as the above paragraph noted to 18.7%). Net income for the 3rd quarter of fiscal 2007 was $22.2 million or $.72/diluted share up from $.59/diluted share for the third quarter of fiscal 2006.
What about longer-term results?
Reviewing the 5-Yr Restated financials from Morningstar.com on BKE, we can see that the revenue growth from 2003 has been uninterrupted from $401 million in 2003 to $530 million in 2007. Earnings have also been uninterrupted in growth from $.98/share in 2003 to $1.86/share in 2007. The company started paying dividends in 2004 (as reported on Morningstar), at $.13/share and has increased it to $.41/share in 2006. (Buckle even paid a special dividend of $2.00/share in 2007 which was a one-time event.)

Outstanding shares have actually decreased from 32 million in 2003 to 30 million in the TTM.

Free cash flow has stayed positive at $56 million in 2005 and $59 million in 2007.

The balance sheet is solid with $151.5 million in cash. The cash alone is enough to pay off the $49.2 million in current liabilities more than 3x over, as well as paying off the combined current and long-term liabilities of $81.6 million almost two times over. And that is without even taking into consideration the additional $86.8 million in other current assets.

The Morningstar.com report is really quite impressive!
What about some valuation numbers?
Reviewing Yahoo "Key Statistics" on Buckle (BKE) we can see that this is a mid-cap stock with a market capitalization of only $1.41 billion. The trailing p/e is a moderate 21.13, with a forward p/e (fye 03-Feb-09) estimated at 19.26. The PEG is a very reasonable 1.19.

Using the Fidelity.com eresearch website, we find that the Price/Sales ratio is a bit rich relative to its peers at 2.16 compared to the industry average of 0.86. The return on equity (TTM) is comparable to its peers with a figure of 22.05% compared to the industry average of 23.51% according to Fidelity.

Finishing up with Yahoo, we can see that there are 30.05 million shares outstanding with 14.17 million that float. Currently, there are 1.97 million shares out short (as of January 10, 2008) resulting in a short ratio of 5.1. I use 3 days as my cut off so this is modestly significant.

The company does pay a dividend of $1.00 going forward yielding 2.4% which isn't insignificant. The last stock split, as I noted was a 3:2 split on January 16, 2007.
Summary: What do I think?
Needless to say I like this stock. I mean I really like this stock! I have 'picked' this stock twice before for this blog and it has climbed in price each time. Of course, THAT is no guarantee that it will climb once more!

But seriously, the company has been reporting solid same-store sales growth in an otherwise weak retail environment. They actually have accelerated in this growth in the fourth quarter from the prior quarter. And longer-term they have shown consistent growth in revenue, earnings, dividends, while slightly decreasing their outstanding shares.

Free cash flow is solid and the balance sheet is gorgeous. And finally, the chart is awesome while valuation figures, while not overtly cheap are reasonable imho with a p/e just over 20 and a PEG just over 1.0. The Price/sales and the ROE figures are a bit unimpressive relative to their peers, but this is not a compelling valuation but rather a reasonable valuation picture with superb growth!

O.K. I am in love :).

But I still don't have permission to buy any shares :(.
Thanks again for visiting my blog! If you have any comments or questions, please feel free to leave them on the blog or email me at bobsadviceforstocks@lycos.com. If you get a chance, check out my Covestor Page where my Trading Account is reviewed, my SocialPicks page where my past stock picks are analyzed and reviewed, and my Podcast Page where I have discussed some of the many stocks I write about here on the blog.
Wishing you all a wonderful end to the week!
Yours in investing,
Bob
Posted by bobsadviceforstocks at 8:07 PM CST |
Post Comment
|
Permalink
Updated: Tuesday, 26 February 2008 9:52 PM CST