Playing the 'Stock Market Game' on Marketocracy!
Hello Friends! Thanks so much for stopping by and visiting my blog, Stock Picks Bob's Advice! As always, please remember that I am an amateur investor, so please remember to consult with your professional investment advisers prior to making any investment decisions based on information on this website.

Instead of talking about any particular stock this afternoon, I wanted to share with you my own experience with a great website Marketocracy where you can play what I would call the 'Stock Market Game' that is similar to the simulations that so many of us have played in high school, or have been asked by our kids to advise them as they were introduced to the Market in their own classes.
I would absolutely encourage you all to sign up and get a free account with the $1 million in 'play money' to simulate a portfolio of stocks. (Unlike my Prosper.com account where I stand to get $25 and you the new lender also get $25 if you sign-up through my link, I do NOT receive anything in any way, shape, or fashion if you participate or not in Marketocracy.)
My own performance on Marketocracy dates back to March 7, 2004, when I first signed up and started the 'game'. In a word, my fund which I calll the RMF fund, while at times outperforming the market, has performed only in what I would have to call a very uninspired, almost mediocre fashion.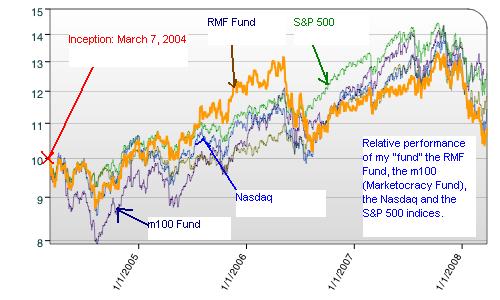 I wanted to share with you some of my latest 'strategy' in dealing with a large portfolio like this and see whether any of you might wish to comment on this portfolio management strategy which is quite different from my own idiosyncratic portfolio strategy that I employ in actuality and on the blog.
Currently my 'portfolio' has 53 positions (!). (Please remember that this Marketocracy fund is a simulated account which was strarted back in 2004 with $1,000,000 in value.) The current value, as of the close yesterday, is $1,073,526.93. Cash is at $5,765.21, with a stock value of $1,067,761.72. The current NAV (net asset value) is $10.74.
Ranking compared to all of the other portfolios on Marketocracy, as of December 31, 2007, the RMF Fund was at a 52.4% percentile for one month, 70.9% ranking for 3 months, 81.5% for 6 months, 72.2% for 1 year, 31.2% for 2 years and 55.7% at 3 years. A satisfactory performance, but nothing really to 'write home' about.
Marketocracy updates the portfolio frequently during the day, and you are able to make simulated trades based on recent trading prices for the equities involved. They keep track of your performance and monitor you for 'compliance' with some of their own Marketocracy rules. My fund has remained 'compliant' throughout the four year period I have been involved with this website.
My goal with the Marketocracy Account has been to make trading more or less automatic, with the emphasis on concentrating on the better-performing holdings, limiting my losses on the less-successful stocks, and developing a system to do this as automatically as possible.
Still trusting in the price momentum to identify possible purchase candidates, I check the list of top % gainers several times/week and consider buying stocks from these lists if they are over $10 and otherwise meet some of my criteria. (I am not quite as rigid as I am with my own actual trading account, and will often purchase small positions of stocks solely on the fact that they are on the top % gainers list).
Instead of purchasing a full position--which for me on this account would be at 4% of the portfolio--I have recently chosen to just purchase 100 shares of the stock, and let the price action either dictate me to be adding to that position or determining instead that it is time to sell.
In addition to these 100 share initial purchases, given that there are funds available, I try about once/day to go through the list of stocks and add 100 shares to any of the stocks that are in the top 1/3rd of performing stocks in my portfolio (Marketocracy breaks down the holdings into the top third, middle third, and bottom third of holdings), as long as I am under 4% in position size and the stock is moving higher in price. (If the stock is moving higher, even if it is a small position, I do not add to the position if it is in the middle third or lower third of holdings.)
If a stock is doing so well that it has now exceeded 5% of the holding, then I sell 100 shares of that holding. In addition, I sell 100 shares of a holding if it is in the lower third of the portfolio, is above 100 shares in size, and the stock price is declining. I only get down to a 100 share position, which finally is sold if the stock drops to an 8% loss or greater. If I have a large position, the stock is in the lower third of my portfolio, and the stock is declining, I still only sell 100 shares each day of that position. If the stock is actually rising, I don't sell any shares at all.
I don't do anything with stocks in the middle third of my portfolio. These stocks are more or less in 'no man's land' and are left alone whether they be rising or falling, whether they are at 4% or 1%. it just doesn't matter to me.
Anyhow, I wanted to write up a little something about my Marketocracy experience. I shall try to update it again in the future. I am still learning and developing 'systems' to manage the holdings in this account. I hope that if I am successful, then I shall have added to the understanding on managing stock holdings in larger accounts.
In the meantime, come and visit Marketocracy, set up an account, and start playing! As in that famous Alka-Seltzer commercial, let me just suggest,
"Try it, you'll like it!"
Bob
Posted by bobsadviceforstocks at 3:49 PM CDT |
Post Comment
|
Permalink
Updated: Wednesday, 26 March 2008 3:55 PM CDT