Meridian Bioscience (VIVO) "Weekend Trading Portfolio Analysis"

Hello Friends! Thanks so much for stopping by and visiting my blog, Stock Picks Bob's Advice! As always, please remember that I am an amateur investor, so please remember to consult with your professional investment advisers prior to making any investment decisions based on information on this website.
It is a pleasure to be blogging about this stock this evening. Meridian Bioscience (VIVO) has been probably my best investment in my portfolio for some time.
As part of my blogging activity on this website, I have been trying to accomplish several things simultaneously. I hope that you all have been able to follow along with me as I address these issues. First of all, I have been discussing methods of selecting stocks and then writing up examples of these issues. Next I have been discussing portfolio management and exploring ways to deal with all kinds of market environment. Finally, I have been sharing with all of my readers my actual trading portfolio and letting you know when I trade---including my mistakes and impulse trades that I am trying to avoid--and updating you on the status of my holdings.
This has been made easier by Covestor and you can visit my Covestor Page if you would like to review my holdings and their performance at least as of the date I joined Covestor on June 12, 2007. Even before I joined Covestor, I have been trying to review my holdings on a regular basis and determine their current suitability for me.
When I had 20 positions and the market was acting better, I tried to review my holdings about every two weeks. Now that I am down to just 6 positions (on April 6, 2008, I reviewed my current trading portfolio), I am trying to spread out these reviews so they don't become redundant.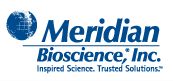 On March 1, 2008, I reviewed ResMed (RMD), one of my current holdings in my portfolio. Going alphabetically through my portfolio (by stock symbol), I am now up to Meridian Bioscience (VIVO).
I currently own 171 shares of Meridian (VIVO) which closed at $34.03 on April 11, 2008. These shares were acquired April 21, 2005, at a cost basis per share of $7.42. Thus, I have a gain of $26.61/share or 358.6% since purchase.
As is my practice, I have been selling portions of my position as the stock has appreciated. In fact I have sold portions of Meridian 8 times since that purchase in 2005, at 30, 60, 90, 120, 180, 240, 300, and 360% appreciation levels. Initially, I had been selling 1/4 of remaining positions, reduced it to 1/6th sales, and lately have been selling 1/7th of my holdings as they hit appreciation targets. I have discussed this in the blog elsewhere but basically my initial selling was too aggressive and resulted in an ever-diminishing size of my remaining positions.
When would I sell shares next?
Except for arbitrary sales on the basis of some event or news that is fundamentally 'bad', I have been selling at targeted levels both on the upside and the downside. In Meridian's case, with my last sale at a 360% appreciation level (!), my next sale is at the 450% appreciation level which would work out to $7.42 x 5.50 = $40.81. At that point, I would plan on selling 1/7 x 171 shares = 24 shares.

On the downside, if a stock declines to 50% of the highest appreciation level, I sell my entire position (after multiple partial sales). In this case, if the stock should decline to a 180% appreciation level or $7.42 x 2.80 = $20.78, then I would plan on selling the entire position.
What exactly does this company do?
According to the Yahoo "Profile" on VIVO, the company
"...a life science company, engages in the development, manufacture, sale, and distribution of diagnostic test kits primarily for respiratory, gastrointestinal, viral, and parasitic infectious diseases. The immunodiagnostic technologies used in its diagnostic test kits include enzyme immunoassay, immunofluorescence, particle agglutination/aggregation, immunodiffusion, complement fixation, and chemical stains used by reference laboratories, hospitals, and physicians' offices. The company also manufactures and distributes bulk antigens, antibodies, and reagents used by researchers and other diagnostic manufacturers."
How did they do in the latest quarter?
On January 22, 2008, Meridian (VIVO) reported 1st quarter 2008 results. For the quarter ended December 31, 2007, sales increased 18% to $33.8 million from $28.7 million the prior year. Net earnings increased 34% to $7.5 million from $5.6 million the prior year, representing a 29% increase on a per share basis of $.18/share in 2008 vs. $.14/share in the prior year same period.
How about longer-term results?
Reviewing the Morningstar.com "5-Yr Restated" financials on Meridian, we can see the beautiful picture of steady revenue growth from $65.9 million in 2003 to $123 million in 2007 and $128.1 million in the trailing twelve months (TTM).

Earnings during this period have also steadily improved from $.21/share in 2003 to $.66/share in 2007 and $.70/share in the TTM.

The company also pays a dividend (!) and has been steadily increasing that payment from $.15/share in 2003 to $.40/share in 2007 and $.43/share in the TTM.

Outstanding shares have increased under 25% from 34 million in 2003 to 41 million in the TTM. During this time, revenue has grown almost 100%, and earnings are up more than 200%. This is an exceptable dilution in light of these fabulous results.

Free cash flow is positive and growing from $16 million in 205 to $23 million in 2007 and $27 million in the TTM.

The balance sheet is gorgeous with $49.0 million in cash, which by itself could pay off both the $15.6 million in current liabilities and the $2.6 million in long-term liabilities combined, more than 2x over! Calculating the current ratio, we find that Meridian has a total of $97 million in current assets, which compared to the $15.6 million in current liabilities yields a current ratio of 6.22.
How about some valuation numbers?
Checking the Yahoo "Key Statistics" on Meridian, we find that the current market cap of $1.36 billion still gives VIVO the small cap label. The trailing p/e is a bit rich at 48.68, with a forward p/e a bit better (but still rich) at 38.24 (fye 30-Sep-09). The PEG also is a bit rich at 1.70 (I like to see PEG's between 1.0 and 1.5 imho).

Using the Fidelity.com eresearch website, we see that by the Price/Sales (TTM) measure, VIVO is richly priced at 10.58, compared to the industry average of 4.90. Even at this price, the Return on Equity (TTM) is ahead of the pack with a 25.91% value compared to the industry average of 20.72% according to Fidelity.

Returning to Yahoo, there are 40.08 million shares outstanding with 38.37 million that float. As of 3/11/08, there were 3.06 million shares out short representing a short ratio of 6.9 trading days (a bit ahead of my own 3 day rule for significance). This is 7.9% of the float.

The company, as noted, does pay a dividend and has a yield of 1.6%. The company is paying 62% of its earnings in dividend (the payout ratio). The last stock split was a 3:2 split back on May 14, 2007.
What does the chart look like?
Reviewing the 'point and figure' chart on Meridian from StockCharts.com, we find one of the remaining 'beautiful charts'. The company has increased its stock price from $2.50 back in January, 2003, to a recent high of $37 recorded this month in April, 2008. This stock chart hasn't really 'heard the news' of the dismal stock market!
Summary: What do I think?
Except for the relatively rich valuation (this stock is NOT undiscovered), the overall picture of Meridian (VIVO) is terrific! Thus,
MERIDIAN BIOSCIENCE (VIVO) IS RATED A BUY
The stock is quite small and is priced to near-perfection and I suppose for that reason could be vulnerable to a correction to more 'reasonable' values should the company fail to meet expectations. However, the latest quarter was strong, the Morningstar report is fabulous with the company even paying a dividend which it has been increasing every year!

Valuation as noted is a bit rich but even with that, the profitability as measured by 'return on equity' is ahead of its peers.

Finally the chart is gorgeous without much evidence of any weakness.

I know I own the shares, so please take that into consideration, but even so, isn't this a beautiful stock?
Thanks again for visiting! If you have any comments or questions, please feel free to leave them on the blog or email me at bobsadviceforstocks@lycos.com. If you get a chance, be sure and visit my Covestor Page where you can examine all of my holdings in my Trading Account, my SocialPicks page where you can check out my stock picks from the last year or so, and my Podcast Page where you can download an mp3 or two of me discussing some of the many stocks mentioned on the blog!
Have a great Sunday everyone!
Yours in investing,
Bob