Meridian Bioscience (VIVO) 'Taken Down a Notch!'
Hello Friends! Thanks so much for stopping by and visiting my blog, Stock Picks Bob's Advice! Please remember that I am an amateur investor, so please remember to consult with your professional investment advisers prior to making any investment decisions based on information on this website.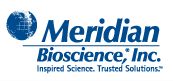 I would somehow be remiss if I didn't at least comment on the AWFUL trading activity in Meridian (VIVO) today. It was made doubly worse after just writing about this stock a few days ago (on April 12, 2008), and now seeing the price take a big hit on what was an earnings disappointment. VIVO closed today at $27.19, down $(6.54) or (19.39)% on the day. With this as one of my remaining six issues, my trading account really took a hit on what worked out to be a relatively stable market.
This morning before the open, the company announced 2nd quarter 2008 results. Net sales came in at $36.2 million, up 13% from the prior year. Net earnings were $7.3 million, up 24% over the same period last year. Diluted earnings per share were $.18, up 20% year-over-year. They even announced a dividend of $.14/share for the quarter with an indicated rate of $.56/share, up 27% over the prior fiscal year. However, this wasn't enough for the street!
The company missed expectations on both earnings and revenue. Earnings were supposed to come in (according to analysts polled by Thomson Financial) at $.19/share (they came in at $.18). And revenue was supposed to come in at $37 million, and the company only came in at $36.2 million.
As was reported:
"The life science unit was hurt by lower demand from a major viral protein customer and a delay in shipment to a biopharma partner, CEO John Kraeutler said in a statement.

Weak life science sales, coupled with a product mix that included low-margin products, reduced gross margins for the period, Kraeutler added."
Even with the decline, the stock is above my sale point for a decline.
As I wrote in my recent review of VIVO,
"On the downside, if a stock declines to 50% of the highest appreciation level, I sell my entire position (after multiple partial sales). In this case, if the stock should decline to a 180% appreciation level or $7.42 x 2.80 = $20.78, then I would plan on selling the entire position."
So I am still well above my sale point, and the stock is trading higher in after-hours trading suggesting the sell-off was way over-done.
But didn't I know the stock was vulnerable to a sell-off like this, especially with its rich valuation? Let me quote also from my write up a few days ago:
"The stock is quite small and is priced to near-perfection and I suppose for that reason could be vulnerable to a correction to more 'reasonable' values should the company fail to meet expectations. However, the latest quarter was strong, the Morningstar report is fabulous with the company even paying a dividend which it has been increasing every year!"
So I kinda thought it might be a bit risky. (emphasis added in quote)
Anyhow, I still own shares and didn't see anything significant enough to shake me out of my positions while I am well above any sale point on the doswnside! Besides, the company repeated guidance and didn't really report any 'bad' results today.
But with the recent earnings disappointment,
MERIDIAN BIOSCIENCE (VIVO) IS RATED A HOLD
Thanks again for visiting! If you have any comments or questions, please feel free to leave them on the blog or email me at bobsadviceforstocks@lycos.com.
Yours in investing,
Bob