A Reader Writes "...what is the significance of the 'short interest'?"
Hello Friends! Thanks so much for stopping by and visiting my blog, Stock Picks Bob's Advice! As always, please remember that I am an amateur investor, so please remember to consult with your professional investment advisers prior to making any investment decisions based on information on this website.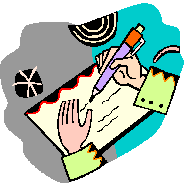 One of my favorite activities as author of this blog is to receive, read, and respond to email and comments regarding investing. I hope through these discussions that I have helped others understand investing concepts as much as I learn from these questions as well.
Earlier today I received a nice letter from Randy S. who commented:
"hi,
what a great blog. I just found it last week. I'm trying to learning more about stock analysis and had a question about BLUD

"Going back to Yahoo for a few more numbers on this stock, we can see that there are 44.43 million shares outstanding with 43.88 million of them that float. Currently there are 1.72 million shares out short representing 5.7 trading days of volume. Using my own "3 day rule" on short interest, this looks significant and may well be adding to the buying pressure driving this stock higher. It does look like the short-sellers may be throwing in the towel on this company, for the prior month, the short interest was at 1.93 million shares."


I know I'm looking at today's yahoo statistics which have changed since your article but can you tell me where on the Stats page you found these numbers (44.43, 43.88, 1.72, 1.93), and how did you calc the 5.7 trading days volume?

And what is the signifance of the "short interest"?
i understand shorting but didn't understand the significance of the 5.7 days and how it effects buying pressure.

thanks very much!
randy"
First of all, I am glad that you 'found' my blog, found an entry that you found useful, and ended up asking some very good questions about what I wrote.
Let me try to go through to give you some answers in a bit more detail regarding your inquiry. First of all, you commented on my entry on Immucor (BLUD) dated April 6, 2006. On April 2, 2008, I 'revisited Immucor (BLUD) on this blog and updated some of the 'facts' behind my interest in this company. I do not own any shares nor do I have any options on this stock.
You asked about where I got the numbers on Immucor regarding outstanding shares, number that float, number of shares out short, and the number of shares out short the prior month. Let me try to direct you directly to the source of that information.
I am not sure whether or not you are familiar with Yahoo "Finance" or not. (I am assuming that you understand the use of hyperlinks. These are the 'links' on my blog and other websites that are often in another color--I use red--other links are in blue--and are underlined to indicate their status. When you take your mouse and 'click' on these words, you will be directed to another website with the information I am choosing to present. To get back to the original website, you just needed to click on the 'back' button or left-pointing arrow on the top of your browser.)
If we enter "BLUD" into the "GET QUOTES" box on Yahoo "Finance" we will arrive to this page. This is the "Summary" page for BLUD, which we can see closed today (5/22/08) at $25.70, up $.32 or 1.26% on the day.
For the numbers I refer to we need to examine the "Key Statistics" page which is found under the sub-section entitled "Company", just under the "Profile" for BLUD.
This page gives us two columns of data on BLUD. Under the "Share Statistics" section in the right hand column, you will see both the "Shares Outstanding" which currently is listed as 70.04 million shares and the "Float" which is currently at 68.97 million shares.
Shares outstanding is defined as
"The shares of a corporation's stock that have been issued and are in the hands of the public. also called outstanding stock."
There is a difference in the outstanding shares and the "float" because sometimes some shares are not available to the public. These may be shares that are 'closely held' and not traded by the original owners of the company.
As the definition of "float" explains:
"The number of shares of a security available for trading by the public. A company can have 20 million shares outstanding and only 7 million float. A stock with low-float means there is a limited supply of shares, which can often make a stock more volatile."
You also asked about the "Shares Short" which is also found under the right column on "Key Statistics" under the "Share Statistics" heading. Today, BLUD has 6.02 million shares out short. In the same section, there is a note that the "Shares Short (prior month)" amounted to 6.63 million shares out short. Thus, we can deduce that some of the short-sellers (about 600,000 shares worth) have "covered" their shorts by buying the shares.
Let's take a look at the definition of "short covering":
"The purchase of securities to close out a short stock position. To close a position, an option investor purchases the same number of shares that were sold short. If the price of the shares being purchased is below the price of the shares that were shorted, a profit could be realized (depending on trading fees)."
Of course, we need to understand the entire concept of 'short-selling'. These are sales that go in the opposite order of the usual purchase of stock---what I generally do---which involves first buying shares of stock, hopefully seeing the stock rise in price, and then selling the shares later for a profit.
The short-seller, expecting the stock to decline, literally does this backwards! He borrows shares of stock (promising to return the shares later) from another brokerage account (with the assistance of the broker), and then sells the shares. If the stock shares actually do decline, as he/she suspects, then the short-seller can actually purchase the shares to 'return them' and if the stock has declined, can pocked the difference as a profit. Going "short" is the opposite of going "long."
You asked about the "5.7 trading days of volume" as the amount of shares out short and where I got that figure. This number is the same as the "Short Ratio", which now amounts to 12.9 trading days of volume. This statistic is also found on the "Key Statistics" page under the "Share Statistics" section in the right column of each of these pages on Yahoo.
As explained about the Short Ratio, this is formally defined:
"Short interest divided by average daily volume over some period, usually 30 days. Some investors believe that a high ratio is a bullish indicator, and a low ratio is a bearish indicator."
The definition above suggests the effects of a large "short ratio". I have personally chosen to suggest that greater than three days is significant. That number is actually my own creation. Other people might have other criteria to decide when a level is sufficiently high to be significant.
Let me try to explain why this might be an important statistic. Assuming that there is a large "short ratio" on a stock--that is that a lot of shares have been sold "short" with speculators believing the stock is going to drop in price--and if in this situation something really good is announced. For instance a contract is awarded, or an earnings report exceeds expectations and the company raises guidance or whatever. Then the stock might start rising in price as other investors decide that the prospects for the company are terrific and they too want to own shares.
The short-sellers are thus under pressure in this situation. For as a stock rises in price, instead of making money if like you or I if we are going "long" on a stock, they are instead watching their losses pile up. You see everything is upside-down and sort of topsy-turvy in a short-sellers perspective.
In fact, we could even see a bit of a 'panic' known as a short squeeze if this should happen as short-sellers scramble to buy back shares that they previously borrowed and sold to limit their losses. Of course a rising stock price is a disaster for a seller who as already borrowed shares, sold them, and then was waiting for the shares to decline in price so that he/she could profit the difference!
Let me give you the formal definition of 'short squeeze':
"A situation in which the price of the stock rises and investors who sold short rush to buy it to cover their short position and cut their losses. As the price of the stock increases, more short sellers feel compelled to cover their positions. More common than the opposite, long squeeze."
So as part of my process of looking at some of the facts and figures behind a stock, I like to know what the short interest level is related to the average trading volume each day in the stock.
I hope that this discussion was helpful! If you have other questions, please feel free to leave them on the blog or email me at bobsadviceforstocks@lycos.com. If you get a chance, be sure and visit my Covestor Page where my actual trading account is reviewed, my SocialPicks page where my stock selections from my blog are monitored, and my Podcast Page where you can download some mp3's of me discussing some of the many stocks and topics I cover here on this website.
Wishing you all a good Memorial Day Weekend!
Yours in investing,
Bob
Posted by bobsadviceforstocks at 4:49 PM CDT |
Post Comment
|
Permalink
Updated: Thursday, 22 May 2008 8:34 PM CDT