Natus Medical (BABY)
Hello Friends! Thanks so much for stopping by and visiting my blog, Stock Picks Bob's Advice! As always, please remember that I am an amateur investor, so please remember to consult with your professional investment advisers prior to making any investment decisions based on information on this website.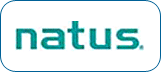 Earlier today, while looking through the list of top % gainers on the NASDAQ, I came across a stock I would like to briefly share with you, Natus (BABY), which closed at $21.02, up $1.35 or 6.86% on the day. I do not have any shares nor do I have any options on this stock. In fact, as the trading day finished up, Natus was no longer on the top % gainers list, but did close with a nice gain, and I think deserves a spot on this blog.
I will try to briefly explain why,
NATUS (BABY) IS RATED A BUY
First of all, on what the company does. According to the Yahoo "Profile" on Natus, the company
"...develops, manufactures, and markets neurondiagnostic and newborn care products to healthcare professionals worldwide. It provides healthcare products used for the screening, detection, treatment, monitoring, and tracking of common medical ailments, such as hearing impairment, neurological dysfunction, epilepsy, sleep disorders, and certain newborn conditions."
Insofar as the latest quarter, the company announced 1st quarter 2008 results on May 1, 2007. Revenue climbed 36% to $36.9 million from $27.1 million. Net income was up 73% to $2.6 million or $.11/share compared to net income of $1.5 million or $.07/share the prior year same period. In addition to this great result, the company also raised guidance for the full year 2008 from $160 million in revenue to $161 to $162 million and earnings were also guided higher from $.68 to $.70 to the new guidance of $.70 to $.72/share.
Longer-term, checking the Morningstar.com "5-Yr Restated" financials on BABY, we can see the steady rise in revenue from $31 million in 2003 to $118 million in 2007 and $128 million in the trailing twelve months (TTM). Earnings have been a bit erratic, as is not uncommon in these small companies, but has improved from a loss of $(.05)/share in 2006 to a profit of $.43/share in 2007 and $.47/share in the TTM.
Outstanding shares have grown somewhat from 16 million in 2003 to 23 million in the TTM. Free cash flow, which dipped from $7 million in 2005 to $1 million in 2006, has improved to $9 million in 2007 and $10 million in the TTM.
The balance sheet appears solid with $13.0 million in cash and $55 million in other current assets balanced against a current liabilities of $45.6 million. This yields a current ratio of somewhere around 1.5. the company has an additional $25.2 million in long-term liabilities on the book.
Reviewing the Yahoo "Key Statistics" on Natus (BABY), the market cap is a small cap $481.72 million with a trailing p/e of 44.16. The forward p/e (fye 31-Dec-09) is estimated at 24.44. Thus, with the rapid growth in earnings the PEG works out (5 yr expected) to an acceptable 1.11 level.
There are 22.92 million shares outstanding and 22.5 million that float. Currently as of 4/25/08, there are 2.3 million shares out short representing a short ratio of 16.7. This is well ahead of my own cut-off of 3 days for short interest significance. We may well have seen a bit of a squeeze of the shorts today in an otherwise negative market environment. No dividend is paid and no stock splits are reported.
Let's take a brief look at the 'point & figure' chart on BABY from StockCharts.com: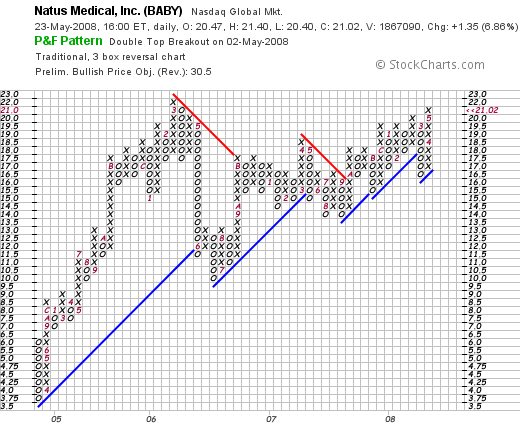 Here we can see the relatively meteoric rise in the stock price from March, 2004, to March, 2006, from $3.75/share to $22/share. Since that $22 peark, the stock has been consolidating and only in the last few days has it been moving to break through that level towards a higher price. The chart looks strong to me in my humble opinion!
Insofar as other news or comment I have been able to find, you should know that Natus has filed for a public offering of 4 million sharees at $19.50 apiece. The market has certainly taken that announcement in stride.
Natus is also a favorite over at TheStreet.com, where they recently commented:
"Natus has been rated a buy since June 2007. For the first quarter of fiscal 2008, Natus reported a 36% revenue increase year over year. The company also reported that its earnings per share improved from 7 cents a year ago to 11 cents in the most recent quarter. Over the same period, net income rose to $2.63 million from $1.52 million. First-quarter results were led by strong sales of newborn hearing-screening products. Additionally, the company completed its integration of Excel-Tech ahead of schedule, and recently announced an agreement to acquire Sonamed, a manufacturer of hearing-screening products.

Looking ahead, Natus increased its revenue and earnings guidance for fiscal 2008 and now anticipates revenue to range from $161 million to $162 million. Earnings per share are expected to be in the range of 70 cents to 72 cents for the full year, while guidance for the second quarter anticipates EPS in the range of 14 cents to 15 cents. This guidance does not include the potential impact of the Sonamed acquisition, which is expected to close by the end of May 2008. Bear in mind that the stock has surged 35% over the last year and is now trading at a price that is somewhat expensive when compared to the rest of the industry. We do, however, feel that the company does not currently have any significant weaknesses and that its strengths justify the higher stock price levels."
Also today, the Motley Fool commented on the Natus move as one of its "five-star stocks" doing well in the market.
And Thomas Sidwell wrote about Natus as one of the "6 Medical Device Makers Poised for Growth" over on Seeking Alpha. Donald Johnson also had a piece on Seeking Alpha on May 12th about Natus. He wrote:
"Like a lot of momentum stocks, BABY's already pretty expensive as these key statistics show. The forward PE is 24, the trailing 12 months PE is 44, the not too reliable PEG ratio is a cheap 1.12 and, the price sales ratio is 3.52, according to data on Yahoo.com. The price per share to cash flow is a very high 43.7, according to Morningstar.com, which doesn't rank the stock. IBD (investors.com) gives the stock a very high composite rating of 95, which is based on the company's earnings per share growth rate, profitability, sales growth and buying by institutions. BABY's point and figure chart shows a bullish price objective of $30.50. Thus, BABY is making the most of the baby boom, much as Pediatrix (PDX) is, even if that baby boom may be slowing."
I suppose I may be a little late to the party, but the water is fine and I shall jump right in :). At least on the blog, as I do not own any shares!
Thanks again for visiting! If you have any comments or questions, please feel free to leave them on the blog or email me at bobsadviceforstocks@lycos.com. Have a great Memorial Day Weekend everyone!
Yours in investing,
Bob
Posted by bobsadviceforstocks at 5:56 PM CDT |
Post Comment
|
Permalink
Updated: Friday, 23 May 2008 5:57 PM CDT