Greif (GEF) "Revisiting a Stock Pick"
Hello Friends! Thanks so much for stopping by and visiting my blog, Stock Picks Bob's Advice! As always, please remember that I am an amateur investor, so please remember to consult with your professional investment advisers prior to making any investment decisions based on information on this website.

Earlier today I saw that an old favorite of mine, Greif (GEF) had made the list of top % gainers on the NYSE. Greif had a nice day trading today and closed at $68.92, up $2.80 or 4.23% on the day. However, that 4.23% gain was not enough by the close to keep it on the list. However, since it was on the list earlier, I certainly reserve the right :) to 'revisit' this stock!
I would like to explain why I still feel that
GREIF (GEF) IS RATED A BUY
On April 5, 2005, I first discussed Greif (GEF) and actually purchased some shares at that time. Gef was trading at a split-adjust price of $37.03 at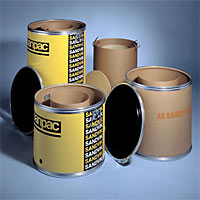 that time. Unfortunately, with my trading rules I sold my shares of GEF when they hit an (8)% loss just a few months later and do not currently own any shares or options on this stock. In fact, I revisited GEF on December 12, 2006, when the stock was trading at a split-adjusted price of $57.88.
So here it is another year-and-a-half later and Greif (GEF) is making the list again, and once again I shall tell you why it belongs on the blog (and maybe in my portfolio if I get the opportunity).
It is a big late, so let me try to be brief.
First of all, according to the Yahoo "Profile" on Grief (GEF), the company
"...engages in the manufacture and sale of industrial packaging products, and containerboard and corrugated products worldwide. It operates in three segments: Industrial Packaging and Services; Paper, Packaging, and Services; and Timber. Industrial Packaging and Services segment offers industrial packaging products, such as steel, fiber, and plastic drums; intermediate bulk containers; closure systems for industrial packaging products; and polycarbonate water bottles."
The stock moved higher today in anticipation of an earnings report that was scheduled to be announced after the close of trading. In fact right after the close of trading the company announced 2nd quarter 2008 results. Net sales climbed 13% (7% adjusted for the positive effect of currency translation), net income was $54.3 million or $.92/diluted Class A share, compared to $39.2 million or $.66/diluted Class A share last year.
In itself that was a strong report.
But more importantly than just a strong report, the impact of a financial result is best understood in terms of expectations. In this case, analysts polled by Thomson Financial had expected earnings of $.87/share. Thus the company beat expectations!
Sort of like icing on a cake.....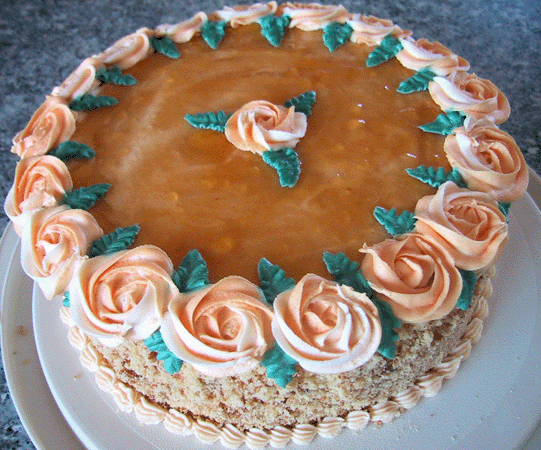 if we can also as shareholders own shares in a stock in which the company not only reports strong results, beats expectations but also raises guidance we are in great shape! (Assuming we haven't partaken of too much of that cake!)
Greif (GEF) indeed did raise expectations by raising fiscal year 2008 guidance to $4.25 to $4.45/Class A share, from its previous forecast of $4.15 to $4.35/share.
I really do like these sorts of announcements from a company!
But let's take a quick look at the longer-term picture of Greif (GEF) as my 'pick' depends not only on strong current results but a longer-term record of persistence of good results.
In this case, reviewing the Morningstar.com "5-Yr Restated" financials on Greif (GEF), we can see that revenue has been steadily increasing from $1.92 billion in 2003 to $3.32 billion in 2007 and $3.42 billion in the trailing twelve months (TTM). Earnings have also been steadily and dramatically increasing from $.28/share in 2003 to $.92/share in 2007 and $1.02/share in the TTM.
Dividends are great. But a company that can steadily increase its dividend is even nicer! I recently heard Jim Cramer also comment on his interest in increasing dividends. This isn't a new concept. I do not restrict myself to stocks that even pay dividends, but when I can find a stock that not only pays dividends but also increases dividends regularly I certainly think this is another attractive point about a stock pick.
In 2003, Greif (GEF) paid $.28/share. This was increased each year to $.92/share (a more than 3-fold increase in the dividend in 4 years!), and the company has paid $1.02 in the trailing twelve months.
Free cash flow is solid with $103 million in 2005 increasing to $273 million in 2007 and falling back slightly to $190 million in the trailing twelve months.
The balance sheet appears at least adequate with $107 million in cash and $797 million in other current assets. This total of $904 million in current assets when compared to the $624 million in current liabilities yields a healthy current ratio of 1.45. The company does have a significant level of long-term liabilities reported at $1.1 billion, but this does not appear to be a problem for Greif (GEF).
In terms of valuation, Greif is a mid cap stock with a market cpaitalization of $3.23 billion. The trailing p/e according to Yahoo "Key Statistics" on Greif (GEF) is 22.37 with a forward p/e (fye 31-Oct-09) estimated at 13.92. The PEG is a very nice 0.91. (5 yr expected).
Referring to the Fidelity.com eresearch website, we find that the Price/Sales ratio is reasonable at 0.90 compared to the industry average of 0.86. The company is far ahead of its peers with a return on equity (TTM) ratio of 19.21% compared to the industry average of a negative (11.73)%.
Yahoo reports 46.81 million shares outstanding with 41.90 million of them that float. As of May 12, 2008 there were 2.41 million shares out short representing 9.2 trading days of volume (the short ratio) or 10.2% of the float. This was down slightly from the 2.45 million shares out short the prior month.
I don't fully understand why so many shares would be out short on such a 'high quality' company from my perspective. But then again, I don't understand a lot of things :). However, with the strong earnings report coming out today, I suspect the short squeeze may have started today in anticipation of the earnings report, as short-sellers rushed to cover their 'negative bets' looking for shares to purchase. I use an arbitrary '3 days' as a level of significance--with Greif at 9 days, this is something to consider.
As I have noted the company pays a nice dividend--and has been regularly increasing it. In fact, the forward dividend rate is $1.52/share yielding a nice 2.3%. This still represents a payout ratio of only 33% giving the company lots of leeway to operate and increase it further in the future.
As I also noted above, the company last split is stock with a 2:1 stock split effective April 12, 2007.
Finally, let's take a look at the chart for Greif (GEF) from StockCharts.com: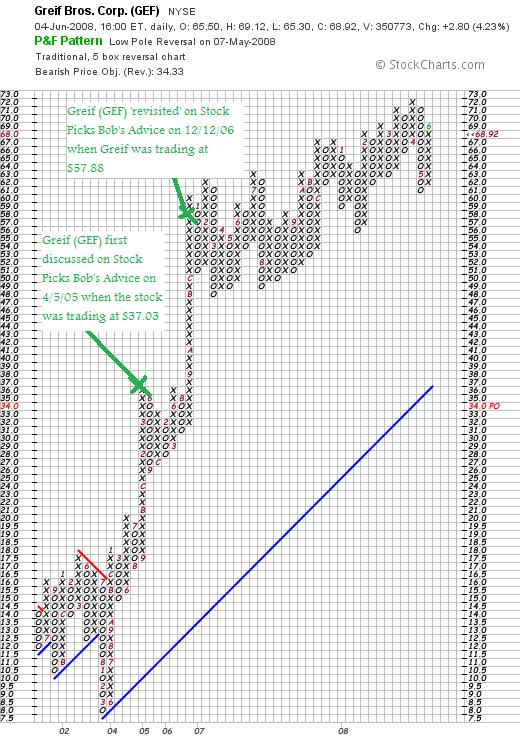 Needless to say, from my amateur perspective, this is a beautiful chart of incredible price momentum strength.
In summary, there are several reasons why I really like this stock. First of all they had a great earnings report which beat expectations and then they went ahead and raised guidance. They have a record of steady revenue and earnings growth while keeping their outstanding shares quite stable.
The company has been paying a dividend and has been consistently been raising it. They are producing an increasing amount of free cash flow and the balance sheet appears solid.
Valuation-wise, the company appears reasonably priced with a p/e in the low 20's and a PEG under 1.0. The Price/Sales is fairly average for its industry, with a Return on Equity ahead 'of the pack'.
Finally, there are a bunch of shares out short that need to be covered giving the stock some additional support. The chart looks solid.
What is there not to like?
Now, if only I had a signal to be buying a new position, you can "bet your sweet bippy" that this is the kind of stock I would be buying!
But seriously, this is my kind of stock and deserves a third pick (!) on this blog.
If you have any comments or questions, please feel free to leave them right on the website or email me at bobsadviceforstocks@lycos.com. If you get a chance, be sure and visit my Covestor Page where you can track my actual trading portfolio, my SocialPicks Page where you can monitor my many stock picks, and my Podcast Page where you can download some mp3's of me discussing some of the many stocks I write about here on the blog.
I hope you all have a great week ahead!
Yours in investing,
Bob