Fluor (FLR)
Hello Friends! Thanks so much for stopping by and visiting my blog, Stock Picks Bob's Advice! As always, please remember that I am an amateur investor, so please remember to consult with your professional investment advisers prior to making any investment decisions based on information on this website.
When looking for a new stock to "pick" and discuss, my first screening involves reviewing the top % gainers. From among these stocks, I try to identify the highest quality companies--which for me are the ones with evidence of persistence of revenue and earnings growth, stable outstanding shares, growing and positive free cash flow, acceptable balance sheets and reasonable valuations. These are the kind of companies that I try to own and to follow here on this blog.
Fluor (FLR) made the list of top % gainers on the NYSE today. As I write, the stock is trading at $202.34, up $10.79 or 5.63% on the day. I do not own any shares or options on Fluor. But I would like to share with you why
FLUOR (FLR) IS RATED A BUY
Let's review some of the facts about Fluor (FLR) that led me to this assessment---first of all, what exactly does this company do?
According to the Yahoo "Profile" on FLR, the company
"...through its subsidiaries, provides engineering, procurement, construction management, and project management services worldwide. It operates in five segments: Oil & Gas, Industrial & Infrastructure, Government, Global Services, and Power."
And the latest quarter?
On May 12, 2008, Fluor (FLR) reported 1st quarter 2008 results. Revenue for the quarter ended March 31, 2008, came in at $4.8 billion, up about 32% from the prior year $3.6 billion. Net earnings for the quarter came in at $138 million, up 63% from last year's $85 million in the same quarter. On a per share basis, this worked out to $1.50/share, up sharply from $.94/diluted share last year.
In light of new awards and excellent prospects in the near future, the company went ahead and raised guidance for 2008 with earnings now expected in the $6.25 to $6.55 range, up from the previous range of $5.10 to$5.55/share previously announced.
The company easily beat expectations with the $1.50 figure, as analysts polled by Thomson Financial had expected a profit of $1.27/share. The company also beat expectations on the revenue with the $4.8 billion figure as analysts had been expecting revenue of $4.64 billion.
I appreciate a great quarter, but quality is about great quarters one after another for many years! And for this information, I generally turn to Morningstar.com for additional information.
Reviewing the Morningstar.com "5-Yr restated" financials on Fluor (FLR), we can see that revenue has grown nicely from $8.8 billion in 2003 to $16.7 billion in 2007 and $17.9 billion in the trailing twelve months (TTM).
During this same period, earnings have dramatically and steadily improved from $1.95/share in 2003 to $5.85/share in 2007 and $6.41/share in the TTM. As a 'bonus', the company has also been paying a dividend and rather regularly increasing it from $.64/share in 2003 to $.80/share in 2006 and $.85/share in the TTM.
Outstanding shares have been expanding but at a modest rate from 81 million shares in 2003 to 91 million in 2007 and the TTM. Thus, this approximately 13% increase in shares was accompanied by an approximately 100% increase in revenue and a 200% increase in earnings. I am quite comfortable with a small increase in shares when this is associated with a larger increase in both earnings and revenue reported.
Free cash flow has been somewhat erratic dipping from $195 million in 2005 to $22 million in 2006. However, this jumped back sharply to $621 million in 2007 and the company has reported $656 million in free cash flow as reported by Morningstar.com.
The balance sheet appears adequate with $1.13 billion in cash and $3.32 billion in other current assets, which, when compared to the $3.13 billion in current liabilities yields a current ratio of 1.42.
Checking Yahoo "Key Statistics" for some valuation numbers, we see that this is a large cap stock with a market capitalization of $17.88 billion. The trailing p/e is reported at 31.46 with a forward p/e of 25.55 (fye 31-Dec-09). The PEG ratio is a bit rich at 1.73. (All things being equal, I would prefer to see a PEG between 1.0 and 1.5).
The trailing p/e is also a bit rich at 31.46.
Reviewing information from the Fidelity.com eresearch website, the Price/Sales ratio comes in at 0.95 (TTM), compared to an industry average of 1.06. In terms of profitability as measured by the Return on Equity (ROE) (TTM), the company also does well relative to its peers with a 27.43% ROE compared to the industry average of 23.97%.
Yahoo reports 88.7 million shares outstanding with 87.46 million that float. As of 5/27/08 there were 4.63 million shares out short representing a short ratio of only 1.9. (Less than my own arbitrary 3 day level for significance.) The company does pay a dividend (as noted above) of $1.00/share going forward, with a .5% dividend yield. No stock split is reported on Yahoo. (The company previously announced a 2:1 split to be effective July 2, 2008 for shareholders of record on June 6, 2008).
Checking a "point & figure" chart on Fluor from StockCharts.com, we can see that the stockwhich was trading sideways earlier this year, broke through resistance in February, 2008, and has been moving strongly higher the past four months.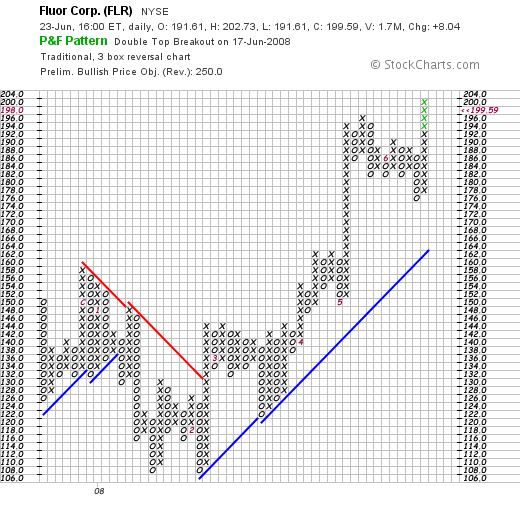 Insofar as future prospects, Fluor should benefit from alternative electricity generation as this report on participating in a $350 million contract for an offshore British wind farm indicates. Last month, Fluor was also awarded a $1.8 billion contract for the world's largest offshore wind farm project. So besides doing well with existing oil and gas projects, Fluor is well positioned for the likely expanded role for wind and alternative energy.

Thus, with the nice price performance today, the solid earnings report that beat expectations and found the company raising guidance, the terrific Morningstar.com data, reasonable valuation a great stock price chart, and a good 'story' on wind farms as well, it is easy to see why I would be rating this stock so highly.
It is the kind of stock I would be buying if I had my own idiosyncratic signal to be acquiring a new stock. My own portfolio generates these signals as my own holdings hit appreciation targets and portions of them are sold. However, without such a signal, I shall be continuing to admire Fluor (FLR) from a distance.
Thank you again for stopping by! If you have any comments or questions, please feel free to leave them on the blog or email me at bobsadviceforstocks@lycos.com. If you get a chance, be sure and visit my Covestor page where my actual holdings are reviewed, my SocialPicks page where all of my prior stock picks from the last year or so are assessed, and my Podcast Site where you can listen to me review some of the many stocks I discuss right here on the blog!
Yours in investing,
Bob