Lufkin (LUFK) and Quality Systems (QSII) "Trading Transparency'
Hello Friends! Thanks so much for stopping by and visiting my blog, Stock Picks Bob's Advice! As always, please remember that I am an amateur investor, so please remember to consult with your professional investment advisers prior to making any investment decisions based on information on this website.

I have been doing a little bit of "micro-managing" of my portfolio. I swapped out my VIVO for RMD hoping to catch a bit more momentum, and now, noting that my Lufkin (LUFK) stock, which I just recently purchased 7/16/08 at a cost basis of $91.10 has been struggling while the rest of the market has been rallying, I chose to sell my shares.
They really hadn't hit a sale point, and we shall need to see if this is a reasonable decision or whether by ignoring my own 'trading rules' I was a bit hasty, lost patience with a great company, and instead jumped on a stock that was heading towards a correction.
However, in light of my own sale of Lufkin (LUFK), I am reducing my rating.
LUFKIN (LUFK) IS RATED A HOLD
What has been driving this market higher recently has been the relative collapse in the price of oil. However, what is good for the market, may not be good for Lufkin (LUFK), which otherwise has superb fundamentals. The market paints stocks with a very broad stroke, so that the "baby is frequently thrown out with the bathwater". My approach to investing is strongly related to earnings growth and fundamental performance reflected in a higher stock price. When a stock starts trading in a fashion tied to a commodity, whether that commodity be oil, gold, or pork bellies, then all bets are off.
I decided to move on.
As reported:
"A strengthening dollar helped lower the price of a barrel of oil. Light, sweet crude fell $4.91 a barrel to $115.11 on the New York Mercantile Exchange, bringing its decline over the past four weeks to more than $30."
That's right. $30 drop in four weeks. Virtually a collapse.
Will oil move higher next week or next month? Will it trade instead closer to $80/barrel than $140 or is it going to trade at the same price? Frankly, I don't know. And I am not sure anyone knows for sure anyhow. But I want to be investing in some sort of rational fashion. I am not interested in speculating on stocks based on the movement of commodities.
I suppose it is also just sour grapes. After all, I wouldn't be complaining if Lufkin was moving higher today instead of being slightly lower while most of the rest of the market powered ahead.
So earlier today, I sold my 70 shares of Lufkin (LUFK) at $89.76. These shares, as I have noted, were purchased 7/16/08 at a cost basis of $91.10/share. Thus I had a loss of $(1.34) or (1.5)% on this purchase.
Generally I wait for a loss to build to (8)% before initiating a sale after a purchase of a new position. However, as I have said many times, I reserve the right to sell a stock based on any 'fundamental' issues. With the oil market correcting, I wanted to step aside. To make sure that my own holdings would not be overly impacted by a correction in a commodity as significant as oil.
With the sale completed, I turned to the list of top % gainers on the NASDAQ where I found an 'old favorite' of mine, Quality Systems (QSII) on the list.

I reviewed the information on QSII and went ahead and purchased 182 shares at $38.1324/share. I would like to share with you my thoughts on QSII, why I made this purchase, and why
QUALITY SYSTEMS (QSII) IS RATED A BUY
After purchasing shares at $38.13, the stock did decline slightly and closed at $37.80, up $4.51 or 13.55% on the day.
Quality Systems is involved in assisting healthcare facilities implement electronic medical records. As explained by the Yahoo Finance "Profile" on QSII, the company
"...engages in the development and marketing of healthcare information systems in the United States. Its system automates various aspects of medical and dental practices, and networks of practices, such as physician hospital organizations and management service organizations, ambulatory care centers, community health centers, and medical and dental schools. The company offers proprietary electronic medical records software and practice management systems under the NextGen3 product name."
If you are not familiar with the market potential to electronic medical records, note what this article had to say:
"The cost for the packaged electronic medical record (EMR) systems for a large teaching hospital is $1.95 million. The number sold at 126 in 2006 is anticipated to grow to 177 in 2013. The replacement cycle is generally six years for these electronic medical record (EMR) systems packages. Rather than rip and replace, systems tend to be upgraded to new versions.

Electronic medical record markets are very significant. All facilities and all medical practices need to move to automated process that replaces manual handling of written patient records. The top 800 facilities worldwide are anticipated to spend hundreds of millions of dollars each to implement electronic patient records. While a lot of that spending will be on proprietary software, a lot of it will be for packaged software solutions."
There is a very large potential market for electronic medical records (EMR):
"Enterprise electronic medical record (EMR) market forecast analysis indicates that the future of care delivery depends on automation of process. The ability to quickly get a picture of patient condition depends on dashboards prepared by the primary care physician that quickly illustrate any noteworthy conditions that a patient may present.

Markets at $1.8 billion in 2006 are anticipated to reach $3.2 billion by 2013.

Worldwide enterprise electronic medical record (EMR) software markets will grow substantially as vendors are able to leverage the EMR expertise to provide competitive advantage from automation of process using IT infrastructure."
But back to Quality Systems (QSII).
It was the announcement of 1st Quarter 2009 earnings after the close of trading yesterday that drove the stock higher in trading today. Revenue for the quarter ended June 30, 2008, came in at $55.2 million, up 31% from the $42.0 million in the same quarter the prior year. Net income worked out to $11.1 million, up 40% over the $7.9 million last year. Fully diluted earnings per share were $.40, up 38% from the $.29/share last year.
As 'icing on the cake' the company announced a 20% increase in the cash dividend to $.30/share from the prior $.25/share payment.
QSII beat expectations--analysts had been expecting earnings of $.37/share (they came in at $.40), on revenue of $51.9 million (they came in at $55.2 million).
Regarding longer-term results, we can review the Morningstar.com "5-Yr Restated" financials on QSII and see that we had a reason why we have liked this stock in the past!
Revenue growth has been steady from $71 million in 2004 to $187 million in 2008.
Earnings have grown without interruption from $.40/share in 2004 to $1.40/share in 2008. The company initiated a dividend in 2008 at $1.00/share and now have increased it to a $1.20/share rate.
Outstanding shares are quite stable with 26 million in 2004 increasing less than 10% to 28 million in 2008. (During this same period sales increased by over 100%, earnings by over 200%---so this share dilution is quite modest in comparison.)
Free cash flow is positive and overall growing from $28 million in 2006 to $41 million in 2008.
The balance sheet is solid. As reported by Morningstar.com, the company has $59 million in cash and $91 million in other current assets. This total of $150 million in current assets yields a current ratio over just over 2 when compared to the $70.2 million in current liabilities. Long-term liabilities are quite modest at only $4 million.
Looking at a few valuation numbers, we can see on the Yahoo "Key Statistics" page on QSII, that the company is a small cap stock with a market capitalization of only $1.04 billion. The trailing p/e is a modest 26.20 with a forward p/e (fye 31-Mar-10) of 18.90. With the rapid growth in earnings expected, valuation works out to be quite reasonable in terms of the PEG Ratio of .99 (5 yr expected).
Yahoo reports 27.45 million shares outstanding with 17.70 million that float. As of 7/10/08, there were 5.77 million shares out short. Compared to the average trading volume of only 246,872 shares (3 month average), this works out to a short ratio of 31 days! I personally utilize a '3 day rule' for significance, so this 31 day figure is quite convincing! With the great results out today, and the stock climbing sharply, this could well represent a short-squeeze for investors.
In addition to the great financial results, the company now pays over a 3% dividend, and last split its stock 2:1 March 27, 2006.
And a chart?
Looking at the "point & figure" chart on Quality Systems (QSII), we can see that the stock has been trading 'sideways' since February, 2006, when the stock peaked at $42. The stock has hit that level several times only to pull back to lower levels. The stock with the current move has broken through resistance once again. It would be nice seeing this stock trade above $44 to confirm this rally has staying power.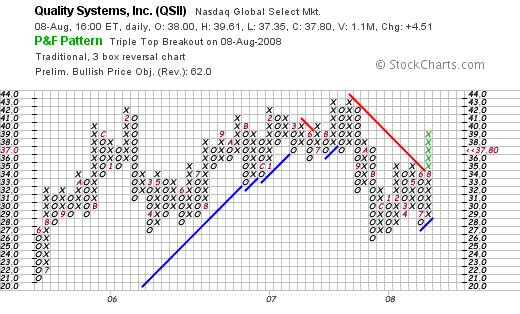 To summarize, I chose to step out of my Lufkin (LUFK) even though I still respect the underlying fundamentals in that stock. I am concerned about the pressures of a continuing decline in the price of oil. If oil turns around tomorrow, I shall be demonstrating a public lack of any sense of timing. In any case, I hate to have any of my holdings to be as tied to a commodity price as I suspect, or fear that this stock has been.
Quality Systems (QSII) beat expectations yesterday and came in with strong revenue growth, earnings growth, and also raised their dividend. The sharp price appreciation was probably driven in part by the oversized short interest outstanding on this stock. Meanwhile, QSII demonstrates real quality with steady revenue growth, earnings growth, stable outstanding shares, an increasing dividend, growing free cash flow, and a solid balance sheet.
So this stock isn't a fluke either.
Thanks again for visiting! If you have any comments or questions, please feel free to leave them on this website or email me at bobsadviceforstocks@lycos.com. If you get a chance, be sure and visit my Covestor Page where you can monitor my trading portfolio performance, my SocialPicks page where my stock picks are also followed, and my Podcast Page where you can listen to an mp3 or two about some of the stocks written up on this blog.
Have a wonderful weekend everyone and wish me luck!
Yours in investing,
Bob