Morningstar (MORN), Genoptix (GXDX), and Estee Lauder (EL) "Trading Transparency"
Hello Friends! Thanks so much for stopping by and visiting my blog, Stock Picks Bob's Advice! As always, please remember that I am an amateur investor, so please remember to consult with your professional investment advisers prior to making any investment decisions based on information on this website.
Last week, on August 14, 2008, I chose to replace what I felt was a relatively weakly performing stock with something acting healthier. This is certainly outside of my "rules" for trading, but I am trying to enhance the performance of my portfolio by trying to identify similar stocks that do meet my criteria as well but are technically, from my perspective, appear to be trading better in the market. I am not sure if this will be a successful intervention but as I have always done on this blog, I wanted to share with you my thoughts and observations.
It is possible that I acted merely by 'chasing performance' and shall actually underperform the market in the days ahead instead of accomplishing my own goal of outperformance. In so many ways, after these many years of trading, I remain an amateur. So bear with me and I shall explain the 'lateral' move I made.
First of all, I sold my 103 shares of Morningstar (MORN) from my trading account at a price of $64.794. These shares were initially purchased 11/22/05 at a cost basis of $32.57, so I had a realized gain of $32.22 or 98.9% since purchase--so it isn't like I had a loss on this stock or anything!
But if we take a look at the Morningstar "point & figure" chart from StockCharts.com, we can see the relatively anemic performance of this stock after hitting $86 in December, 2007.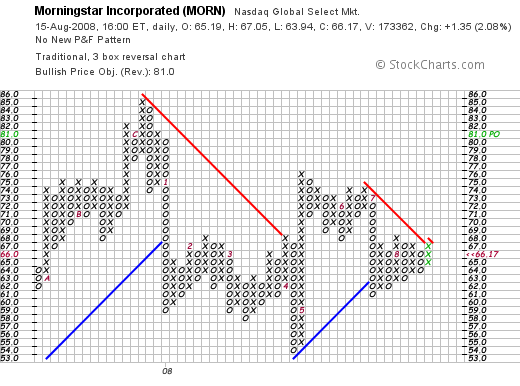 Since I do not have any problem at all with Morningstar as a company. They reported an outstanding earnings report just a couple of weeks ago, their 5-Yr Restated Financials page is solid, and I only have some concerns about the relative weakness of the stock, which I believe is because it is being lumped into the 'financials' group. Thus my sale. So, with my own sale, I cannot leave Morningstar (MORN) at "BUY" and am reducing my rating:
MORNINGSTAR (MORN) IS RATED A HOLD
Initially, I purchased shares of Genoptix (GXDX), but with the same-day weakness in THAT stock, I sold shares and settled on Estee Lauder (EL). More details to follow.
Yours in investing.
Bob