Greif (GEF) "Trading Transparency"
Hello Friends! Thanks so much for stopping by and visiting my blog, Stock Picks Bob's Advice! As always, please remember that I am an amateur investor, so please remember to consult with your professional investment advisers prior to making any investment decisions based on information on this website.

I wanted to update all of you readers with a trade that I did yesterday. And yet, even though it conforms to my own strategy of maintaining my 5 position minimum, I am starting to have some buyer's remorse.
The market is really ugly this week. As I write, the Dow is trading at 10,724.22, down (334.80), the Nasdaq is at 2,128.48, down (79.42) and the S&P is declining by (44.27) at 1,169.18. Yikes.
My good friend Bob S. has been stopping by my blog. He is one of a group of us who frequent Grounded Specialty Coffee in the morning and shoot the bull about the economy, the stock market, politics, and whoever happens to drop by to get a cup of java. And he has been after me about WHY I don't talk about the terrible correction in the market. What is an investor to do?
I have little words of advice for my friends. I do believe that as we build portfolios, we should prepare for the worst of world and hope for the best of investments. We should have built into our holdings known exit points, both on 'good' and 'bad' news. I do that.
But as evidenced by my own purchase yesterday of shares of Greif (GEF) to get me back to the 5 position minimum, even I am fallible. I like Greif and will discuss it further below, but with the market meltdown continuing, the best I can do is:
GREIF (GEF) IS RATED A HOLD
Greif has been an old favorite of mine. I have even owned shares of this stock on and off. Let me very briefly touch on some of the things I do like about this stock.
But before I do, let me review my own purchase. Yesterday I purchased 140 shares of Greif (GEF) at $66.104. As I write, I am already, as you might expect, losing money on Greif (GEF) which is trading at $64.27, down $(1.73) or (2.62)% on the day.
On a day like this, there are very few places to find a bull market in stocks.
Some things I like about Greif (GEF), (even while I do not like the current tone in this plunging market), include the latest quarter announced August 27, 2008, which beat expectations and they raised guidance.
Their '5-Yr Restated' financials from Morningstar.com look terrific.
Finally, their 'point & figure' chart from StockCharts.com still looks solid: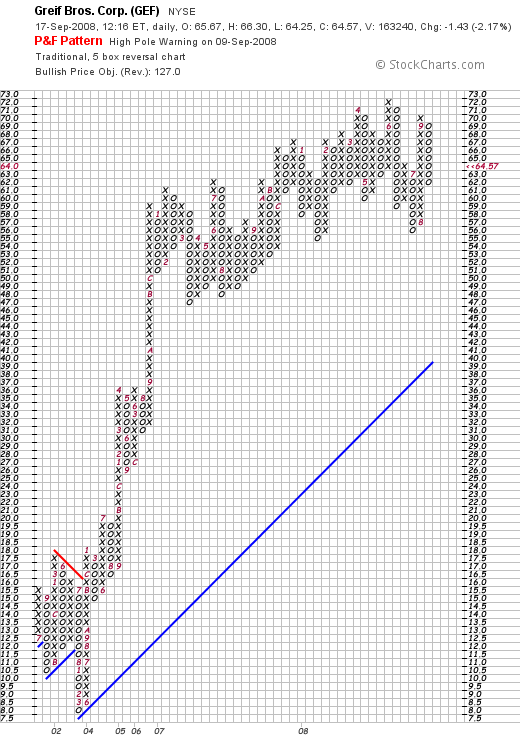 So much for Greif.
But what about the ENTIRE market. What about the "M" in CAN SLIM?
I have been an investor for 41 years now. Seriously. I can remember 1987 without much difficulty. This seems much worse.
We really need to go back to 1929 to get to something like this.
No kidding.
I might just even sell all of my holdings and take a 'time out'. Seriously.
I shall keep you posted.
Yours in investing,
Bob