LDK Solar (LDK) and Servotronics (SVT) "Trading Transparency"
Hello Friends! Thanks so much for stopping by and visiting my blog, Stock Picks Bob's Advice! As always, please remember that I am an amateur investor, so please remember to consult with your professional investment advisers prior to making any investment decisions based on information on this website.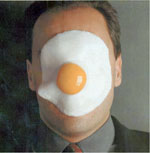 'Egg on my face' anyone?
After spending the last 5+ years on this blog repeating endlessly the mantra of 'listening to my portfolio', what did I do? The darndest thing about this blog is that I have to do all of these dumb things so publicly! My portfolio was down to one position, my Covance (CVD) stock and I knew that I had these 'permission slips' to be buying shares. So with the first sign of a bit of strength in the market the last couple of days, I was in there full bore, moving back up to my minimum of 5 holdings.
And you know the rest of the story.
As reported: (10/9/08)
"Stocks plunged Thursday, sending the Dow Jones industrial average down 679 points -- more than 7 percent -- to its lowest level in five years. Stocks took a nosedive after a major credit-rating agency said it might cut its rating on General Motors and Ford, further rattling investors already fretting over the impact of tight credit on the economy."
Specifically, the Dow closed at 8,579.19, down (678.19) or (7.33)% on the day, and the Nasdaq dipped to 1,645.12, down (95.21) or (5.47)%. And the S&P dropped to 909.92, down (75.02) or (7.62)%.
And I was buying this morning. WHAT was I thinking?
My own portfolio was talking to me. It was SHOUTING at me! And was I listening? 'course not.

This morning LDK Solar (LDK) was acting well. It was even on the list ot top % gainers. I purchased 280 shares this morning at $23.7511. LDK went almost straight down from there. (Do I need to tell all of you once again that I am an amateur investor?) In fact LDK closed at $20.53, down $(.95) or (4.42)% on the day. Thus, I have already racked up a loss of $(3.22) or (13.6)% on the day.
Unless the stock opens up sharply, I shall be selling this stock tomorrow morning shortly after the opening of trading.
So much for owning a Chinese solar stock :(.
With my own probable sale of stock, I cannot rate this a 'buy', yet the selling has gotten so overdone,
LDK SOLAR (LDK) IS RATED A HOLD
Bit that wasn't enough. Totally a glutton for punishment today!

In the same moments as buying shares of LDK, I became convinced of my brilliance in catching the turn of the market, and purchased 700 shares of Servotronics (SVT) at a price of $8.2785. SVT closed at $7.15, actually up $.15 or 2.14% on the day. But this was well under my own purchase price. In fact, I am currently at a loss of $(1.13) or (13.6)% since purchase.
Similarly, while I cannot possibly suggest a "buy" on this stock, the selling is also overdone, and even though I have may well be selling my own shares, I feel it appropriate to deal with this stock:
SERVOTRONICS (SVT) IS RATED A HOLD
I have never (that I can remember) lost money so fast on initial purchases. Ouch.
This position will also be sold tomorrow morning unless it experiences a sharp rebound-- as it has also exceeded my own arbitrary (8)% cut-off for losses.

These really are both interesting stocks, I would love to tell you about their wonderful prospects, the great recent reports, but in this fiasco we call the Stock Market, I shall once again need to retreat with my tail between my legs.
Servotronics (SVT) also has an interesting, if speculative financial record and prospects. My own probably sale is not that I do not like SVT. Or that I don't like LDK. Or any other stock I hold.
Losing money is painful. And limiting losses is essential to any investor who is interested in being around tomorrow and the next day to try once again to divine some rational approach to the endless pain in the world of stocks.
If you have any comments or questions, please feel free to email me at bobsadviceforstocks@lycos.com or leave them right on the blog.
Yours in investing,
Bob