ResMed (RMD), Newell Rubbermaid (NWL), and Ecolab (ECL) "Trading Transparency"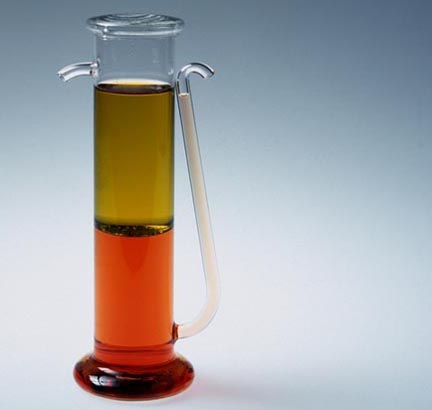 Oil and vinegar!
They don't mix well do they? I could have said oil and water, or some other analogy, but that is what I have been doing the past few days in my own amateur fashion.
What do I mean? What qualifies me as an amateur, is my ability to change my previously developed strategy on a virtual hunch, for all of the wrong reasons and believe that 'this time, somehow things are different.'
My trading strategy has generally been about a disciplined approach to equities involving identifying high quality companies hitting the top % gainers list that met my own criteria.
If you didn't notice, when I went 'all in', I simply picked some of my 'old favorites' from this blog and simply added them en masse to my portfolio. So much for anything very disciplined, rational, or consistent with my past picks. I justified each of them really on the basis of value, not momentum. That these were great growth stocks of the past that were beaten up beyond real recognition and were a 'great price' at these levels.
Like 'oil and vinegar', I was mixing a value approach to a momentum approach. And I am not really a value investor at all.
A value investor must identify stocks of great value and purchase them (as I see it) and hang onto them if they should decline without any particular fundamental reason presented. In fact, many value investors would consider adding to their investment on a decline, as the stock considered would be an even more attractive investment for them.
It isn't a bad approach at all.
But it isn't my approach.
It is one thing to be flexible, it is another to be erratic. Consistency is the key to any approach one wishes to employ in dealing with investing.
Earlier today, with the market continuin to show an anemic performance, I unloaded my 154 shares of ResMed (RMD) at $33.04. I had purchased them 10/14/08, two days ago!, at a price of $36.396. Thus, I had a loss of $(3.36) or (9.2)% since purchase.
Similarly, I sold my 154 shares of Ecolab (ECL) at $37.0824. These shares also were purchased 10/13/08 at a cost of $40.646/share. Thus, I had a loss of $(3.56)/share or (8.8)% since purchase.
Finally, I sold my 420 shares of Newell Rubbermaid (NWL) at $13.5222. These shares were similarly purchased 10/13/08 at a cost of $15.20. This represented a loss of $(1.68) or (11)% since purchase.
It is hard being an amateur investor and sharing with you readers my own foibles and expensive lessons. I hope you are learning alongside with me without losing your own money as well!
I shall not be putting any buy, sell, or hold ratings on these stocks. My own sales are a reflection of my desire to continue to implement my investment strategy in a coherent fashion. I shall continue to limit losses, but I shall refrain from rushing to buy shares even if I have a "permission slip" from my own trading system, unless the requirements I have previously established are met.
If I am not finding my kind of stocks on the lists of top % gainers, perhaps that suggests it is not my kind of market to be buying stocks!
In the meanwhile, I hope that all of you are learning from my own blunders as I struggle to deal with the incredible volatility of this market that humbles the cockiest of individual investors who might believe that he is able to develop a strategy to deal with investing that might apply to any kind of market and any kind of investment.
If you have any comments or questions, please feel free to leave them here on the website or email me at bobsadviceforstocks@lycos.com.
Yours in investing,
Bob