Imperial Oil LMT (IMO) "Trading Transparency"
Hello Friends! Just a brief note to let all of you know that I purchased 140 shares of Imperial Oil (IMO) at $35.115 to get me up to the 5 position minimum that I utilize in my trading account.

Imperial is the Canadian subsidiary of ExxonMobil (XOM) which owns about 60% of the stock.
The company is traded on the AMEX where it made the list of top % gainers closing at $35.52, up $4.90 or 16% on the day, a few cents higher than my purchase.
Basically, the 2nd quarter results for Imperial were strong, the Morningstar.com looked nice, and the stock is trading at a deep discount to levels it was at earlier this year.
The company has been growing its revenue, increasing its earnings, and raising its dividend regularly while maintaining a relatively stable outstanding number of shares. Free cash flow is positive and growing and the balance sheet, when we check the 10 year balance sheet from Morningstar.com, appears to be satisfactory.
Certainly, if we look at the "point & figure" chart from StockCharts.com, we can see that the stock is trading well off its highs near $63 earlier this year, and has come down along with all of the oil-related stocks.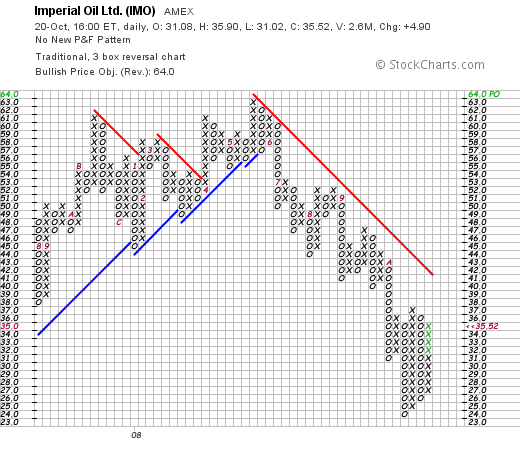 Oil and commodity stocks helped move the market higher today as investors were expecting that the near-term bottom in the price of oil might be near. As this news story reports:
"Crude's rise came as investors appeared all but assured that OPEC will announce a sizable production cut in an effort to keep oil prices from falling too fast. Chakib Khelil, president of the Organization of the Petroleum Exporting Countries, said Sunday that members plan to announce a "substantial" output cut at a meeting beginning Friday in Vienna.

Light, sweet crude for November delivery rose $2.40 to settle at $74.25 a barrel on the New York Mercantile Exchange. The contract Friday gained $1.53 to settle at $71.38.

Crude has fallen about 50 percent from its July 11 high of $147.27."
Also driving energy stocks higher was an Oppenheimer upgrade this morning of a lot of oil-related stocks that helped this sector throughout the day.
As reported:
"Oppenheimer upgraded a number of oil and gas companies this morning, saying they expect industry consolidation in the next 12 months


Upgraded to Outperform:

Anadarko Petroleum Corp. (NYSE: APC)
Apache Corp. (NYSE: APA)
BP plc (NYSE: BP)
Cabot Oil & Gas Corp. (NYSE: COG)
Chevron Corp. (NYSE: CVX)
Comstock Resources Inc. (NYSE: CRK)
ConocoPhillips (NYSE: COP)
Devon Energy Corporation (NYSE: DVN)
EOG Resources, Inc. (NYSE: EOG)
Exxon Mobil Corp. (NYSE: XOM)
Frontier Oil Corp. (NYSE: FTO)
Hess Corporation (NYSE: HES)
Murphy Oil Corp. (NYSE: MUR)
Noble Energy, Inc. (NYSE: NBL)
Pioneer Natural Resources Co. (NYSE: PXD)
Royal Dutch Shell (NYSE: RDS.a)
Sunoco Inc. (NYSE: SUN)
Tesoro Corporation (NYSE: TSO)
Valero Energy Corp. (NYSE: VLO)
XTO Energy Inc. (NYSE: XTO)"
Now Imperial (IMO) was not on the list, nor was National Oilwell Varco (NOV) nor Graham (GHM). But these stocks moved higher 'in sympathy' with the rest of the stocks upgraded and as Paul Harvey would say,'that's the rest of the story'!
When choosing stocks, I am certainly looking for momentum, and oil and financial stocks were up and down the list today! Maybe I should have purchased some financial shares, but they don't really fit my revenue and earnings momentum and while they may be great value plays, I am not really oriented to those selections and usually have little patience or the stomach for buying stocks as deeply discounted and 'banged up' as these.
In any case, I wanted to get you caught up on my own activity in my trading account. Good-luck to all of you in this stock market!
If you have any comments or questions, please feel free to leave them on the blog or email me at bobsadviceforstocks@lycos.com.
Yours in investing,
Bob