DryShips (DRYS) and Sysco (SYY) "Trading Transparency"
Hello Friends! Thanks so much for stopping by and visiting my blog, Stock Picks Bob's Advice! As always, please remember that I am an amateur investor, so please remember to consult with your professional investment advisers prior to making any investment decisions based on information on this website.

I had a busy, if relatively unprofitable, day today. Yesterday I wrote about my sale of a portion of Johnson Controls (JCI) at a gain, a sale that gave me a 'buy signal' to be adding a new position to my portfolio. Being at 5 positions, I am well under my maximum of 20 holdings, and partial sales at appreciation targets trigger a buy in my investment strategy of responding to the stock market by paying attention to the actions of my own holdings.
What I didn't count on was the severe volatility of this market and the fact that picking up stocks on the top % gainers list simply does not lend itself as well to my own strategy as it has in the past. I cannot explain the market activity but to point out that we can see surges in various industry groups as different strategies appear to be employed. One day we observe commodity stocks moving higher, the next day financials, and today we had a lot of energy and commodity-related stocks on the rise.
DryShips (DRYS) made the list of top % gainers today and I thought I would try my hand at this stock that has been hit hard recently and has been moving higher along with some of the commodities the past few days. In reality, employing my 8% loss limit on positions 6-20 in my portfolio really precludes me from buying a stock like DRYS which is swinging in 20% price moves the last few days. I learned this today.
Nevertheless I purchased 306 shares of DRYS (a number calculated by determining the value of 125% of the average of my remaining 5 holdings) at $11.1856 this morning, only to watch the shares dip and passing my own 8% loss limit within hours of my purchase, I sold these same shares at $10.1522 for a loss of $(1.0334) or (9.24)% since purchase. DRYS did rebound later in the day to close at $10.71, up $1.26 or 13.33% on the day. But I was no longer a shareholder by that time.
It is difficult to do so much learning as an amateur in public! But I would like to share with you my experiences so perhaps some of you may avoid my same errors.
After a similar experience the other day with Buckle (BKE), I really started asking myself if there was something very wrong with my stock selection approach. Clearly in the current market environment, investors are quick to sell large gains and this activity results in a lack of 'follow-through', something in the past that hadn't been a problem. Momentum has been very fickle.
But Johnson Controls (JCI) had worked. So what was the difference?
In today's market, the stocks that appear to have some staying power as the market rallies are similar companies of what I would call 'high quality' types with the steady revenue growth and earnings and the like that I write about frequently on this blog. But the over-done spikes in stock prices that are the result of either short-covering or simply market 'fads' for the moment are not the stuff to make an investment today.
Instead of sitting completely on my hands as a sale would usually dictate, I instead thought about some of the highest 'quality' companies that have been 'beaten-up' in the market but represent to me companies that may well have terrific longer-term prospects and are simply selling at a steep discount to probably real valuation. O.K. I confess, I believe the market we are in is best served by a touch of 'value investing' in here....more along the lines of GARP investing, where well-known 'quality' growth stocks are selling at discounted levels. Stocks like Fastenal (FAST), General Electric (GE), Walgreen (WAG), Ecolab (ECL), and Sysco (SYY) came to my mind. These are the 'archetypes' of my investment strategy.

I chose to pick up some shares of Sysco (SYY), a company I have admired for many years, a company whose trucks dominate the road, providing food for many a restaurant and supplies for hospitals and institutions. This company wasn't going to go away and was selling for a song in the market. At least that was my take today. I wanted something 'safe' after getting my fingers burnt publicly more than once in a short period of time. I needed some sort of foundational stock for my portfolio that would anchor my holdings. I would sell if it hit an 8% loss like any other stock, but I had my doubts of much downside risk at these levels.
This afternoon I purchased 154 shares of Sysco (SYY) at $22.668. I was down a few cents on this purchase by the close as SYY closed at $22.39 on the day, up $.17 or .77%. It was a sedate purchase after my violent ride on DRYS. Something I needed I guess :).
Let's take a brief look at a few of the things I like about Sysco.
First the chart, a point & figure graph from StockCharts.com: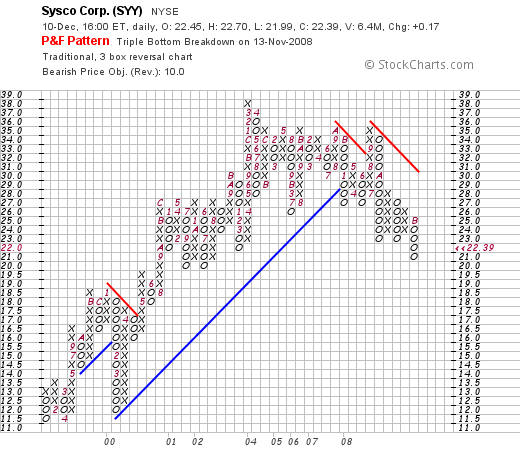 You can see from this chart that the stock is now trading at levels not previously seen since about 2002. Technically, there is little evidence that the stock has bottomed or has now turned higher. It looks like there is more on the downside. But some of the valuation numbers suggest otherwise.
Looking through some of the headlines on Sysco, we can see that just last month the company raised its dividend by 9%. Not exactly a pessimistic outlook by that move I would say.
Also last month, the company reported 1st quarter 2009 results. Revenue climbed 5% to $9.88 billion from $9.41 billion and earnings came in at $276.8 million or $.46/share up from $267 or $.43/share last year.
Reviewing the Morningstar.com "5-Yr Restated" financials on Sysco (SYY), we can see a pretty picture of steady revenue growth with the company reporting $26.1 billion in 2003 increasing to $35 billion in 2007 and $37 billion in the trailing twelve months (TTM).
Except for a dip in 2006, earnings have steadily increased from $1.37 in 2004 to $1.81/share in 2008 and $1.84/share in the TTM. Dividends have also been increasing steadily from $.50/share in 2004 to $.85/share in 2008 and $.88/share in the TTM. Meanwhile shares outstanding, which were listed at 662 million in 2004 have been steadily reduced each year to 611 million in 2008 and 608 million in the TTM.
Free cash flow is postive and growing with $611 million in 2006 and $1.08 billion in 2008 with $1.00 billion reported in the TTM.
The balance sheet appears solid with $346 million in cash and $5 billion in other current assets as compared to the $3.4 billion in current liabilities and the $3.4 billion in long-term debt.
Finally, in terms of valuation, looking at Yahoo "Key Statistics" we find that the company is a large cap with a market capitalization of $13.46 billion. The trailing p/e is only 12.20, with a forward p/e (fye 28-Jun-10) estimated at 10.46. The PEG works out at a very reasonable level of 0.95. The company pays a dividend of $.88/share with a forward yield of 4%.
Finally, the stock last split in December, 2000, when it reported a 2:1 stock split.
O.K., I got chicken. I stayed away from the high-fliers and bought something I could really sink my teeth into. Seriously. Something I see when I go out to eat at a restaurant.
They are a steady grower, they deserve a spot in most everyone's portfolio from my view. And I have a hard time hanging onto these $10 stocks anyhow that move violently up and down as I am trying to limit my losses in some rationale fashion. DryShips is an outstanding value in here I shall not dispute that fact. But maybe I am getting too old for those kind of stock moves and need something more dependable (?) like a Sysco (SYY). Sort of a 'comfort stock' you could say.
Anyhow, that's my update for today. Excuse me for publicly chasing and dumping a stock once again. I am changing my rules for the time being. I shall check but not limit myself to the top % gainers list. It is about time I gave myself a bit of flexibility on this. However, I shall continue to try to manage the stocks that are in my portfolio in the same disciplined (?) fashion.
If you have any comments or questions, please feel free to leave them right here or email me at bobsadviceforstocks@lycos.com.
Yours in investing,
Bob
Posted by bobsadviceforstocks at 4:51 PM CST |
Post Comment
|
Permalink
Updated: Wednesday, 10 December 2008 4:53 PM CST