Alamo Group (ALG) "Revisiting a Stock Pick"
Hello Friends! Thanks so much for stopping by and visiting my blog, Stock Picks Bob's Advice! As always, please remember that I am an amateur investor, so please remember to consult with your professional investment advisers prior to making any investment decisions based on information on this website.

Sometimes looking through the lists of the top % gainers, I suspect that my strategy of searching there is obsolete and no longer useful. Simply put, there haven't been a lot of stocks that report anything close to 'good' earnings reports and when they do, there isn't any enthusiasm to buy those shares and push the price of the shares higher.
Lately, things have seemed to be doing a bit better. Like the spring, the snow is starting to melt a bit on Wall Street. (Or am I too much of a Polyanna to appreciate how bad things still are?)
Anyhow, I was relieved to see an 'old friend' of mine, Alamo Group (ALG), make the list of top % gainers on the NYSE, trading as I write this up at $13.66, up $1.11 or 8.85% on the day. I write 'old friend' (or should I say 'old favorite'?) because I first wrote up this stock on February 28, 2005, almost exactly four years ago, when the stock was trading at $24.80/share. Unfortunately, the stock has not split its shares since my review and is trading at just over 50% of that 'pick price' from four years ago.
So why should I think the stock is still worth a place in this blog after that dismal performance?
This company according to the Yahoo "Profile"
"...provides tractor-mounted mowers, such as boom-mounted mowers, and other types of cutters for maintenance around highway, airport, recreational, and other public areas; heavy-duty, tractor and truck-mounted mowing, and vegetation maintenance equipment; air, mechanical broom, and regenerative air sweepers; and environmental sweepers."
ALG announced 3rd quarter results on November 10, 2008. Sales for the quarter ended September 30, 2008, climbed 18% to $148.7 million from $126 million for the same period last year. Earnings came in at $.45/diluted share up from $.42/share the prior year.
If we review the Morningstar.com '5-Yr Restated' financials, we can see the remarkably consistent record of financial results. Revenue has increased steadily from $279 million in 2003 to $504 million in 2007 and $561 million in the trailing twelve months (TTM).
Earnings, except for a dip between 2004 and 2005, have grown from $.82/share in 2003 to $1.24/share in 2007 and $1.62/share in the TTM. The company pays a dividend of $.24/share which for a $13.66/share stock works out to a 1.9% yield. Unfortuantely the dividend has been unchanged since at least 2003. The company has held the 10 million shares outstanding over the past five years as well.
In terms of free cash flow, the company which has a negative $(1) million in free cash flow in 2005 and a $(7) million in free cash flow in 2006, turned positive with $8 million in free cash flow in 2007 and $10 million in the TTM.
Finally, the balance sheet shows the company with $5 million in cash and $267 million in other current assets, easily covering the $100.3 millio in current liabilities as well as the $96.5 million in long-term liabilities combined. The current ratio works out to somewhere north of 2.5.
In terms of valuation this is a micro cap stock with a market capitalization of $135.22 million. The trailing p/e is a modest 8.40 with a forward p/e (fye 31-Dec-09) at 18.42. No PEG ratio is recorded. Probably because it is such a small stock that it is largely overlooked, I suspect, by most analysts!
Looking at the Price/Sales ratio, utilizing the Fidelity.com eResearch website, we can see that the Price/Sales (TTM) is 0.22 compared to an industry average of 0.77. Also from Fidelity, the Return on Equity (TTM) is 7.96% compared to the average of 20.35% for similar companies suggesting that while a good value in terms of profitability, the actual 'return' is less than some of its peers.
Returning to Yahoo, we can see that there are only 9.92 million shares outstanding with 6.65 million that float. As of 1/12/09 there were 225,800 shares out short representing a short interest ratio of 9.6 days well above my own arbitrary 3 day rule for significance. As I noted, the company pays a $.24/share dividend with a forward dividend yield of 1.9%. No stock splits are reported.
Looking at a 'point & figure' chart on Alamo Group (ALG) from StockCharts.com, we can see that the stock peaked at around $27 in the last few years in April, 2007. Since then it has been heading in a downward direction bottoming at around $11 in October, 2008, and repeatedly bottoming (a quadruple bottom?) at that level, with the latest dip in December, 2008. Recently the stock appears to have failed the latest rally with a peak of $17.50 in January, 2009. The stock is now forming a new 'quadruple bottom' at the $12.50 level--and rallying off that level. Overall the stock has met resistance and would need to climb above the $15 level for even a short-term technical bull signal in my amateur opinion.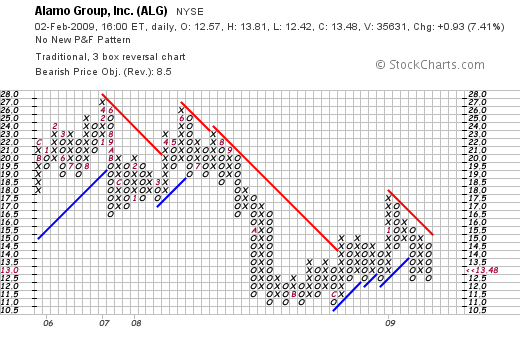 I do not own any shares of Alamo Group (ALG) nor do I own any options on this stock. But I do like the numbers and the consistent growth and solid balance sheet and downright cheap valuation. The stock even pays a dividend!
But I don't think this is why maybe there is a bit of interest in this stock. I suspect that the Stimulus Plan making its way through Congress might just favorably affect a company like Alamo which sounds like it has its fingers in everything related to 'infrastructure spending'. Especially when you read some more of the 'profile' of the company from Yahoo:
"It also offers pothole patchers and snowblower products; hydraulics and telescoping booms; catch basin cleaners and roadway debris vacuum systems; sewer cleaners; parking lot sweepers; and snowplows, heavy duty snow-removal equipment, and hitches, as well as attachments for trucks, loaders, and graders. In addition, the company provides rotary cutters, front end loaders, backhoes, posthole diggers, and scraper blades, as well as finishing, flail, and disc mowers; cutting parts, plain and hard-faced replacement tillage tools, disc blades, and fertilizer application components; and heavy-duty mechanical rotary mowers, snow blowers, and rock removal equipment. Further, it offers hydraulic, boom-mounted hedge, and grass cutters; and other tractor attachments and implements, such as hydraulic backhoes, cultivators, subsoilers, buckets, and other digger implements."
Thanks again for stopping by and visiting my blog! If you have any comments or questions, please feel free to drop me a line at bobsadviceforstocks@lycos.com.
Yours in investing,
Bob
Posted by bobsadviceforstocks at 1:28 PM CST |
Post Comment
|
Permalink
Updated: Monday, 2 February 2009 6:13 PM CST