Dolby (DLB) and Badger Meter (BMI) "Two Stocks: A Revisit and a New Name"
Hello Friends! Thanks so much for stopping by and visiting my blog, Stock Picks Bob's Advice! As always, please remember that I am an amateur investor, so please remember to consult with your professional investment advisers prior to making any investment decisions based on information on this website.
I am starting to feel a little of what I would call the normal functioning of the stock market. I say this in regards to what I would describe as the normal response to news. That is, stocks report great earnings and the 'Street' responds with a large news to the upside. This is what is supposed to happen in my book and is something that for the last six months or so has been relatively absent from the market action.
It was great today to look at the list of top % gainers on the NYSE and see Dolby (DLB) an 'old favorite' of mine make the list closing at $30.18, up $4.31 or 16.66% on the day. I first wrote up Dolby (DLB) on Stock Picks Bob's Advice on January 7, 2008, and also purchased some shares that I held for a short period of time. (I do not own any shares of Dolby nor do I own any options presently). At the time of my write-up, Dolby (DLB) was trading at $49.21, so we can see the stock has along with the rest of the market been under pressure.
Let me explain why this stock and also Badger Meter (BMI), a new name for this blog, deserve a spot on this website.
Besides making the list of top % gainers, they did this with great news. Dolby (DLB) reported 1st quarter 2009 results yesterday evening after the close. Earnings came in at $.68/share, easily exceeding estimates of $.43/share. Revenue also beat expectations, coming in at $180.3 million as compared to the estimated $164.9 million expected. To top this off, the company went ahead and raised guidance for 2009 earnings but did cut the outlook on revenue.
Alex Davidson over at Forbes.com pointed out that shares were upgraded to "outperform" over at Pacific Crest Securities and that analysts anticipate that Microsoft Windows 7 will significantly add to earnings.
What I really like about Dolby (DLB) isn't about the fabulous products they offer. I just really like their numbers on Morningstar.com with their "5-Yr Restated" page.
I am impressed by the steady growth in revenue from $289 million in 2004 to $640 million in 2008. I like the earnings growth that has skyrocketed from $.43/share in 2004 to $1.70/share in 2008. And their relatively steady outstanding shares which did grow from 93 million in 2004 to 112 million in 2006 but through 2008 stood at a barely increased 115 million shares.
Cash flow for this company is positive and solidly growing. They reported free cash flow of $124 million in 2006 and increased it to $152 million in 2007 and $251 million in 2008.
The balance sheet is equally impressive with $395 million in cash and $297 million in other current assets. This total of $692 million, when compared to the $200.7 million in current liabilities yields a current ratio of 3.45. From my perspective a current ratio of 1.5 or higher is solid. The company has a relatively nominal amount of long-term liabilities totaling $86.2 million.
Like virtually every other tech stock on the market, Dolby (DLB) has been under pressure since early 2008 as this 'point & figure' chart from StockCharts.com demonstrates.
The stock is far from overpriced and appears to have 'double-bottomed' at around $25. However, a price move above $33 would be more reassuring to me that this stock is showing any particular technical strength at all.
Reviewing some Yahoo "Key Statistics" on Dolby, we find that Dolby is a mid cap stock with a market capitalization of $3.4 billion. The trailing p/e is only 17.36 with a forward p/e (fye 26-Sep-10) of 17.05. The PEG is a reasonable 1.12.
In terms of valuation, the Fidelity.com numbers suggest that the Price/Sales (TTM) is rich at 4.53 compared to the industry average of only 0.93. However, in terms of profitability, Fidelity reports that the Return on Equity (ROE) at 20.59% almost doubles the industry average of 11.11%.
Finishing up with Yahoo, there are 112.58 million shares outstanding but only 51.78 million that float. Currently there are 6.18 million shares out short (as of 12-Jan-09) with a resultant short interest ratio of 10.9 days. From my perspective, this is well above my own arbitrary 3 day rule for short interest suggesting that today's sharp price move might well have been a bit of a 'squeeze' of the shorts.
No dividend is paid and Yahoo does not report any stock splits.

Since I have gone on for some time about Dolby (DLB), let me briefly fill you in on the second stock I wanted to comment on--Badger Meter (BMI). I do not own any shares of this Wisconsin firm (I love those Wisconsin companies that show up in my blog---Go Badgers!)
Badger Meter (BMI) made the list of top % gainers today. They closed at $30.51, up $6.42 or 26.65% on the day (!). Basically they reported a terrific fourth quarter 2008 with solid revenue and earnings growth. They also have a terrific Morningstar.com "5-Yr Restated" page with steady revenue growth, earnings growth and yes (!) dividend growth. The free cash flow results are incomplete on the page but the 2007 results show $12 million in free cash flow. Their balance sheet appears solid with a current ratio of about 1.5.
The 'point & figure' chart on Badger Meter from Stockcharts.com shows the stock price peaking at about $62 in August, 2008, only to dip as low as $18 in November, 2008. The stock price has been fighting back but like Dolby, I would like to see it above the 'resistance line' at about $32.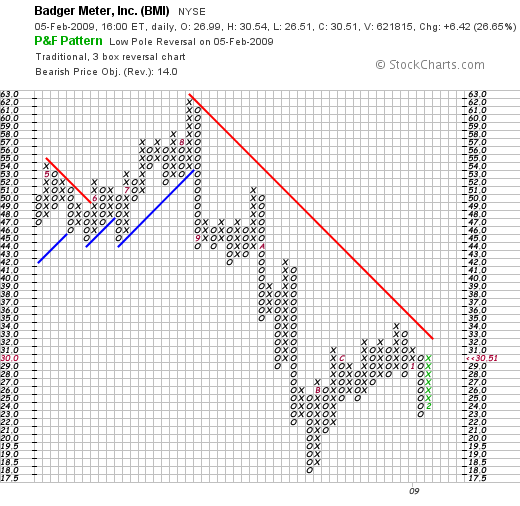 In terms of valuation, according to Yahoo "Key Statistics" the stock has a trailing p/e of 20.94 with a forward p/e estimated at 19.81 (fye 31-Dec-09). This is a smaller company that Dolby, actually a small cap stock with a market capitalization of only $451.18 million.
In terms of valuation, according to Fidelity.com, Badger has a Price/Sales (TTM) ratio of 1.31 compared ot the industry average of 0.77. The company is slightly more profitable than its peers as measured by the Return on Equity (TTM) which according to Fidelity comes in at 22.75% compared to the industry average of 20.17%.
Yahoo reports only 14.79 million shares outstanding with 13.66 million that float. As of 12-Jan-09 there were 1.55 million shares out short representing 4.2 trading days of short interest--a little above my own '3 day rule' for significance. As I noted, the company does pay a small dividend of $.44/share with an indicated yield of 1.8%. The last stock split was a 2:1 split back on June 16, 2006 per Yahoo.
If you read the Bob Herbert column from the January 29, 2008 edition of the New York Times, you might realize that the infrastructure stimulus might well include Badger Meter products in water projects (?). Anyhow, perhaps that is what the 'street' is thinking in dealing with this company!
Anyhow, I feel like more of my old self today---finding firms on the top % list reporting great earnings and being rewarded for their financial success!
Thank you again for visiting here and if you have any comments or questions, please feel free to leave them on the blog or email me at bobsadviceforstocks@lycos.com.
Yours in investing,
Bob
Posted by bobsadviceforstocks at 6:23 PM CST |
Post Comment
|
Permalink
Updated: Thursday, 5 February 2009 10:24 PM CST