A Reader Writes "CTSH, HAE, and ALXN---Your Thoughts?"
Hello Friends! Thanks so much for stopping by and visiting my blog, Stock Picks Bob's Advice! As always, please remember that I am an amateur investor, so please remember to consult with your professional investment advisers prior to making any investment decisions based on this website.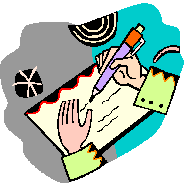 My loyal reader and commenter, Doug S., who has suggested many a good idea dropped me a line last week and wrote:
"CTSH looks like a screaming buy. HAE has been behaving well, and ALXN looks very interesting and insulated from the economic fiasco. No current positions."
First of all, thank you for writing once again Doug. Since I have been spending much time on my own stocks the past few months, I would like to take a look at the stocks that you mentioned. As you probably realize, I do own a small position in Haemonetics (HAE), but I haven't looked at Cognizant (CTSH) since way back on July 22, 2003. I don't believe I have ever really examined Alexion Pharmaceuticals (ALXN), so that one will be a completely new stock for me and for this blog.
In reviewing these three stocks, let's look at four basic items that may well determine our assessment. First of all the news. Is there any recent news item that is of signifance that will affect our current assessment of the prospects of this stock? And I suppose, when considering the news, we can also consider the context of the current economic "fiasco" as you appropriately describe our current economy.
Next, as I like to do, let's take a quick look at the latest quarterly report. Were earnings growing, revenue increasing, and did the company meet, beat, or fail to meet expectations? And did the company comment on guidance?
Thirdly, let's review the Morningstar.com '5-yr restated' reports. What has been happening to the revenue, earnings, free cash flow, dividends, and what about the balance sheet?
Finally, what about the chart? Is the stock price in a 'free-fall' or does it show any support from investors?
In the case of Cognizant (CTSH), the "news" includes the latest earnings report. Since this company relies heavily on Indian workers for oursourcing, I would certainly be concerned that Cognizant could feel some of the effects of the Satyam disaster, but apparently this is not a problem for this particular company. Cognizant closed at $21.17 on February 13, 2009, up $.41 or 1.97% on the day.
On February 13, 2009, Cognizant (CTSH) reported 4th quarter 2008 results. They met expectations with net income coming in at $.38/share or $112.3 million compared to the prior year $96.3 million or $.32/share. Revenue also increased nearly 26% to $753 million from $60 million the prior year. However, this news story suggests that removing special items (including weakness in the British pound relative to the U.S. Dollar affecting earnings by $(.03)), CTSH actually earned $.41/share and beat expectations.
Reuters reported that the company reduced guidance for 2009: first quarter revenue at least $735 million vs. estimated $746.6 million, and 2009 earnings of at least $1.54 vs. estimated $1.59 million. Full year 2009 revenue now estimated at $3.1 billion vs. estimated $3.07 billion.
However, the company, after the slight slowing in the first quarter does anticipate
"...a modest pick-up beginning the second quarter, as it sees a "stream of projects" that supports its assumption of a return to sequential growth in the quarter"
Clearly, while a satisfactory current quarter report, the company does appear to indicate that it too is not immune from the global economic stress.
In terms of longer-term results, the Morningstar.com "5-Yr Restated" financials page is quite strong with no evidence at all of any weakness.
And if we review the StockCharts.com 'point & figure' graph on Cognizant (CTSH), we can see that the stock appears to be moving higher, having bottomed at around $14.50 in November, 2008, and at least for the short-term, is moving past resistance at the $21.17 level.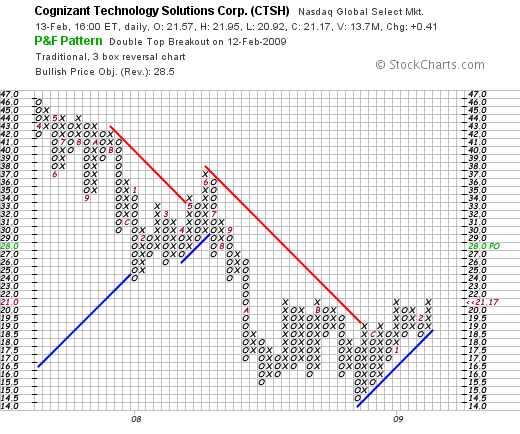 Doug, I would say that Cognizant is interesting. I am a bit concerned about the comments in the latest quarter about short-term issues in the upcoming quarter. I do like their historic record and the chart is encouraging. It definitely belongs on the watch-list, if not in your portfolio at some time in the future.

In terms of Haemonetics (HAE), this is a company I am well familiar with as I currently own shares of HAE in my own trading account! I even made a podcast on Haemonetics back on November 16, 2008! Haemonetics (HAE) closed at $61.01 on February 13, 2009, down $(1.33) or (2.13)% on the day.
I know that I am biased because like a proud parent I own this stock, but looking at the latest results, 3rd quarter results were reported on February 2, 2009. The company beat expectations with earnings growth of 13% to $.63/share up from $.54/share the prior year....analysts had expected a profit of $.61/share. Revenue increased 16% to $155.4 million from $134.6 million....analysts had expected revenue of $144.9 million. In addition the company raised guidance on both earnings and revenue for fiscal 2009.
Lately, it has been increasingly difficult to identify companies beating expectations and raising guidance in the same report! (You can see why I also like this company!)
Except for a dip in earnings between 2006 and 2007, the Morningstar.com "5-Yr Restated" financials also are quite solid.
Reviewing the 'point & figure' chart from StockCharts.com on Haemonetics, we can see that the stock, while under pressure from October, 2008, through November, 2008, appears to be showing some renewed strength and having broken through 'resistance' is moving higher, at least for the short-term.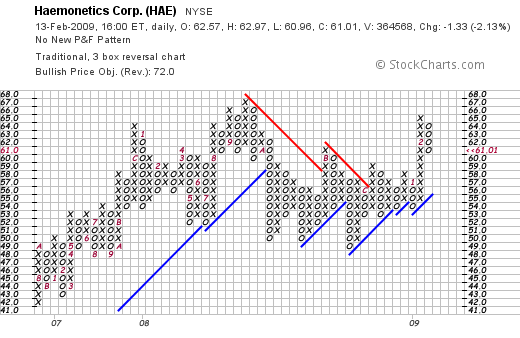 Haemonetics (HAE) is certainly a favorite of mine. I like their latest earnings, their optimistic outlook, and the chart is encouraging. Of course, we need to consider that larger pressures of the economy may affect any business activity, Haemonetics included, but from the look of things, this one is a keeper.

Finally, Alexion (ALXN). According to the Yahoo "Profile" on Alexion, this company "...primarily engages in the discovery, development, and commercialization of biologic therapeutic products for the treatment of severe disease states, including hematologic diseases, cancer, and autoimmune disorders."
Alexion (ALXN) closed at $39.91, down $(.26) or (.65)% on the day.
This is a $3.1 billion market-cap company which just reported 4th quarter 2008 results that were quite impressive. Earnings came in at $.17, beating estimates by $.09/share, and revenue came in up over 100% at $77.4 million in the quarter.
The report does note that the company currently
"...derives all of its revenue from Soliris, which treats paroxysmal nocturnal hemoglobinuria (PNH). The rare genetic disorder can lead to anemia, fatigue, pain and difficulty in breathing."
The company also raised guidance for 2009 to $1.00 to $1.05 in earnings on $360 to $375 million in revenue. Currently analysts had been expecting Alexion to earn $.87/share on $381.6 million in revenue.
If we review the Morningstar.com "5-Yr Restated" financials on Alexion, we can see that revenue was only $1 million in 2005, and by 2007 this had increased sharply to $72 million. The company has reported $216 million in the trailing twelve months (TTM). The company has only just turned profitable and is still burning through cash with a negative free cash flow (which has also improved recently). The balance sheet is satisfactory.
Looking at the 'point & figure' chart on Alexion from StockCharts.com, we can see the sharp rise in price from May, 2006, when the stock was trading at $15.00/share to a peak in July, 2008, when the stock was as hjigh as $47.00/share. The stock dipped, along with so many other companies, between August, 2008, and November, 2008, when it pulled back to a level of $29.00/share. Since then the stock has broken through resistance and appears to be moving higher at least for the short-term.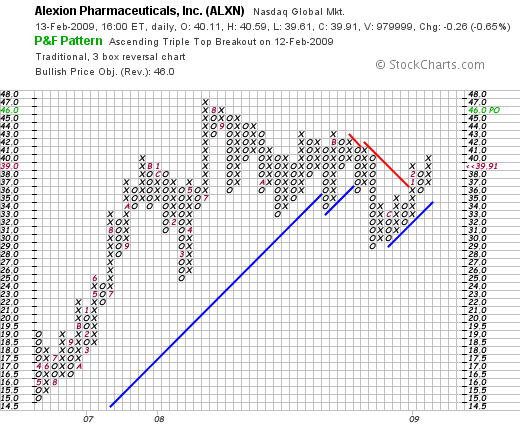 Alexion is an interesting company. But for me a bit risky in that it is a one-product pharmaceutical firm. Even though this may well be a terrific opportunity, too much depends on this one drug. The company does have some other products in the pipeline.

Doug, thinking about these three companies, I find myself still liking Haemonetics (HAE) the best, especially with the steady and increasing results. I am a bit concerned about Cognizant (CTSH) with the lowering of guidance for the upcoming quarter, and I am a bit wary of investing in a 'rocket-stock' like Alexion which, while growing quickly, depends so heavily on a single product.
I hope that is helpful. Meanwhile, I appreciate your comments and emails and if anyone else would like to comment on this or anything else, they are welcome to leave their comments right here on the blog or email me at bobsadviceforstocks@lycos.com.
Yours in investing,
Bob
Posted by bobsadviceforstocks at 9:38 AM CST |
Post Comment
|
Permalink
Updated: Sunday, 15 February 2009 10:24 AM CST