Colgate Palmolive (CL) and Coca-Cola (KO) "Trading Transparency"
Hello Friends! Thanks so much for stopping by and visiting my blog, Stock Picks Bob's Advice! As always, please remember that I am an amateur investor, so please remember to consult with your professional investment advisers prior to making any investment decisions based on information on this website.

Colgate-Palmolive (CL) is definitely one of my favorite 'comfort stocks'. However, I wasn't very comfortable when they reported their 2nd quarter results that beat expectations on earnings but missed on revenue. As reported today before the open, profit came in at $1.07/share exceeding expectations of $.98/share, but revenue came in a little light at $3.75 billion, under the expected $3.83 billion. Not really a big deal imho, but enough to spook skittish investors (like myself) who really don't enjoy hanging on to a stock when the market roars ahead and the stock price drops on a small disappointment. Earlier today I sold my 43 shares of CL at $71.92/share. These shares had been purchased 4/24/09, just 3 months ago at a cost basis of $59.55/share. Thus, I had a gain of $12.37/share or 20.8% since purchase.
Preserving gains is about as important as avoiding losses in my strategy and I chose to swap out of Colgate (CL) and purchased some shares of Coca-Cola (KO) hoping that my portfolio would 'go better with Coke'!

I went ahead and purchased 50 shares of Coca-Cola (KO), a slightly smaller position than my Colgate, at $50.39/share this morning.
Let's take a brief look at Coke and see if it makes sense and might offer almost as good an opportunity for this investor as my shares in Colgate!
On July 21, 2009, Coca-Cola (KO) reported 2nd quarter results. Earnings climbed 43% to $.88/share vs. $.61/share last year...but last year's results were dampened by $.40/share in one-time restructuring charges and asset 'write-downs'. Sales dipped 9% to $8.27 billion. So in fact, this was less than stellar.
Looking at the Morningstar.com "5-Yr Restated" financials on Coke, we can see the steady revenue growth from 2004 at $21.7 billion, increasing to $31.9 billion in 2008 only to dip slightly to $31.7 billion in the trailing twelve months.
Earnings have increased from $2.00/share in 2004 to a peak of $2.57/share in 2007, dipping to $2.49/share in 2008 and $2.43/share in the TTM. Again demonstrating a little weakness recently.
Free cash flow is not a problem with KO, with $4.5 billion in 2006 increasing to $5.3 billion in the TTM. This contributes to a balance sheet with $6.8 billion of cash, $7.9 billion of other current assets balanced against current liabilities of $13.2 billion. The company also has a moderate level of $9.2 billion in long-term liabilities.
Looking at some valuation numbers on Yahoo "Key Statistics", we can see that this is a large cap stock with a market cap of $116.5 billion. The trailing p/e is a moderate 18.63 with a forward p/e of 15.16. The PEG ratio, however, is a bit rich at 2.44 suggesting a bit of a premium price for this stock relative to its growth rate as estimated.
There are 2.32 billion shares outstanding with 2.30 billion that float. Currently there are 27.14 million shares out short representing 2.7 trading days of volume (the short interest ratio) below my own 3 day cut-off for significance. The company pays a $1.64 dividend yielding a forward dividend yield of 3.3%. The company last split its shares 2:1 in May, 1996.
And the chart? Looking at the 'point & figure' chart on Coca-Cola (KO), we can see that the stock hit a high of $62 in January, 2008, before pulling back as low as $37 in March, 2009. The stock recently has broken out past resistance and is acting quite strong at its current level of $50.32.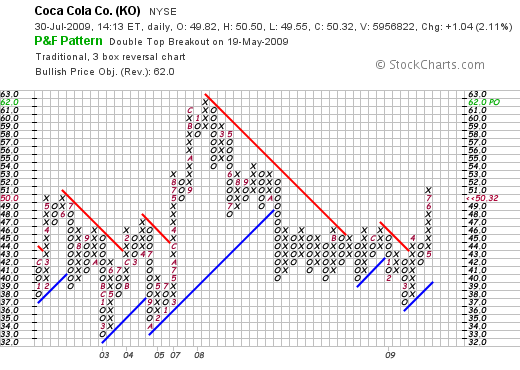 Quite frankly, I like Coca-Cola (KO) stock as a long-term growth and recovery play on the global economy. It is a 'comfort stock' from my perspective, but the numbers are not quite as strong currently as I might like to see in a stock in my portfolio. Technically, the stock appears to be anticipating improved numbers as the stock price has appreciated nicely the past couple of months.
I am not sure if this stock is the 'Real Thing' or not. However, as I build my portfolio, while stepping aside from Colgate--at least temporarily--I shall try to see if this stock has enough 'fizz' to help move my portfolio in the right direction. If instead it turns out to be 'flat' instead, well I can always move on with another stock holding!
Thanks again for stopping by and visiting my blog! If you have any questions, please feel free to leave them on the blog or email me at bobsadviceforstocks@lycos.com.
Yours in investing,
Bob