ResMed (RMD) "Revisiting a Stock Pick"
Hello Friends! Thanks so much for stopping by and visiting my blog, Stock Picks Bob's Advice! As always, please remember that I am an amateur investor, so please remember to consult with your professional investment advisers prior to making any investment decisions based on information on this website.
One of my favorite stocks (that I do not currently own) is ResMed (RMD) a company that manufactures equipment that treats Obstructive Sleep Apnea. A very common disease that affects millions of people worldwide and that untreated can increase your risk of dying early by as much as 46%.
As this same report relates, sleep apnea
"...is closely linked with obesity, high blood pressure, heart failure and stroke"
Incredibly common, the same article found that
"Among men, 42.9 percent did not have sleep-disordered breathing, 33.2 percent had mild disease, 15.7 percent had moderate disease, and 8.2 percent had severe disease," they wrote.

They said about 25 percent of the women had mild sleep apnea, 8 percent had moderate disease and 3 percent had severely disordered breathing."
It is estimated that 20 to 30 million Americans have sleep apnea and it remains largely undiagnosed.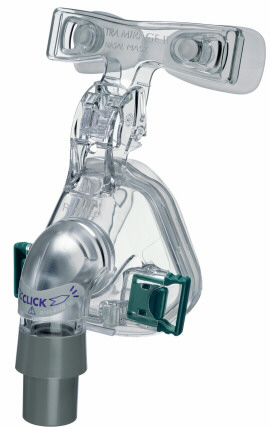 Now that I have you convinced that obstructive sleep apnea is a common and usually easily treatable disease with positive airway pressure masks, let's take a closer look at one of the dominant companies in this market, ResMed (RMD).
I say that ResMed (RMD) is an "old favorite" of mine, because I have written about this company several times, and my sentiment towards their business has remained positive. I first wrote about ResMed on December 5, 2003, when the stock was trading at a split-adjusted $20.88. (ResMed had a 2:1 stock split in October, 2005). I again revisited ResMed in February, 2005, when the stock was trading at a split adjusted $29.92. I also for a period became a holder in the stock myself.
In fact, on August 6, 2008 I purchased shares in ResMed (RMD) at $43.09 and wrote up a little more of my own rationale for doing so. I ended up selling those shares in October, 2008, as the stock market cratered. ResMed (RMD) closed at $45.52 on September 18, 2009, up $.25 or .55% on the day.
I am not yet convinced that the recession is over. But certainly there are early signs of recovery even as some states are seeing record levels of unemployment including California at 12.2% and Nevada at 13.2%. However, my own investment strategy is to monitor my own holdings, avoid making predictions about the economy or the stock market, and restrict my purchases to companies like ResMed with strong fundamentals.
On August 7, 2009, ResMed (RMD) reported 4th quarter 2009 results. Revenue for the quarter ended June 30, 2009, increased 7% to $252 million. (Growth would have been even stronger at 15% if adjustments for currency hadn't been made.)
Net income for the quarter increased 53% to $45.4 million or $.59/share. Analysts, as compiled by Thomson Reuters, had been expecting $.54 cents and only $243.2 million in revenue. Thus, as I like to see on an earnings report, the company reported rather robust growth in both revenue and earnings and beat expectations on both!
Using the Morningstar.com "5-Yr Restated" financials for a longer-term look, we can see that ResMed (RMD) has increased revenue steadily from $426 million in 2005 to $835 million in 2008 and $921 million in 2009. Earnings/share have grown from $.91/share in 2005 to $1.16 in 2006 before dipping to $.85/share in 2007, and then rebounding strongly and steadily to $1.90/share in 2009. The company does not pay a dividend. Outstanding shares have been steady at 75 million reported in 2005 and increasing only slightly to 77 million in 2009.
Free cash flow has been positive and growing recently with $14 million reported in 2007, increasing to $62 million in 2008 and $129 million in 2009.
Regarding the balance sheet, as reported by Morningstar, this company has a relatively 'pristine' set of numbers with $416 million in cash, which by itself could pay off both the current liabilities of $269.1 million and the long-term liabilities of $123.7 million combined!
Calculating the 'current ratio', adding the 'other current assets' to the 'cash' results in a total of $854 million in current assets which when compared to the $269.1 million in current liabilities yields a very strong ratio of 3.17 suggesting a very solvent company easily able to pay its current bills.
Examining Yahoo "Key Statistics" on ResMed, we can see thatwith a market capitalization of $3.44 billion, ResMed qualifies as a "mid cap" stock. The company currently trades at a trailing p/e of 23.97, which might by itself be considered 'rich', but taking into consideration the '5 yr expected' earnings, the company actually has a very reasonable PEG ratio of only 0.96.
Yahoo reports that the company has 75.54 million shares outstanding with 70.51 million that float. As of 8/26/09, there were 3.82 million shares out short. With an average trading volume recently placed at 371,244 shares, this works out to a short ratio (as of 8/26/09) of 8.4. Applying my own arbitrary '3 day rule' on short interest, this appears to be significant in terms of a potential short squeeze driving the stock higher in the face of any additional good news.
No dividends are paid and as I earlier noted, the company last split its stock in October, 2005, with a 2:1 stock split.
If we look at the 'point & figure' chart on ResMed (RMD) from StockCharts.com, we can see that the stock has been under pressure for the last several years, with sequential lower lows culminating in a low in July, 2008, at $29/share. Recently the stock has been generating a short series of higher highs and higher lows and appears to be positioned to move higher without appearing overextended.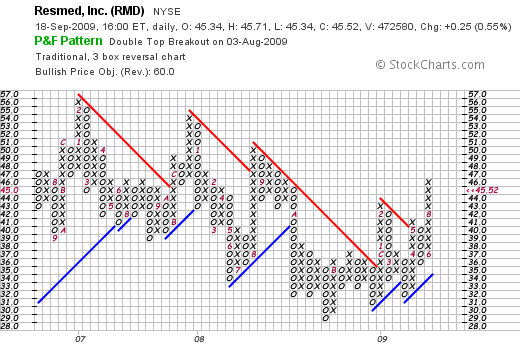 To summarize, I have been a big fan of ResMed (RMD). I believe in the utility of their product---the health benefits of treating obstructive sleep apnea appear obvious. But beyond this, ResMed is a company that has been generating revenue and earnings growth, maintaining its outstanding shares, and reporting solid financial numbers in these somewhat less than solid financial times.
Valuation-wise, the p/e is a bit rich, but when taken into consideration the expected growth rate doesn't appear rich at all. There are quite a few shares out short (as of latest Yahoo numbers) which may also support further price appreciation. Their last quarter was strong and they beat expectations. Now, if only they paid a dividend too!
ResMed (RMD) is the kind of stock I would like to get back into my own trading portfolio if the opportunity should arise. Meanwhile, I shall wait for my own holdings to indicate whether it is time to be shifting from cash into another holding or in fact selling a holding and moving towards cash!
If you have any comments or questions, please feel free to leave them on the blog or email me at bobsadviceforstocks@lycos.com.
Yours in investing,
Bob
Posted by bobsadviceforstocks at 8:22 PM CDT |
Post Comment
|
Permalink
Updated: Sunday, 20 September 2009 10:15 PM CDT