Ecolab (ECL) "Trading Transparency"
Hello Friends! Thanks so much for stopping by and visiting my blog, Stock Picks Bob's Advice! As always, please remember that I am an amateur investor, so please remember to consult with your professional investment advisers prior to making any investment decisions based on information on this website.
One of the biggest news stories this past week has been the British Petroleum oil spill from the Rig Deepwater Horizon in the Gulf of Mexico, which
now, according to this NASA satellite image, is approximately the size of Puerto Rico.
As this editorial points out, the spill may have long-lasting effects on oil exploration and put a damper on President Obama's proposal regarding opening up more areas of the country to exploration.
With all of that in mind, and the market and my own portfolio reeling Friday from a fairly sharp correction, I chose to unload my Schlumberger (SLB) shares and sold my 42 shares of Schlumberger (SLB) at $71.87/share. I had just purchased these shares on April 13, 2010, with a cost basis of $2756.85 or $65.64/share (including commission) and thus realized a gain of $6.23/share or 9.5% since purchase.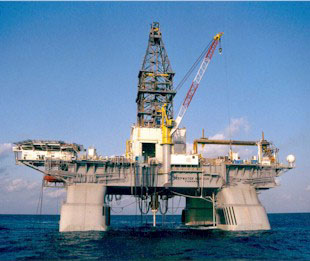 However, this sale is completely out of my general trading strategy of sales of stock at gains and losses. This falls into my own 'disgression' to pull the plug on any holding when some fundamental news story makes me believe that the short-term prospects for the stock are less than stellar. This spill, and the almost guaranteed negative sentiment that will be generated as the oil hits shore, will likely slow down plans in the United States, if not globally, for expansion of exploration of offshore oil assets.
It is possible I was just in a panic and pulled the plug on this essentially great company way too soon. Time will tell, but I didn't want to really find out. My recent track record for these 'arbitrary' moves is relatively poor as I recently sold my shares of Walgreen (WAG) and purchased shares of Abbott (ABT) only to watch Walgreen shares move higher and Abbott (ABT) shares decline to my 8% loss limit.
Ironically, I chose to move my funds from a company now in an industry associated with oil spills and environmental catastrophes, into a company whose main purpose is 'cleaning up' messes--Ecolab (ECL). I last purchased shares of Ecolab (ECL) in February, 2009, and wrote up my thoughts about this stock at that time. I also discussed Ecolab on my blog in December, 2008, using it as an example of how I go about picking a stock.

With all of that in mind, I sold my shares of Schlumberger (SLB), even though it wasn't directly involved in the spill as far as I could tell, but rather because I was concerned about the near-term strength of that entire industry, and purchased 65 shares of Ecolab (ECL) at $48.98/share.
According to the Yahoo "Profile" on Ecolab (ECL), the company
"...develops and markets products and services for the hospitality, foodservice, healthcare, and industrial markets in the United States and internationally. It offers cleaning and sanitizing products and programs, as well as pest elimination, maintenance, and repair services primarily to hotels and restaurants, healthcare and educational facilities, quick service (fast-food and convenience store) units, grocery stores, commercial and institutional laundries, light industry, dairy plants and farms, food and beverage processors, and the vehicle wash industry."
Just last week, on April 27, 2010, Ecolab (ECL) reported first quarter 2010 results. Earnings climbed sharply to $95.6 million or $.40/share up from $57.4 million or $.24/share the prior year. Adjusted earnings came in at $.41/share beating expectations with analysts, according to Thomson Reuters, estimating $.39/share. Sales increase 6% to $1.43 billion also exceeding analysts' expectations of $1.42 billion. In addition the company raised guidance for earnings to a range of $2.21 to $2.26/share for the year, up from the prior guidance of $2.17 to $2.25/share. Analysts have been expecting earnings of $2.22/share.
Reviewing the Morningstar.com "5-Yr Restated" financials for a longer-term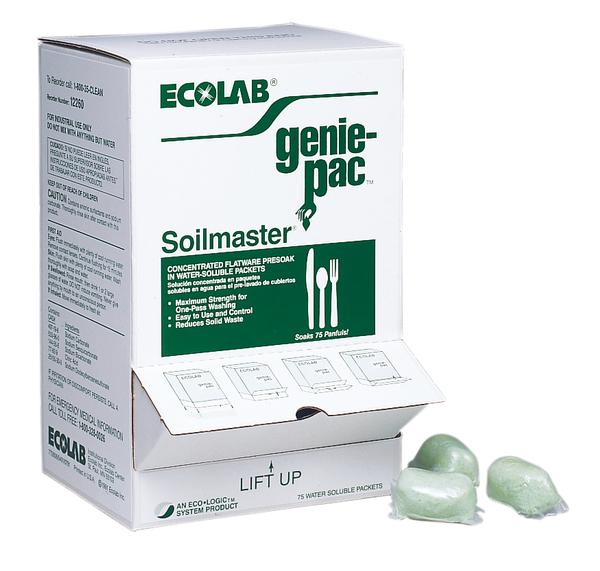 view, we can see that revenue climbed from $4.54 billion in 2005 to $6.14 billion in 2008 before slipping to $5.9 billion in 2009. Earnings climbed from $1.23/share in 2005 to $1.80/share in 2008 before dipping to $1.74/share in 2009. Dividends have been paid annually over this same period and have also increased each year from $.36/share in 2005 to $.58/share in 2009. Outstanding shares have been reduced each year from 260 million in 2005 to 240 million in 2009.
Free cash flow has also been strong with $436 million reported in 2007 increasing to $443 million in 2009.
The balance sheet appears solid with $74 million in cash and $1,741 million in other current assets. This total of $1.82 billion, when compared to the current liabilities of $1.25 billion yields a current ratio of 1.46. Ecolab also has $1.77 billion in long-term liabilities.
Checking Yahoo "Key Statistics" on ECL for some valuation numbers, we find that Ecolab is actually a large cap stock with a market cap of $11.5 billion. The trailing p/e is a bit rich at 25.75 with a forward p/e of 19.38 (fye Dec 31, 2011) as estimated. Again estimating the next five years of earnings, the PEG ratio is calculated at 1.68, again suggesting a fairly fully-valued stock.
According to the Fidelity.com eresearch website, valuation relative to other companies in the same industry isn't bad at all. The Price/Sales ratio works out to 1.93 compared to an industry average of 2.64. I frequently refer readers back to the wonderful article by Paul Sturm in SmartMoney who discussed the importance of looking at Price/Sales numbers when determining valuation of a particular company. The company also has a Return on Equity (TTM) of 23.88% compared to the industry average of 16.05%, a Return on Assets (TTM) of 9.24% compared to the industry average of 5.51%, and a Return on Investment (TTM) of 15.22% vs. the industry average of 7.6%.
Returning to the Yahoo information, there were 5.26 million shares out short as of April 15, 2010, with a short ratio of 3.00, my own arbitrary cut-off for significance. The forward annual dividend rate if $.62/share with a yield of 1.3%. The company has a payout ratio of only 31%
Reviewing the 'point & figure' chart on Ecolab (ECL) from StockCharts.com, we can see that the company stock was doing quite well from September, 2002, when it bottomed at $19/share, until September, 2007, when it hit a high of $51. The company turned lower and bottomed twice at the $29.5 level before rebounding in March, 2009, and moving higher to its current level of $48.84.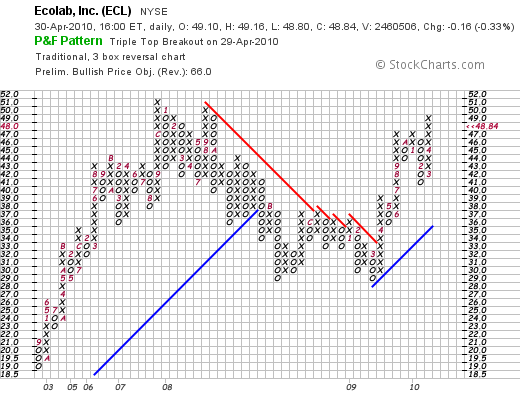 In summary, I chose to share my shares of Schlumberger (SLB) Friday, not because of any particular news I could attribute to the company, but rather my concerns about the short-term attractiveness of the entire oil service industry. I am an admirer of Schlumberger and would like to once again in the future add it back to my portfolio, but meanwhile I have chosen to switch into Ecolab (ECL). Generally, it is the best, not the worst, time to be buying a stock when a 'crisis' strikes. If you recall the Johnson & Johnson Tylenol "scare", you can remember how bad people expected the stock to perform---and it turned out to be a great time to buy the stock. (Ironically, Tylenol is once again being recalled as I write---this time it is the Children's Tylenol!)

In the future, I may well depend on the stock price itself rather than my own arbitrary decisions on pulling the plug on a stock. However, the size of this man-made disaster is threatening, and I wanted to get out of the way of this oil slick of an industry.
Thanks again for stopping by and visiting my blog. If you have any comments or questions, please feel free to leave them right on the website or email me at bobsadviceforstocks@lycos.com.
Yours in investing,
Bob
Posted by bobsadviceforstocks at 10:24 PM CDT |
Post Comment
|
Permalink
Updated: Sunday, 2 May 2010 10:26 PM CDT