Johnson Controls (JCI) "Revisiting a Stock Pick"
Hello Friends! Thanks so much for stopping by and visiting my blog, Stock Picks Bob's Advice! As always, please remember that I am an amateur investor, so please remember to consult with your professional investment advisers prior to making any investment decisions based on information on this website.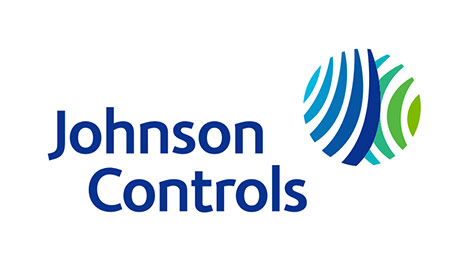 One of the last things I did in my portfolio was to unload shares of Schlumberger (SLB) on April 30, 2010, at $71.87 and purchase shares of Ecolab (ECL) at $48.98. I did so in the face of the Deepwater Horizon Gulf of Mexico oil spill which occurred on April 20, 2010. Both shares have been relatively weak but Schlumberger, an oil service contractor has been hit hard and closed June 11, 2010, at $59.48, down more than $12 or (17.2)% since my own sale. Ecolab (ECL) closed at $46.44 on June 11, 2010, giving me a loss of $(2.54) or (5.2)% since my purchase reflecting more the market's decline in May rather than any particular bias against the industry that SLB has been facing.
In the same fashion, I do believe that the tragic oil spill that is continue to pour raw petroleum into the Gulf of Mexico shall have effects that extend beyond the directly affected states into policy being developed in Washington D.C. and likely in other capitols around the globe. Much like Three Mile Island had a terribly chilling effect on nuclear power in America, so shall the Gulf oil spill result in changes in energy policy in the United States.
Johnson Controls (JCI) may ultimately benefit from the changes in energy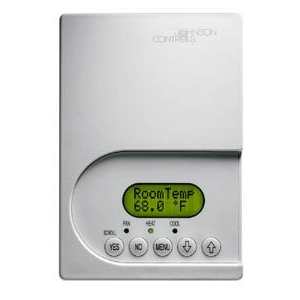 utilization in America and around the world. I first wrote up this Wisconsin-based firm on July 9, 2004, when the stock was trading at $53.24. With the 3:1 stock split on October 3, 2007, this gives this pick an effective cost of nearly $18 per share. JCI closed on June 11, 2010, at $27.56.
I again revisited Johnson Controls (JCI) on October 12, 2005, when the stock was trading at $63.60 ($21.20 adjusted for the split). On October 10, 2006, I wrote up Johnson Controls (JCI) a third time on October 10, 2006, when the stock was trading at $81 ($27 adjusted for the subsequent split). Since that time I have briefly owned shares of the stock but at this time do not own any shares of Johnson Controls (JCI).
Let's take another look at this company and I shall share with you why I believe it is still an interesting stock and one that deserves a spot in my blog as well as probably a position in my own trading account in the future!
Johnson Controls (JCI) operates in three main businesses. According to the Yahoo "Profile" on the company, it
"...operates in building efficiency, automotive experience, and power solutions businesses worldwide."
Weakness in both the building industry as well as the automotive industry resulted in considerable weakness in the stock price. However, both of these areas appear to be bottoming and starting a slow recovery. This recent article points out signs of a recovery in building in the recession-laden Southern California market. Similarly the auto industry is showing signs of life and recent numbers continued the '8 straight month' of auto sales increases.
Johnson Controls (JCI) recently launched an unsuccessful bid for auto parts supplier Visteon (VSTNQ.PK) for $1.25 billion. Visteon has been a parts supplier for Ford (F). That bid was rejected but reflects JCI's ambitious effort to grow their business in the midst of the weak environment. JCI also spent $6.08 million recently to purchase a 3.4% interest in Azure Dynamics Corp., a Michigan supplier to hybrid vehicle market, a growing alternative to the internal combustion driven vehicles we are all have grown up with.
In the lastest quarterly financial report issued by Johnson Controls (JCI), they reported that their fiscal 2nd quarter flipped from a loss the prior year of $269 million to a profit of $274 million. This worked out to $.40/share this year vs. $(.33)/share the prior year. They managed to exceed analysts' expectations according to Thomson Reuters of $.39/share. Revenue also climbed 32% year-over-year to $8.32 billion, also exceeding analysts expectations of $7.92 billion in sales. Adding some additional bullish sentiment to the announcement, the company raised guidance on 2010 earnings to a range of $1.90 to $1.95/share, compared to prior guidance of $1.70 to $1.70/share on revenue of $33.5 billion.
Reviewing the Morningstar.com "5-Yr Restated" financials on JCI, we can see that from 2003 until 2008, revenue climbed from $27.5 billion to $38.1 billion. Revenue dipped in 2009 to $28.5 billion before climbing back to $31.6 billion in the trailing twelve months.
Earnings climbed from $1.56/share in 2005 to $2.09/share in 2007 before dipping down to $1.63/share in 2008 and a loss of $(.57)/share in 2009. The company has earned $1.71/share in the trailing twelve months.
The company increased its dividend from $.33/share in 2005 to $.52/share in 2008 and has kept it at that level since then. Outstanding shares have fluctuated with 583 million reported in 2005, increasing to 601 million in 2008. They dipped to 593 million in 2009 and have again increased to 637 million in the TTM.
Free cash flow has remained positive even with the dip in business, declining from $1.09 billion in 2007 to $270 million in 2009 but has increased to $1.5 billion in the TTM.
The balance sheet remains solid with JCI having $770 million in cash and $9.1 billion in other current assets, plenty to cover the $8.8 billion in current liabilities with another $5.6 billion of long-term liabilities reported by Morningstar.
In terms of valuation, reviewing the Yahoo "Key Statistics" on Johnson Controls, we can see that this is a large cap stock with a market capitalization of $18.54 billion. The company has a trailing p/e of $16.15 with a forward p/e (fye Sep 30, 2011) estimated at 11.39. With the rapid growth expected, the PEG ratio works out to a dirt cheap level of 0.49.
Yahoo reports 672.7 million shares outstanding with 622 million of them that float. As of 5/28/10, there were 7.01 million shares out short representing a short ratio of only 1.00.
Currently, the stock has a forward estimated dividend of $.52/share yielding 1.9%. This dividend is well covered with a payout ratio of only 31%. As I noted above, the company last split its stock with a 3:1 split back on October 3, 2007.
Looking at a 'point & figure' chart from StockCharts.com, we can see how the previous peak in the stock price was at $41/share back in October, 2006. The stock recently bottomed at $8.50/share back in March, 2009, has subsequently rallied out of that low through 2009 and now has broken through resistance levels in the $21 range. The stock, while correcting currently, still appears to be bullishly poised for further appreciation.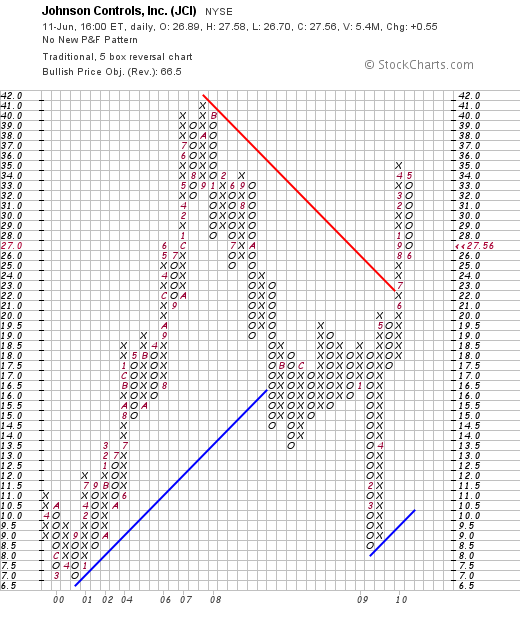 To summarize, Johnson Controls (JCI) appears to be a timely stock pick based on a changing economy with recovery in building, automotive interiors as well as a growing participation by JCI into the hybrid market with their own growing electric battery business. Furthermore, conservation is likely to be a growing concern with the ever-present understanding of making our energy dollars go further while conserving precious resources and our environment.
Thanks again for stopping by and visiting! If you have any comments or questions, please feel free to leave them on the blog or email me at bobsadviceforstocks@lycos.com.
Yours in investing,
Bob