PetSmart Inc. (PETM) "Revisiting a Stock Pick"
Hello Friends! Thanks so much for stopping by and visiting my blog, Stock Picks Bob's Advice! As always, please remember that I am an amateur investor, so please remember to consult with your professional investment advisers prior to making any investment decisions based on information on this website.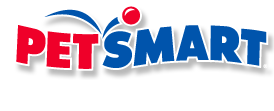 The United States economy remains stuck in a slow recovery from a deep recession. Latest figures suggest that the first quarter resulted in a 2.7% growth rate, slightly under the 3% expected.
Meanwhile, the United States Unemployment rate remains mired just under 10% with 9.7% unemployed as of May, 2010. As the following chart reveals, while the deterioration in unemployment has stabilized, the United States has not yet convincingly turned the corner in reducing unemployment.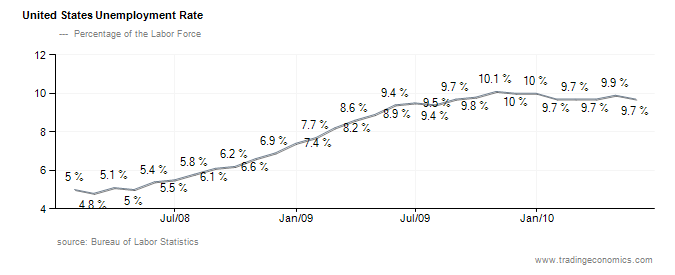 In the midst of this, Democrats in the Senate failed to get through any extension of unemployment benefits in a bill that also would provide federal aid to cash-strapped states and raise taxes on executives of buyout firms.
Republicans are concerned about the ever-growing national debt which just topped $13 Trillion. Democrats, however, argue that the time for dealing with debt is in times of expansion, and that the current economic environment requires expansionary fiscal policy. Republicans have built their recent rebound on Americans distrust of Keynesian economic theory that advocates government spending in times of economic weakness. As this poll suggests, most Americans believe we should be concerned about our debt even as our nation is mired in a recession.
It is in this environment that stock-picking is difficult at best. I remain committed to identifying the highest quality companies which show persistence in growth both in terms of revenue and earnings, and are also able to operate in a financially sound fashion.
There is some evidence that the pet industry may be a recession-resistant sector. PetSmart (PETM) is an important player in this field. I last reviewed PetSmart on May 21, 2009, when the stock was trading at $20.35/share. PetSmart (PETM) closed at $30.91 on June 25, 2010, for a gain of $10.56 or 51.9% since my write-up last year. Unfortunately, I no longer own any shares but do believe this is a stock that belongs in my blog and should be considered for my own portfolio.
Let's take another look at some of the things that keep me interested in this company!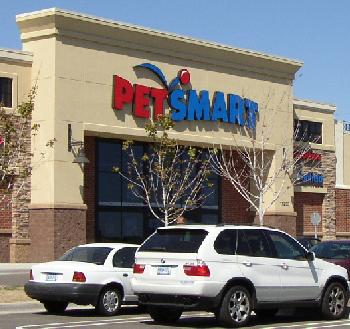 According to the Yahoo "Profile" on PetSmart, the company
"... together with its subsidiaries, operates as a specialty retailer of products, services, and solutions for pets in North America."
and
"As of March 25, 2010, it operated 1,149 retail stores; and 162 PetsHotels. Additionally, the company operated 740 hospitals under the registered trade names of Banfield and The Pet Hospital; and had 12 hospitals, which are operated by other third parties in Canada."
In terms of news, the company announced last week (6/22/10) two actions that should be considered 'bullish' for the company stock price. PETM announced that the quarterly dividend would be increased 25% to $.125/share. In addition, the company also announced a new $400 million share repurchase program to replace its current $350 million buyback.
On May 26, 2010, PetSmart announced 1st quarter results. First quarter earnings came in at $44.6 million, or $.46/share for the quarter, ahead of last year's $46.3 million or $.37/share. This exceeded analysts' expectations of $.43/share. Revenue came in at $1.4 billion, slightly ahead of analysts' expectations of $1.38 billion. As I like to see, PETM management also raised guidance for the full year to $1.82 to $1.92/share, ahead of current guidance of $1.73 to $1.83/share. Beating expectations and raising guidance are bullish indicators for a stock price.
The company was impacted by currency fluctuations with net sales positively boosted by $12 million. During the quarter, same-store sales growth was reported at 2.8%.
Reviewing the Morningstar.com "5-Yr Restated" financials on PetSmart, we can see that revenue growth steadily climbed from $3.76 billion in 2006 to $5.34 billion in 2010 with $5.4 billion reported in the trailing twelve months (TTM). Earnings, however, increased from $1.25/share in 2006 to a peak of $1.95/share in 2008, dipped to $1.52/share in 2009, increased to $1.59 in 2010 and $1.69 in the TTM as the company recovered its earnings growth.
The company pays a dividend and increased it from $.12/share in 2008 to $.33/share in 2010 and again to $.40/share in the TTM. With the quarterly increase to $.125/share noted above, the current dividend rate is at $.50/share. Outstanding shares have been decreasing recently from 146 million in 2006 to 125 million in 2010 and 123 million in the TTM.
Free cash flow is solidly positive, increasing from $38 million in 2008 to $454 million in 2010 with a slight decrease to $373 million in the TTM.
The balance sheet looks solid with $242 million in cash reported and $788 million in other current assets. This compares with $537.8 million in current liabilities yielding a 'current ratio' of 1.92.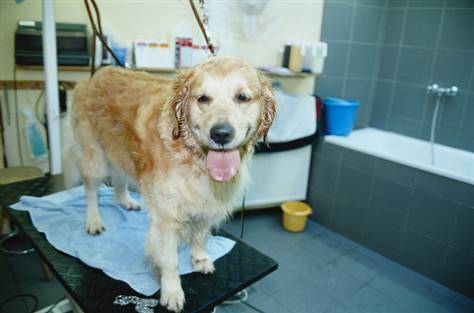 (Image from article on 'The pet economy')
In terms of valuation, checking the Yahoo "Key Statistics" on PetSmart, we find that the company is a mid-cap stock with a market capitalization of $3.66 billion.
Yahoo reports the company with a trailing p/e of 18.33, with a forward p/e (fye Jan 31, 2012) estimated at 14.18. With the rapid growth in earnings predicted, this somewhat rich p/e is more reasonable in light of this growth with a PEG (5 yr expected) of 1.19, within my own range of 1.0-1.5 for 'value'. According to the Fidelity eresearch website, the company has a Price/Sales (TTM) ratio of 0.70, well under the industry average of 0.85. Its Return on Sales (TTM) at 3.84% is under the industry average of 5.37%, also its Return on Investment (TTM) of 11.83% also is a bit below the industry average of 15.41%.
According to Yahoo, there are 118.33 million shares outstanding with 117.07 million that float. 5.84 million shares are reported out short as of 6/15/10, with a short ratio of 3.60 slightly ahead of my own arbitrary 3 day rule of significance. (Higher short positions might be considered bullish.)
As I noted above, the company has a forward dividend yield of 1.60% based on a forward dividend rate of $.50/share annually. The last stock split was a 2:1 split back in July, 1996.
Reviewing the 'point & figure' chart on PETM from StockCharts.com, we can see that this stock bottomed back in August, 2008 at $13/share. Since then, except for a slight setback in March, 2009, the stock has shown remarkable strength as it currently trades above support lines just below the recent highs in the $34 range.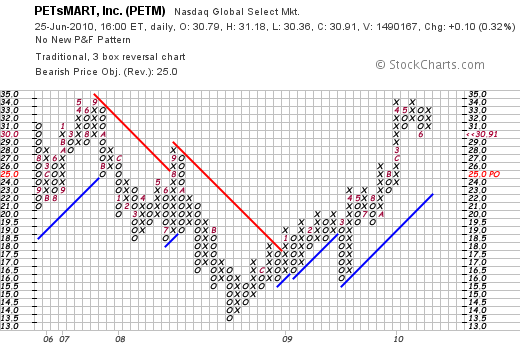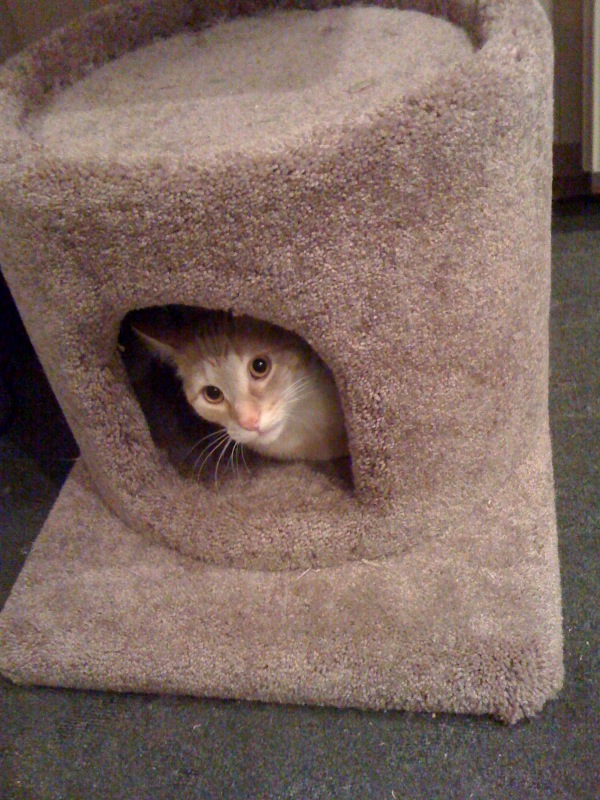 OK maybe I do have a soft spot for animals. (This is a picture of my cat Rahmmy, who was named Mickey, when I picked him up at PetSmart! He was a cat from the Coulee Region Humane Society and couldn't be better! (except when he's naughty.) ). But seriously, PetSmart, a stock that I have owned in the past and have also reviewed deserves consideration.
They have recently raised their dividend, announced an expanded stock buy-back, and reported earnings which exceeded expectations and raised guidance for the full year. Their long-term financial record is excellent if not perfect, and their chart looks quite strong.
Now, if only the general economy would cooperate a bit!
Thank you for stopping by and visiting my blog. Please feel free to leave any comments or questions right here on the blog or email me at bobsadviceforstocks@lycos.com.
Yours in invesiting,
Bob
Posted by bobsadviceforstocks at 3:34 PM CDT |
Post Comment
|
Permalink
Updated: Sunday, 27 June 2010 9:29 PM CDT