May 10, 2004 Hewitt Associates (HEW)
Hello Friends! O.K. it is another LOUSY day in the market. But what can I say about that? My stocks in my trading account are doing lousy. I had to send over some cash from my savings as the margin was getting a bit borderline and I didn't want a forced sale....that should teach me. But none of our stocks have yet hit a sell point...so I will hang in there. And I am also SORRY about not posting a retrospective review this weekend. Boy am I ever apologizing today!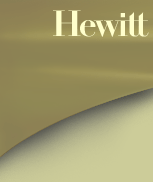 It is interesting that Hewitt Associates (HEW) made the list earlier today with a gain of $.61 or 2.06% at $30.26 as I write. But the numbers look nice so here goes! According to Yahoo, HEW "...is a global provider of human resources outsourcing and consulting services." I do not own any shares nor do I have any leveraged positions.
On May 4, 2004, HEW
announced Second Quarter 2004 results
. For the second quarter ended March 31, 2004, revenue was up 14% to $546.3 million from $478.1 million last year. Net income came in at $30.4 million or $.31/diluted share, vs $23.5 million or $.24/diluted share the prior year, for an increase of 29%.
If we look at the
"5-Yr Restated" financials
on Morningstar.com, we can see that revenue has grown steadily from $1.1 billion in 1999 to $2.1 billion in the trailing twelve months. Earnings have increased from $.97/share in 2003 to $1.12 in the trailing twelve months. Free cash flow has been solid, with HEW generating $261 million in 2001, $192 million in 2002, $235 million in 2003, and $211 million in the trailing twelve months.
Looking at the balance sheet on Morningstar.com, HEW reports $250.7 million in cash and $529.8 million in other current assets, easily covering the $455.8 million in current liabilities and making a "dent" in the $454.1 million in long-term liabilities if needed.
How about valuation? Looking at
"Key Statistics" from Yahoo
, we can see that the market cap of HEW is $2.98 billion. The trailing p/e is 25.57 with a forward (fy3 30-Sep-05) p/e of 19.73. The PEG isn't too bad at 1.44, and the price/sales is nice at 1.35.
Yahoo reports 98.24 million shares outstanding with 38.40 million of them that float. Currently there are only 192,000 shares out short representing only 0.50% of the float or 1.466 trading days...so this does not appear to be an issue. Yahoo does not show any dividend on this stock, nor any recent stock split.
Looking at a point & figure graph on HEW: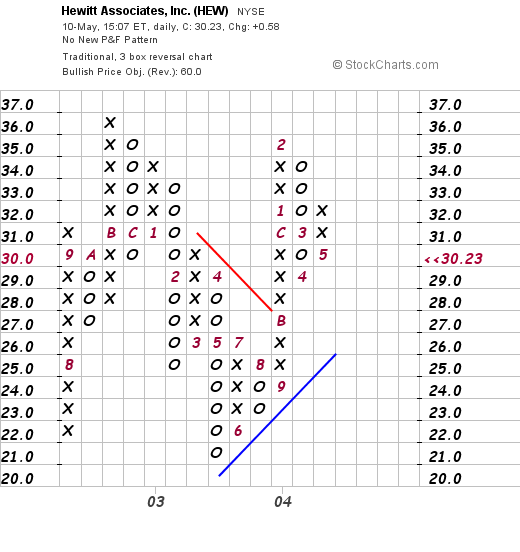 we can see that HEW has been trading recently above its support level but longer-term mostly moving in a rather horizontal fashion (how is that for a 'sophisticated' technical analysis...lol)....moving sideways...but NOT looking overextended to me!
Overall, this is a nice selection in a company that is not overvalued, has steady growth, and reasonable technicals. No dividend though...if that is important!
Thanks so much for stopping by! If you have any questions, comments, or words of encouragement, please feel free to email me at bobsadviceforstocks@lycos.com
Bob