May 11, 2004 Rayovac (ROV)
Hello Friends! As always, I am greatly appreciative of your visit here today. Remember to always do your own investigation of any stock discussed on this website and please consult with your investment advisors to determine whether investments are appropriate and timely for you!

Rayovac (ROV) made the lists today for one of the top performers on the NYSE. This stock is not a "perfect" fit on this blog, but I like it better than most of the others on the gainers list today. ROV closed today at $27.20, up $2.10 or 8.37% on the day in a market that rebounded from the past week's correction. According to Yahoo, Rayovac "...is a global branded consumer products company with market positions in two product categories: consumer batteries and electric personal care products."
On April 22, 2004, Rayovac
announced 2nd quarter 2004 results
. Second quarter net sales were $278 million, up from $202.3 million the prior year. Sales were positively impacted by the
acquisition of the Remington acquisition. Net income for the quarter ended March 28, 2004, came in at $2.6 million compared to $300,000 the prior year. (Pro forma net income came in at $6.7 million vs. last year's $4.5 million). Pro format earnings per share came in at $.19/share, a 36% increase over $.14/share the prior year. This is a more accurate result than the reported eps of $.08/share vs $.01/share the prior year. Pro forma, as I understand it, takes into consideration acquisitions in comparing results to give a more realistic review of the results. In either case, earnings and revenue were up nicely!
If we look at a
"5-Yr Restated" financials
from Morningstar.com, we can see what appears to be fairly flat revenue performance between 1999 and 2002, and then substantial growth in revenue in 2003 and in the trailing twelve months.
Earnings/share have also been erratic but have improved nicely the last 18-24 months. Free cash flow, per Morningstar, was $(2) million in 2001, improved to $51 million in 2002, $50 million in 2003, and $73 million in the trailing twelve months.
The balance sheet shows $25.6 million in cash and $609.7 million in other current assets, enough to easily cover the $392.4 million in current liabilities and to pay off some of the $917.3 million in long-term liabilities.
Looking at
"Key Statistics"
from Yahoo.com, we can see that the company is a "mid-cap" corporation with a market cap of $926.89 million. The trailing p/e is nice at 22.30, but the forward p/e (fye 30-Sep-05) is even nicer at 12.95. The PEG is beautiful at 1.06, with a price/sales VERY reasonable at 0.72.
There are 34.08 million shares outstanding with 29.60 million of them that float. Interestingly, there are 2.64 million shares out short as of 4/7/04, representing 8.93% of the float or 5.723 trading days. This is a large short balance, in my opinion, whenever the days short exceeds 3 or 4. We may be witnessing a bit of a short "squeeze" in here!
Yahoo reports NO cash dividend and no recent stock split.
If we take a look at a "Point and Figure" chart from ROV: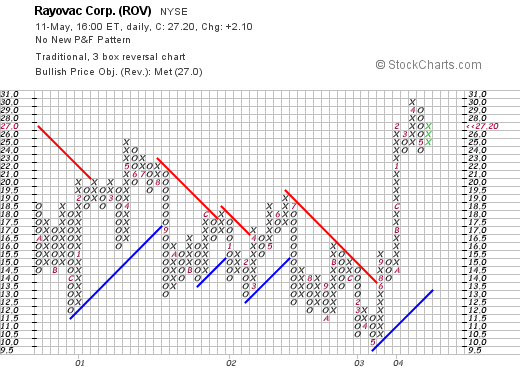 , it appears that the stock price which has been heading "sideways" or lower since mid-2000, broke through a resistance level on an upwards move in June, 2003, at a bout $14 and has been heading higher since! It looks nice to me imho.

What do I think? I kind of like this battery and shaver company. I do not own any shares or options, but IF I were in the market to buy some shares, this one might be on my short list. The recent growth in revenues and earnings demonstrates the capability of this management team to integrate acquisitions in a positive fashion (I believe that the term used is that the acquisitions have been "accretive" to earnings!). I like the PEG at just over 1.0. The Price/sales UNDER 1.0 is nice. And the large short interest is an interesting plus. I only wish they paid a dividend (LOL) or that their revenue growth record was a bit longer than just the past couple of years.

Thanks again for stopping by! If you have any comments, questions, or words of encouragement, please feel free to email me at bobsadviceforstocks@lycos.com

Bob