Technicals on NASDAQ
Hello Friends! I do NOT have any stocks to present today. Saw that SEM has fallen apart...and my stock club has that one so out it will need to go. Was looking at the NASDAQ chart:
in my humble opinion, this 1890 level appears to be a critical area that may determine whether more selling will develop. I do not claim to be a brilliant technician, but what do you think? It looks like if this level holds, this would represent some sort of "double bottom" and we may see some upside from here. Otherwise, look out below!
On the other hand, the NYSE composite index graph: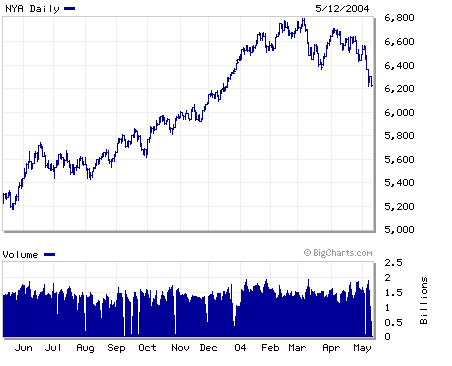 looks like it has broken through the prior support level, so I am not sure what to make of it except where is the next level of support?
I don't make many technical observations, so if there are better technicians out there, just email me at bobsadviceforstocks@lycos.com, and we can share your comments with everyone!
Bob