May 20, 2004 Petsmart (PETM)
Hello Friends! Thank you so much for stopping by. Each day I scan the lists of advancing stocks looking for something I can share with YOU! And when you come visit, and my hit-counter goes up a notch, I am grateful for your interest! As always, please remember that I am an amateur investor so please always do your own investigation of all stocks on this website before making any purchase or sell decisions, and consult with your professional investment advisor.

I came across Petsmart (PETM) on the greatest percentage gainers in a relatively flat market today. I do NOT own any shares of this nor do I have any leveraged positions. PETM had a nice day today closing at $28.40, up $2.14 or 8.15% on the day. According to Yahoo, Petsmart, or PETsMART as it is sometimes written, "...is a provider of products, services and solutions for the lifetime needs of pets in North America. It operates 643 retail stores in North America."
And guess what? EARNINGS RESULTS drove the price higher today. I strongly believe that good earnings and revenue growth drive a stock higher in price over both the short and the long-term. They
reported 1st quarter results
today for the quarter ended May 2, 2004. Sales were up 14.5% to $796.3 million and earnings rose to $35.8 million or $.24/share from $24.6 million or $.17/share a year earlier. These are nice results in my opinion.
If we look at the
Morningst.com "5-Yr Restated" financials
, we can see that revenue growth has been steady since 1999 when it was $2.1 billion, and has grown to $2.9 billion in the trailing twelve months. Earnings have been a bit erratic dropping to a loss of $(.28)/share in 2001, but have improved steadily since then to a level of $.73/share in the trailing twelve months. Free cash flow has also been steadily positive (is that good English???), with $66 million reported in 2001, $85 million in 2002, $59 million in 2003 and $40 million in the trailing twelve months.
The balance sheet looks great with $234.3 million in cash and $428.1 million in other current assets, more than enough to pay off BOTH the current liabilities of $317.0 million AND the long-term liabilities of $202.6 million combined.
Looking at
"Key Statistics"
on Yahoo Finance, we can see that PETM is a large cap stock with a market cap of $4.10 billion. The trailing p/e isn't bad at 29.99, and the forward p/e (fye 1-Feb-06) is even nicer at 20.14. The stock is reasonably priced, in my opinion, with a PEG of 0.93, and a price/sales of only 1.27.
Yahoo reports that there are 144.36 million shares outstanding with 142.40 million of them that float. Currently there is a significant short interest, as of 4/7/04 per Yahoo, of 6.12 million shares, almost a million more shares out short than the prior month. This represents 5.393 trading days or 4.30% of the float. The current stock rise may well represent a bit of a short "squeeze".
The stock DOES pay a small dividend of $.12/share yielding 0.46%. No stock split is reported on Yahoo.
If we look at a recent Point and Figure chart on Petsmart: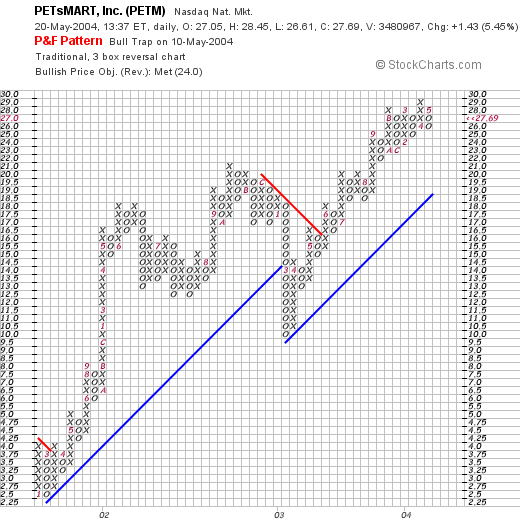 we can see that the stock has actually been heading higher faily steadily since late 2001, and broke through a support level in March 2003, only to advance again to a higher level in a fairly uninterrupted fashion. I do not think my description is highly un-sophisticated....but you can look at the chart and see for yourself!

So what do I think? I like PETM a lot. Of course I don't have any money to buy any shares (LOL)...but the earnings results are nice, the valuation is excellent with a p/e under 30...but a PEG under 1.0! The balance sheet is superb, and the company continues to generate generous amounts of free cash.

If you have any questions, comments, or words of encouragement, please feel free to email me at bobsadviceforstocks@lycos.com Please also spend time with the little calendar in the upper left part of the page and look through the pages and pages of past posts....as the old Ronald Reagan joke goes, "There must be a pony in there somewhere!" Have a great Thursday evening everyone!

Bob