"Uncle Jimmy Asks" What about QMED
Hello Friends! O.K. you want to know "WHO is Uncle Jimmy?" Well first of all he is NOT my Uncle...but he is the Uncle of one of my kid's best friends....and he is the brother of another of MY friends...but THAT really doesn't matter. ALL of my friends KNOW I am just about obsessed about stocks, and they all want to tell me about their ideas, many of which are quite good, that they have heard from one source or another to see what I think. Quite frankly, some of them ARE great ideas...but my hands really are tied insofar as MY portfolio is concerned. I mean FIRST, I CANNOT buy any more stocks until I first SELL something at a gain...and second, I have my own methods of picking stocks which I shall not repeat here, but which I discuss ALL OVER this blog. But let's take a look at QMED. And as always, remember that I am an AMATEUR investor so PLEASE do your own investigation of all stocks on this website and CONSULT with your investment advisors before making any of your own decisions to make sure they are appropriate for you!

According to Yahoo, QMed, Inc., "...operates in two industry segments: disease management services and medical equipment sales. The majority of the Company's operations consist of the operations of Interactive Heart Management Corp. (IHMC), the Company's wholly owned subsidiary." Yahoo also points out that QMED "...produces, sells and supports a line of ischemic heart monitors and a system that analyzes heart rate variability under the name Monitor One nDx." I do not own any shares of this issue (but Uncle Jimmy IS now a big shareholder). QMED closed at $9.50 on 5/21/04, up $.11 or 1.17% Friday.
Well, Uncle Jimmy the FIRST place I look for information on a stock is the latest quarter. (Uncle Jimmy says he HASN'T been visiting here so I will review my methods with him...I gave him my URL earlier today...so hopefully he stops by!) On April 13, 2004, QMED
reported 1st quarter 2004 results
. Revenue for the three months ended February 29, 2004, came in at $3.8 million compared to $3.7 million last year. Net loss was $(262,414) or $(.02)/share this quarter compared to a profit of $290,989 or $.02/share last year. Since I don't know personally what the future holds for any of my stocks, I would have a hard time recommending this stock at least on this result where a profit turned into a loss....that doesn't mean it might not be a GREAT investment, like you were telling me, it just means on this blog, I like to see GROWING profits...or at the least, declining losses...and not gains turning into losses....oh well that is one strike against this company....

The next place I like to check for information is Morningstar.com. The easiest for me, an amateur, to understand the financials on a particular company has been the "5-Yr Restated" financials which for QMED is located
right HERE
. On this page we can see a very nice pattern of revenue growth from $2 million in 1998 to $13.7 million in the trailing twelve months. I DO like that growth!
Earnings, however, improved between 1998 and 2002 improving from a loss of $(.26)/share in 1998, finally turning a profit at $.04/share in 2002. However, the company is back losing money, as we discussed above, coming in at a loss of $(.05)/share in the trailing twelve months.
What about free cash flow? I like to look at this number Uncle Jimmy, so that I can better get a feel about how the balance sheet is likely to change in the future. Overall, QMED has had Negative cash flow of $(2) million in 2000, $(1) million in 2001, positive cash flow of $2 million in 2002, but turning negative again at $(1) million in the trailing twelve months.
Fortunately, their balance sheet looks just fine with $8.6 million in cash and $1.4 million in other current assets, plenty to cover the $2.6 million in current liabilities and $2.3 million in long-term liabilities combined. They ARE indeed quite solvent...but I would like to see that free cash flow improving not deteriorating as it has done in the past 12 months.
How about Valuation? For this, I have been using Yahoo finance "Key Statistics". For QMED, this is located
right HERE
. Looking through the numbers I can see that this is a very SMALL company with a market cap of $140.22 million. The trailing p/e, is, well "n/a" which means the company IS losing money. However, the forward p/e, is a moderate 20.21 (fye 30-Nov-05). The PEG is also unavailable (perhaps there aren't any analysts giving five year forward estimates....not unusual for such a small company), and the price/sales is a very rich 10.64.
There are 14.76 million shares outstanding, with 11.10 million of them that float. There are only 226,000 shares out short, but due to the limited trading volume, this comes out to a very LARGE 13.294 trading days even though this represents only 2.04% of the float as of 4/7/04. No cash dividend and no stock splits are reported on Yahoo.
What about Technicals? How does the chart look like? I personally have come to appreciate Point & Figure charts which give me a nice feel for the trading "tides". I am an amateur at this however...so make your own assessment!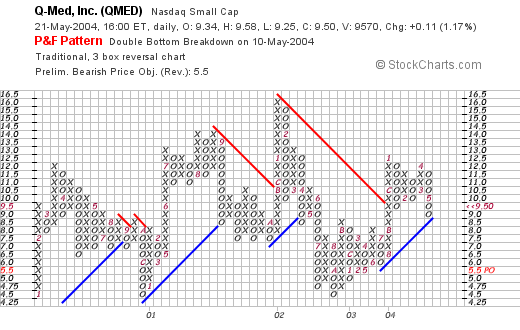 QMED stock certainly shows no signs of getting away from us! The stock has basically been trading sideways since 2000, and is currently selling just above a support level around $9.00. Technically, in my humble opinion, this is a "neutral".

So what do I think? I don't know anything about the future prospects of this company. According to Uncle Jimmy, these are "GREAT"....and indeed the company may turn out to be a terrific investment. However, it doesn't on the face of things fit into my selection criteria...that is, I like to see significant revenue growth, along WITH growth in earnings, (QMED doesn't pass), and growing FREE CASH FLOW (QMED doesn't pass). Otherwise I do like the revenue growth, and the company doesn't look over-valued....but I just don't have enough money to buy every stock. But we will revisit QMED...and see how Uncle Jimmy's stock pick works out!

Thanks so much for stopping by! And Uncle Jimmy, PLEASE excuse my analysis of this stock....I don't mean to be critical because I don't have that important information about future prospects....it is just that as an amateur investor, I am trying as hard as I can to make coherent investment decisions based on my own criteria....and QMED just doesn't fit in today. But you are a GREAT GUY and I really enjoyed visiting with you and REMEMBER to take the kids out for Kentucky Fried Chicken like you PROMISED THEM!

If Uncle Jimmy or any of my readers have any comments, suggestions, questions, or words of encouragement....please feel free to email me at bobsadviceforstocks@lycos.com

Have a great week investing everyone!

Bob
Posted by bobsadviceforstocks at 7:38 PM CDT |
Post Comment
|
Permalink
Updated: Sunday, 23 May 2004 8:51 PM CDT