May 24, 2004 PetMed Express (PETS)
Hello Friends! Sometimes I feel like good stocks are raining cats and dogs...yuck yuck....oh well it is Monday and that is the BEST I can do! We already have WOOF so why not PETS? As always PLEASE remember that I am an AMATEUR investor, so do your homework on all stocks discussed on this website and consult with your PROFESSIONAL investment advisor to make sure any stocks you decide on are appropriate and even profitable ideas for you!
PetMed Express (PETS) came up on the lists of greatest % gainer today. It is trading currently at $7.36, up $.63 on the day or 9.36%. Generally, I do NOT like stocks under $10...I just hit my 8% stops over and over on these low-priced stocks...but it is nice sometimes to take a look at these...as some may be great investments!
According to Yahoo, PETS "...is a nationwide pet pharmacy that markets prescription and non-prescription pet medications, along with health and nutritional supplements, for dogs and cats direct to the consumer." I do NOT own any shares of this stock.
On May 17, 2004, PETS
announced 4th quarter 2004 results
. For the quarter ended March 31, 2004, net sales increased 44% to $21.5 million from $14.9 million and net income for the quarter actually came in LOWER at $.06/share vs $.09/share the prior year. However, income before allowance for income taxes came in at $2.16 million vs. $1.18 million the prior year...so I am bending the rules a touch...but be aware of this as well!
Looking at the
Morningstar "5-Yr Restated"
financials, we can see the rapid growth from $32 million in revenue in 2002 to $55 million in revenue in 2003. Earnings have also increased from $.04/share in 2002 to $.16/share in 2003. Net sales, per the recent financial report, came in at $94 million in 2004 with income at $.25/diluted share for the year.
Free cash flow has been at $0 for both 2002 and 2003. The balance sheet looks fine with $1 million in cash and $5.4 million in other current assets vs $3.4 million in current liabilities and only $100,000 in long-term debt reported.
This is a small cap stock with a market capitalization of only $145.21 million. The trailing p/e isn't too bad at 29.33 and the forward p/e (fye 31-Mar-05) is even better at 14.21 according to the
"Key Statistics" on Yahoo
. No PEG is reported...but would expect it to be low with the low forward p/e. The Price/Sales figure isn't bad either at 1.51.
There are 19.65 million shares outstanding with 6.20 million of them that float. There is a SIGNIFICANT short interest in these shares of 657,000 as of 4/7/04 representing 10.60% of the float or 11.526 trading days of volume. This price move may as we have seen in other stocks represent a bit of a "squeeze". No cash dividend is paid and no stock dividend is reported on Yahoo.
What about the technicals?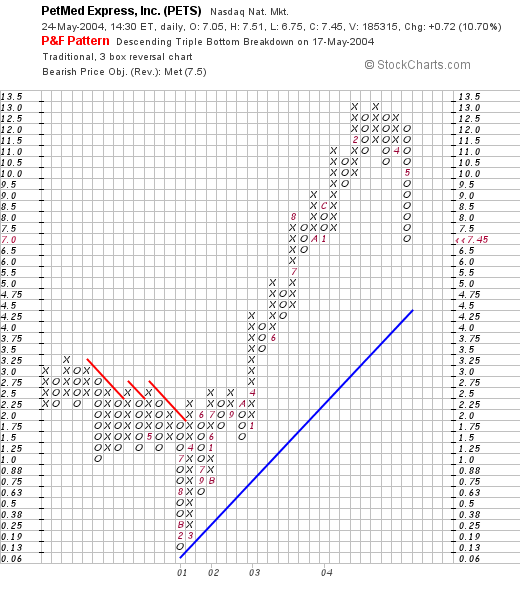 PETS has been trading higher since early 2002 when it broke through a resistance level at about $1.25! This stock has recently corrected back to $7.50 but is heading higher again today. The chart looks just fine in my humble, and AMATEUR opinion.

What do I think? The stock is a little small for me...at least low-priced...but the growth numbers are great, the balance sheet looks fine, and except for the fact that they are now starting to pay taxes, the earnings are just fine as well. It's interesting and if you like cats and dogs...well that might be just fine too!

Thanks so much for stopping by! If you have any questions, comments, or words of encouragement please feel free to leave them right here on the blog or email me at bobsadviceforstocks@lycos.com

Bob