June 3, 2004 Bebe Stores (BEBE)
Hello Friends! Thanks so much for stopping by and visiting. Remember that I am an AMATEUR investor, so PLEASE do your own investigation of all stocks discussed on this website and PLEASE consult with your investment advisors before making any investment decisions. I worry sometimes about talking about stocks because I CANNOT be responsible for any decision you make but I DO like to share my thoughts on current stocks of interest in the market! As always, if you have any questions, comments, or words of encouragement, do not hesitate to email me at bobsadviceforstocks@lycos.com Be warned, that I may use your letter in the blog available to the public.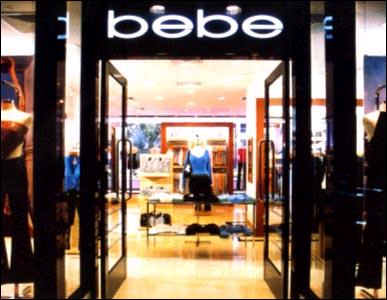 Anyhow, I came across Bebe Stores (BEBE) today while scanning the lists of greatest percentage gainers. BEBE is currently, as I write, trading at $21.17, up $1.06 or 5.27% on the day (by the time I finished up writing the post, the market was closed and BEBE closed at $20.44, up only $.33 or 1.64%...but the numbers look nice so I have stayed with this pick!). I do NOT own any shares nor do I have any options or leveraged positions in this stock. According to cnn.money, BEBE's principal activity "...is to design, develop and produce a line of contemporary women's apparel and accessories."
If you have been reading this blog for awhile, or if you follow any retail investments, one of the MOST important numbers that can be reported about a retail venture, besides their earnings of course, is their SAME STORE SALES. (sorry about shouting). This morning, before the open in New York, BEBE
reported May same store sales results
. For stores open at least a year, sales increased 10.2%. In addition, they RAISED estimates for the fiscal fourth quarter ending in June, from $.11/share to $.15 to $.18/share. These are BOTH great things to help a stock move higher...and higher is the way this stock has been moving today!
What about the latest quarter results? On April 22, 2004, BEBE
announced 3rd quarter results
. For the quarter ended March 31, 2004, net sales were $83.6 million, up 21.6% from the $68.8 million reported a year earlier. Same store sales for the quarter came in up 16.7% (!). Diluted earnings per share came in at $.21/share compared to just $.01/share in the prior year.
How about longer term? If we look at
Morningstar.com "5-Yr Restated" financials
, we can see that revenue has grown steadily with $201 million in revenue in 1999 increasing to $344 million in revenue in the trailing twelve months.
Earnings, however, have been a bit more erratic. They peaked at $.78/share in 2000, dropped to $.49/share in 2003, and have recently been picking up again.
Free cash flow looks nice with $16 million in 2001, $28 million in 2002, $27 million in 2003, and $40 million in the trailing twelve months.
As for the balance sheet, all of the "free cash flow" is adding to the rich $185.6 million in cash which can cover BOTH the current liabilities of $40.7 million AND the long-term liabilities of $14.7 million, more than 3x over! In addition, BEBE has $31.4 million in other current assets.
How about Valuation? Looking at
"Key Statistics" from Yahoo
, we can see that this is a small cap with $791.6 million in market cap. The trailing p/e is 28.27 with a forward p/e (fye 30-Jun-05) of only 22.46. The PEG is reasonable at 1.17, with a Price/Sales not too out of line at 2.18.
BEBE has 39.02 million shares outstanding with only 8.40 million of them that float. There appear to be a LOT of those shares out short, with 2.19 million reported as of 5/10/04. This represents 26.04% of the float or 6.75 trading days. In my opinion, anything over 3.0 stands a decent chance of leading to a "squeeze"...and if the good results continue...well we shall see!
No cash dividend is paid, and the stock split 3:2 recently, in fact on 5/6/04!
What about Technicals?
This stock was trading lower between August, 2001, and October, 2002, when it bottomed at around $6.50/share. Since that time, it has been trading above its support line, and the graph looks nice to me.

What do I think? Well, I wish the stock hadn't closed off its highs...but I like the same store sales numbers, the valuation is reasonable, the balance sheet is impeccable, the PEG is just over 1.1, and the graph looks nice. There really isn't much that I don't like about this stock...it is just that I don't have any money to buy it!

Well, thanks again for stopping by. Please email me if you have any comments or questions at bobsadviceforstocks@lycos.com

Bob