June 30, 2004 The Scotts Company (SMG)
Hello Friends! Scotts (SMG), the lawn company looks like it deserves a spot on this blog. I came across it earlier today and will take a bit of a closer look at the company tonight. As always please remember that I am an amateur investor, so please consult with your professional investment advisors before taking any action based on information on this website!

Scotts Co. (CMG) had a nice day today closing at $63.88, up $3.58 or 5.94% on the day. I do NOT own any shares of Scott, nor do I own any options or leveraged positions. Earlier today, Scotts
updated 2004 financial forecasts
and the street 'liked' what it heard!
On April 27, 2004, Scotts
announced 2nd quarter 2004 results
. For the quarter ended March 27, 2004, adjusted for currency exchange rates, net sales were up 5% to the reported $729.2 million. Net income came in at $73.1 million or $2.21/diluted share compared with $62.5 million or $2.00/diluted share last year.
Taking a look at the
"5-Yr Restated" financials
on Morningstar.com, we can see a steady, if not rapid, growth in revenue from $1.6 billion in 1999 to $2.0 billion in the trailing twelve months.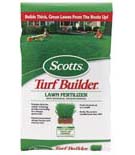 Earnings have been a bit erratic, but have increased from $2.27/share in 1999 to $2.81/share in the TTM. Free cash flow has been solid with $2 million reported in 2001, increasing to $163 million in the TTM. The balance sheet looks just fine with $14.2 million in cash and $1.3 billion in other current assets, plenty to cover the $593.3 million in current liabilities AND make a nice dent in the $1.2 billion in long-term liabilites.
What about Valuation? Taking a look at
"Key Statistics"
from Yahoo.com, we can see that the Market Cap is a mid-cap $2.09 Billion, with a trailing p/e of 23.46 and a forward p/e (fye 30-Sep-05) of 14.13. The PEG is very nice at 1.18, as is the price/sales at 1.00.
Yahoo reports 32.65 million shares outstanding with only 11.20 million of them that float. Of these floating shares fully 9.12% of them are out short as of 6/7/04, representing 7.794 trading days of volume. This is a significant amount of trading volume waiting to be 'covered'...and is bullish for the stock.
No dividend is reported on Yahoo, and no stock splits are noted either.
What about technicals? If we look at a "Point & Figure" on Scotts: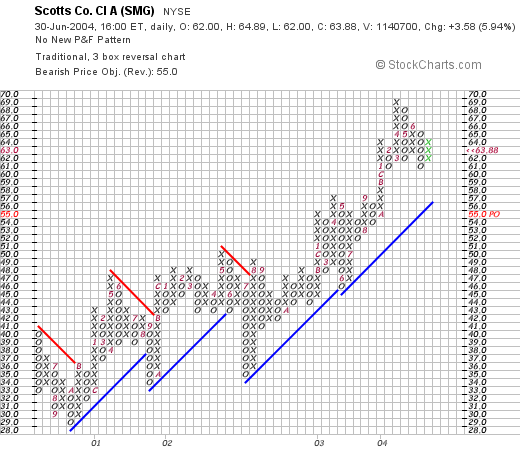 we can see that this stock has a BEAUTIFUL graph, it has been climbing from $29.00 in October, 2000, and has steadily been moving ahead just right on its support line. With the latest good earnings report, I frankly don't see any reason why this shouldn't continue!

What do I think? Well, you KNOW I don't have any MONEY to buy anything....but if I did, I just might. The revenue growth is a little subdued for me...but the outlook looks nice, the valuation is excellent, the balance sheet is fine and technicals are superb. With the recent news upping earnings/revenue estimates....well that is just the ICING on this cake...or should I say it is the FERTILIZER....yuck yuck.

Anyhow, thanks so much for stopping by! I hope you enjoy my posts and continue to visit here often! Please feel free to share your own trading experience....especially if you have chosen to invest in some of the companies discussed on this website! If you would like to comment, or have any questions, please feel free to email me at bobsadviceforstocks@lycos.com

Bob
Posted by bobsadviceforstocks at 10:38 AM CDT |
Post Comment
|
Permalink
Updated: Wednesday, 30 June 2004 10:37 PM CDT