July 15, 2004 SanDisk (SNDK)
Hello Friends! Thanks so much for stopping by! If you are viewing this at another website, enjoy the post and come and visit
Bob's Advice
on your next visit. As always, please remember that I am an amateur investor, so please do your own investigation of all stocks discussed on this blog and consult with your professional investment advisor to make sure the investment is timely and appropriate for you!

Looking at the
lists of top % gainers on the NASDAQ
, I came across SanDisk (SNDK), a company that I am familiar with but that I do not currently own any shares or options. SNDK is trading, as I write, at $24.96, up $4.98 or 24.92% on the day. According to the
Yahoo "Profile"
, SanDisk "...designs, develops, manufactures and markets flast storage card products used in a variety of electronic systems." In my experience, these are the little memory cards that go into many of those digital cameras we all are using.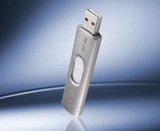 What is pushing the stock higher this morning, is the
2nd quarter 2004 earnings results
which were reported after the close yesterday. Revenues rose 85% to $433 million from $234.6 million last year. Earnings for the quarter rose to $71 million or $.38/share from $41.3 million or $.26/share last year. Analysts apparently had been looking for the company to earn $.30/share and they beat this estimate handily. Pertinently, even with the "commodotization" of memory products, SanDisk's margins improved to 35% despite a 16% decline in the "average selling price per megabyte."
Looking longer-term, we can see from the
"5-Yr Restated" financials
on Morningstar.com that revenue has grown steadily from $247 million in 1999, $602 million in 2000, dipping to $366 million in 2001, and then climbing to $1.08 billion by 2003.
Earnings, however, have been quite erratic in the past 5 years, from $.22/share in 1999, climbing to $2.06 in 2000, dropping to $(2.19) in 2001, but have climbed steadily since that time.
Free cash flow has also been improving recently, from $(98) million in 2001, $89 million in 2002, and up to $218 million in 2003.
The balance sheet, per Morningstar, is gorgeous! They have $1.3 billion in cash, enough to pay off the current liabilities of $346.8 million and the long-term liabilities of $176.0 million, about three times over! In addition, SNDK has $425.3 million in other current assets reported.
How about valuation? If we take a look at
"Key Statistics"
from Yahoo.com, we can see that this is a Mid-Cap stock (if we use the definition of $2-$10 billion), with a market cap of $4.06 Billion. The trailing p/e is reasonable at 21.63 with a forward p/e of 16.11 (fye 28-Dec-05). Even NICER is the PEG which at 0.73 is downright reasonable!
Yahoo reports 161.48 million shares outstanding with 155.60 million of them that float. There are 31.46 million shares out short which represents 4.564 trading days as of 6/7/04. (Anything over 3.0 days is significant imho). Thus, we may be seeing a bit of a squeeze of the shorts in here.
No cash dividend is paid. The stock DID split 2:1 earlier this year, in February, 2004.
What does the chart look like? Looking at Stockcharts.com for a Point & Figure: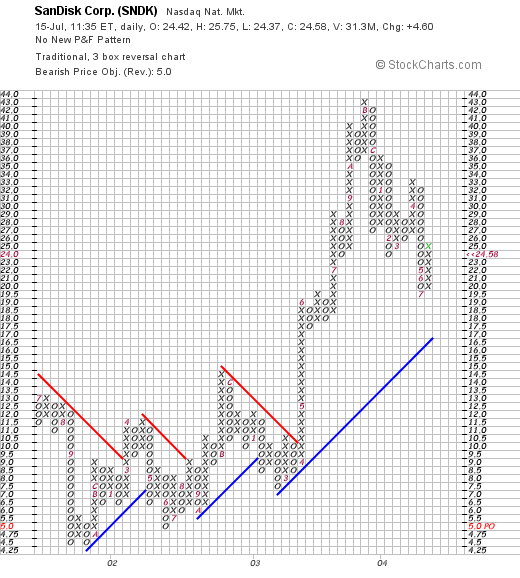 The stock was moving sideways between late 2001 through March, 2003, and then broke through a resistance level in April, 2003, at around $10/share and has headed higher since. The stock chart looks strong at this time, although it is off its highs set in November, 2003, of about $43/share.

So what do I think. Heck this is a great-looking stock! What is there NOT to like. The growth has been a bit inconsistent in around 2000-2001 time period, but recently has been quite strong. The latest earnings report was superb. The valuation is wonderful with a PEG of 0.73...and maybe dropping, the free cash flow is terrific, and the balance sheet looks nice. The only thing that does concern me is the dropping prices on these flash memory products but apparently, this company is handling this just fine!

Thanks again for stopping by! If you have any questions, comments, or words of encouragement, please feel free to email me at bobsadviceforstocks@lycos.com .

Bob