A Reader Writes "Check out LEXR"
Hello Friends! In one of my posts today, I discussed SanDisk, the Flash Memory Card manufacturer.
Maxx, from theGoldenCoast.com writes:
Lexar (LEXR) is one to also keep an eye on if you like Sandisk. LEXR also is in the flash market and its price typically correlates pretty closely to SNDK. I have held both in the past but currently I don't have a posistion in either. They are both worth keeping an eye on however.

Regards
maxx

This is a timely question, because just MOMENTS ago, LEXR
announced 2nd quarter results
and is trading lower in after hours trading. For the quarter, they posted a loss of $(18.1) million or $(.23)/share vs a profit of $7.0 million or $.09 a year earlier. LEXR blamed "aggressive industry price cuts". If you read my earlier post, you will see that SNDK announced EXPANDING margins in the face of price cuts....looks like they are doing a lot of damange to LEXR.
It is interesting that if we look at the Point & Figure chart on LEXR: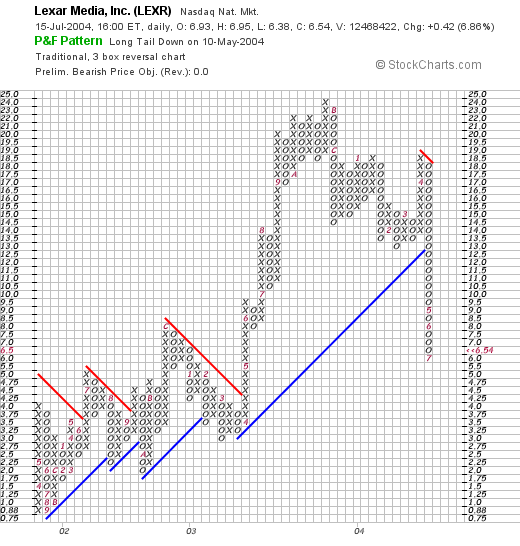 we can see that the stock actually broke down in mid-April when it fell through the $13 level, down from its peak at $24. The current news is confirmatory that this price move, that has in the past been quite strong, is now not a trend anymore.

Thanks for the opportunity of contrasting these two major media storage companies. I think the edge clearly goes to SNDK but Lexar has been a winning stock in the past. If you have any questions, or comments, please feel free to email me at bobsadviceforstocks@lycos.com .

Bob