July 19, 2004 Stryker (SYK)
Hello Friends! The market has closed and there is one stock I would like to review with you. I actually reviewed this once before on a MSN site, but haven't posted it yet here as it just made the
list of top % gainers on the NYSE.
Stryker Corporation (SYK) closed at $47.95, up 4.15% on the day. As always, please remember that I am an amateur investor, so please consult with your own professional investment advisor prior to making any investment decisions based on information on my
blog, Stock Picks Bob's Advice
or elsewhere on the website.
According to the
money.cnn.com "Snapshot"
, Stryker Corporation's "...principal activities are to develop, manufacture and market surgical and medical products. The Group operates in two segments: Orthopaedic Implants and MedSurg Equipment." I do not own any shares or options in this company.

Stryker
reported 2nd quarter 2004 earnings
on July 15th. Total second-quarter sales rose to $1.04 billion from $891.7 million last year. Second quarter net earnings rose to $152.7 million or $.37/share from $107.5 million or $.26/share last year. They also announced they had paid down virtually all of their debt during the quarter.
In addition, on the same day, SYK
upped their earnings outlook for fiscal 2004
to $1.42/share up from its previous forecast of $1.40. Although the revision is small, it is the direction and the fact that there was a revision that is significant.
If we look at a
"5-Yr Restated" financials
on Morningstar.com, we can see that revenue has steadily grown from 1999 when it was $2.1 billion to the $3.8 billion in revenue in the trailing twelve months.
Earnings/share have also grown strongly during this period from $.05/share in 1999 to $1.19/share in the TTM. A cash dividend is paid, rising from $.03/share to $.06 in 2002. (Per Yahoo, the company has paid $.07/share yielding 0.15% in the TTM).
Free cash flow is excellent increasing from $311 million in 2001 to $453 million in the TTM. This company is spinning off almost 1/2 of a billion dollars each year in free cash flow!
Balance sheet wise, SYK has $48.9 million in cash and $1.4 billion in other current assets, enough to easily pay off both the current liabilities of $798.3 million and the $145.5 million in long-term liabilities combined. From the latest quarterly report, apparently they HAVE paid off virtually all of their debt and are looking into acquisitions.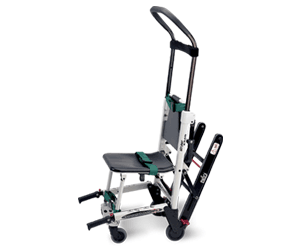 How about valuation? If we look at
"Key Statistics" from Yahoo
, we can see that this is a Large Cap stock with a market cap of $19.19 billion. The trailing p/e is 40.26, the forward p/e is 28.54 (fye 31-Dec-05), and the PEG is 1.94 with a price/sales of 4.65. This stock is not a cheap stock at all!
There are 400.19 million shares outstanding with 272.20 million that float. Currently there are 5.99 million shares out short, for a short ratio of 4.904 as of 6/7/04. This is significant, and may account for the price rise today in the face of an overall declining market.
Yahoo shows that SYK does pay a dividend of $.07/share (even though Morningstar does not show any dividend for 2003), yielding 0.15%. The stock recently split 2:1 in May, 2004.
How about the "technicals"? If we look at a Point & Figure chart from Stockcharts.com: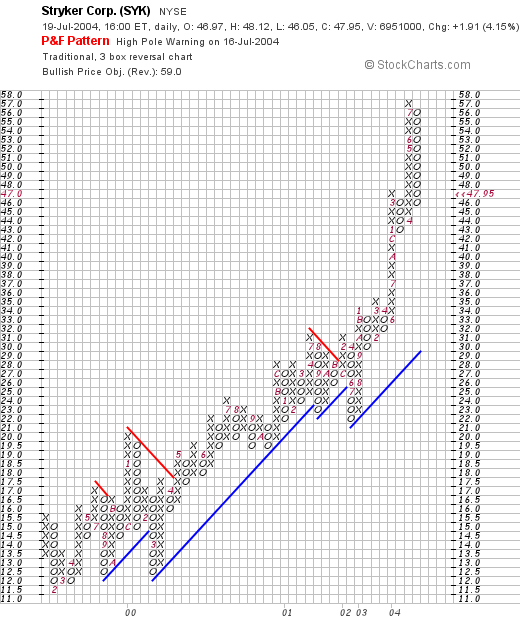 we can see what appears to be one of the strongest graphs on this blog with a nice ascent from February, 2000, to the current level. The stock has pulled back from its lofty $57 level recently, but the price chart, in my opinion, while a bit ahead of the support line, has not broken down at all.



So what do I think? I really like this stock....but I do not have any money available to buy shares :). The latest quarterly report was strong, they have announced an increase in their own estimates for 2004, the record on Morningstar is impeccable with a steady growth in revenue, earnings, and even dividends. The free cash flow is excellent. The balance sheet is nice, and the current quarterly report points out they have paid off their debt, the valuation IS a bit steep with a PEG over 2.0, but sometimes you just GOT to pay for quality, but this is a draw-back. And the graph looks very strong. Looks like a winner to me!

Thanks so much for stopping by! If you have any questions, comments, or words of encouragement, please feel free to email me at bobsadviceforstocks@lycos.com .

Bob
Posted by bobsadviceforstocks at 6:31 PM CDT |
Post Comment
|
Permalink
Updated: Sunday, 1 August 2004 2:42 PM CDT