July 27, 2004 L-3 Comms Hldgs (LLL)
Hello Friends! Thanks so much for stopping by
Stock Picks Bob's Advice
. I try real hard to polish up my posts, but please remember that I am an amateur investor so please check with your own professional investment advisors before taking any action based on information on this website. Also, do your own investigations on all investment ideas you see here as well as anywhere on the internet!

I was scanning the lists of
Price % Gainers on the NYSE
and saw that L-3 Communications (LLL) was doing quite well, currently trading at $59.24/share as I write, up $2.74 on the day or 4.85%. I do not own any shares of this nor do I have any options or leveraged positions.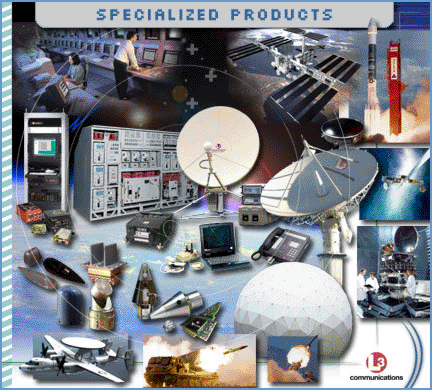 According to the
Yahoo "Profile"
, L-3 "...is a supplier of a range of products used in a number of aerospace and defense platforms. It is also a supplier of subsystems on platforms, including those for secure communications networks; mobile satellite communications; information security systems; shipboard communications; naval power systems; fuses and safety and arming devices for missiles and munitions; microwave assemblies for radars and missiles; telemetry and instrumentation, and airport security systems."
As is commonly seen on this website, what drove the stock higher today was an earnings report; specifically LLL
reported Second Quarter 2004 results
. Sales increased by 36.9% to $1.68 billion from $1.23 billion last year during the same quarter. Net income for the second quarter increased by 65.0% to $88.1 million compared to $53.4 million in the second quarter 2003. Diluted earnings per share rose by 52.8% to $.81/share compared to $.53/share last year. In addition, the company raised expectations saying they expected sales for 2004 compared to 2003 to "...grow in excess of 30% to more than $6.6 billion". Operating income was estimated to "...grow by more than 26% resulting in diluted earnings per share of approximately $3.40." The street liked what it heard and the share price took off accordingly!
How about longer-term? Looking at a
"5-Yr Restated" financials
from Morningstar.com, we can see a very nice growth picture with $1.4 billion in revenue in 1999, $1.9 billion in 2000, $2.3 billion in 2001, $4.0 billion in 2002, $5.1 billion in 2003 and $5.5 billion in the trailing twelve months (TTM). You can see from the recent announcement, that L-3 expects $6.6 billion in revenue for 2004!
Earnings have also increased in an uninterrupted fashion from $.88/share in 1999 to $2.88 in the TTM. Free cash flow has also been increasing from $125 million in 2001 to $373 million in the TTM. The balance sheet on Morningstar, shows $205.5 million in cash and $1.9 billion in other current assets, plenty to cover the $994.6 million in current liabilities and make a big dent in the $2.7 billion in long-term debt.
What about other parameters of valuation? Looking at
"Key Statistics"
on Yahoo for LLL, we see that the market cap is a large $6.27 billion. The trailing p/e isn't bad at 20.62 with a forward p/e (fye 30-Dec-05) of 15.53. The PEG is reasonable at 1.11, and the Price/Sales is also downright cheap at 1.11. The company is selling for just over 2x book.
Yahoo reports 105.99 million shares outstanding with 99.30 million of them that float. Of these, 3.28 million shares are out short, but with the high trading volume, this represents only 3.531 trading days. The short interest is down from the previous month's 4.83 million. (short interest is as of 7/8/04). Thus, some of the shorts are taking their "bets" off the table. Who would want to bet against THESE numbers?
A nice touch is that the company DOES pay a small dividend of $.40, yielding 0.71%. The last stock split was a 2:1 in May, 2002. It appears from Morningstar, that this dividend is a new plus to this stock and again indicates the confidence (imho) of the management in the reliability of future earnings.
How about some technicals? If we look at a point and figure chart from stockcharts.com: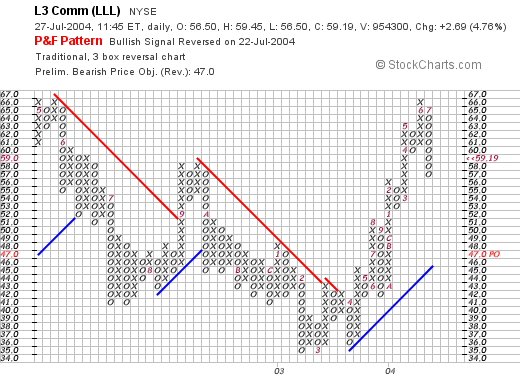 we can see that this stock was actually trading lower from May, 2002, until March, 2003, when it bottomed at around $35/share. Since then it has traded strongly higher above its support level and in my simple view of the graph, well it looks strong to me and heading higher! Again, I am not a technician, but what do you think?

So, in summary, what do I think of this stock? Well, if I had available cash it would be a stock that I might buy in my portfolio. (I don't need to go over my trading strategy AGAIN do I? But if you haven't read it, I am personally waiting to sell a portion of one of my EXISTING holdings in my "Trading Portfolio" before I add a new position.) That being said, I LOVE the recent quarterly report that came out today, both for the STRONG current revenue growth (even excluding growth attributed to acquisitions, the organic growth in revenue was in the mid-teens), STRONG current earnings growth, and the RAISED expectations. The STEADY growth in revenue and earnings the past 5 years looks nice. I don't mind that it now pays a dividend making it more attractive to investors looking for a little income, and the GROWING free cash flow along with a solid balance sheet is nice. Valuation looks pretty with a relatively LOW p/e, with an EXCELLENT PEG, and Price/Sales ratio, why we even have some short sellers out there that would need over 3 days to cover. EVERYTHING looks nice to me, except that it is a defense contractor...and some people might just want to avoid this group, knowing the possible volatility in defense contracting issues as the political winds change. Other than that, looks great to me.

Again, thanks for stopping by! If you have any questions, comments, or words of encouragement, please feel free to email me at bobsadviceforstocks@lycos.com .

Bob