August 3, 2004 Mentor Corp (MNT)
Hello Friends! Thanks very much for stopping by. I have grown discouraged about the NASDAQ recently. Who wouldn't?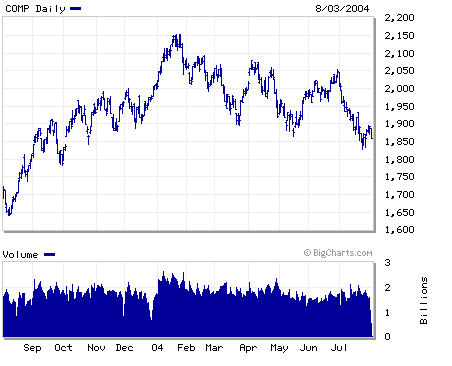 It appears that the NASDAQ rolled over sometime in late January, 2004, and since then we have had a series of lower highs and lower lows. I really would like to see this reversed on the next rally. As always, please remember that I am an amateur investor so please do your own investigation into all stock market ideas discussed here and please consult with your professional investment advisors prior to making any investment decisions.



Mentor (MNT) was at the top of the list of top % gainers on the NYSE. MNT closed today at $34.45, up $3.10 or 9.89% on the day. I do not own any shares nor do I have any leveraged position in this stock. According to the Yahoo "Profile", Mentor "...manufacturers and markets products serving the medical specialties market." Some of their more notable products include breast implants, implantable prostheses, and impotence and incontinence devices.



As I have pointed out many times on this blog, what often drives stocks higher over the short-term is announcements of good news or favorable earnings reports. Yesterday, after the close, Mentor announced 1st quarter 2005 results. Sales jumped 16% to $122.4 million compared to the prior year sales figure of $105.1 million. Diluted earnings per share for the quarter came in at $.39, up 18% from last year's $.33/share. At the same time, Mentor reaffirmed that it expected fiscal year 2005 sales to grow at a low double-digit growth rate with sales over sales of $422.2 million in the 2004 fiscal year. This was a nice announcement for Mentor, and the stock responded positively, even on a very weak day otherwise.

How about longer-term? If we review a "5-Yr Restated" financial statement from Morningstar.com, we can see that revenue has grown steadily from $249.3 million in 2000 to $422.2 million in 2004. Earnings have not been as consistent but have grown from $.73/share in 2000 to $1.15 in the trailing twelve months.

MNT even pays a small dividend and has increased it from $.05/share in 2000, to $.85/share in the trailing twelve months.

Free cash flow has been positive, increasing from $43 million in 2002 to $56 million in the trailing twelve months.

The balance sheet, as reported on Morningstar, appears solid to me. MNT has $118.4 million in cash and $209.6 million in other current assets as compared to liabilities of $129.9 million in short-term debt, and $170.5 million in long-term liabilities.

What about valuation? If we look at Yahoo "Key Statistics", we can see that this is a Mid-Cap stock with a market cap of $1.45 billion. The trailing p/e isn't bad at 28.38, with a forward (fye 31-Mar-06) p/e of 22.08. Thus, the PEG is reasonable at 1.53.

Yahoo reports 42.21 million shares outstanding with 40.50 million of them that float. There are 2.96 million shares out short as of 7/8/04, representing 13.436 trading days. This level of shorts might well explain the bit of a panic today of some buyers (?). As noted above, MNT does pay a small dividend of $.60/share yielding 1.91% return. The last stock split was a 2:1 on 1/21/03.

And what does the chart look like? Well, if we look at a nice Point and Figure Chart,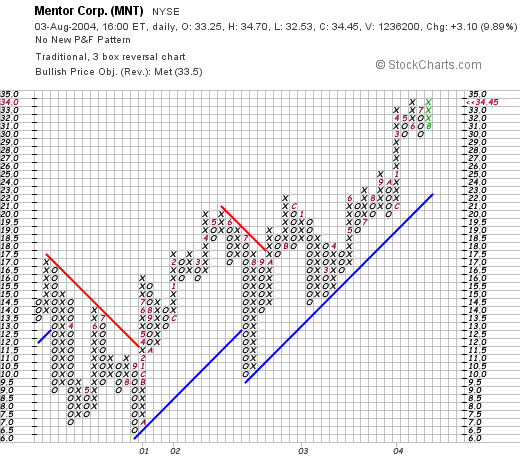 Per the chart, MNT last showed significant weakness through late 2000 when it dropped from $17.50 to a low of $6.50. Since that time, MNT has headed steadily higher.

Well, in conclusion, the stock actually looks nice to me. The recent earnings report was strong, the Morningstar 5-Yr record looks quite good, although earnings were NOT that consistent, they have been strong recently. The free cash flow is attractive and the technicals imho look fine. There is even a large level of short-sellers, poised to drive the stock even higher if the news on this company pushes the stock higher in the short-term.

Thanks so much for stopping by! If you have any comments, questions, or words of encouragement, pleae feel free to email me at bobsadviceforstocks@lycos.com.

Bob