August 21, 2004 Pixelworks (PXLW)
Hello Friends! It is Saturday afternoon here in Wisconsin and a beautiful one at that. The sky is sunny and the temperature was in the 70's. Unfortunately, the leaves are just showing a hint of yellow as Winter is peaking around the corner. Back to School sales are on and the kids are getting ready to return to their studies. I really wanted to get this post in yesterday, but you know how those things go. But before I get to any review this weekend let's take a look at a stock. As always, please remember that I am an amateur investor, so please consult with your professional investment advisors to make sure that investments discussed are timely and appropriate for you! If you have any questions or comments, please feel free to email me at bobsadviceforstocks@lycos.com .
Scanning through the
list of top NASDAQ gainers
, I came across Pixelworks (PXLW). I do not own any shares nor do I have any options on this stock. PXLW had a great day Friday closing at $10.96, up $1.62 or 17.34%. According to the
Yahoo "Profile"
, Pixelworks "...designs, develops and markets semiconductors and software products for the advanced display industry, including advanced televisions, multimedia projectors and flat-panel monitors."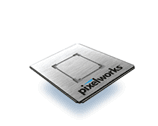 On July 20, 2004, PXLW
announced 2nd quarter 2004 results
. For the quarter ended June 30, 2004, revenue came in at $48.5 milllion, a 49% increase over the $32.6 million reported in the same quarter in 2003, and a 7% sequential increase over the $45.3 million reported in the first quarter of 2004. Net income was $5.8 million, or $.12/diluted share, up from $420,000 or $.01/diluted share in the second quarter of 2003. The company also projected third quarter results with revenue of $47 to $50 million, a year over year increas of 32% to 41%. They announced expected GAAP eps of $.08 to $.11 for the upcoming quarter.

How about longer term? Taking a look at
"5-Yr Restated" financials
, we can see a steady and impressive growth in revenue from $13 million in 1999 to $140.9 million in 2003 and $154.2 million in the trailing twelve months (TTM). Earnings have improved from losses of $(1.05) in 2001 through 2003 at $(.01) and has turned profitable at $.12/share in the TTM. Free cash flow has also been improving, according to Morningstar, with $5 million in 2001 increasing to $13 million in the TTM.
The balance sheet is absolutely gorgeous with $101.2 million in cash and $30.4 million in other current assets as opposed to $20.9 million in current liabilities and NO long-term liabilities reported on Morningstar.
How about valuation? Looking at
"Key Statistics"
on Yahoo, we can first see that this is a Small Cap stock with a market cap of only $503.73 million. The trailing p/e is steep at 48.50 but the growth is so FAST that the forward p/e (fye 31-Dec-05) is only 18.58. Thus, the PEG looks great at 0.91. Price/sales is moderate at 2.52.
Yahoo reports 45.96 million shares outstanding with 41.20 million that float. As of 7/8/04, Yahoo reports 6.48 million shares out short, a significant number with a short ratio of 4.801, with 15.73% of the float out short. This number is up from 5.12 million shares out short reported the prior month. The short interest could be adding to the upwards price pressure noted Friday as short sellers may (?) be scrambling to cover.
Yahoo reports no cash dividend and no stock dividends are reported.
What about "technicals"? I like to look at Point & Figure charts for this, and looking at Stockcharts.com:


we can see that this stock was trading lower from March, 2002, when it was at the $14.5 level, down to a low of $4.00/share in October, 2002. The stock broke through a resistance level at $8.00 in November, 2002, and traded higher until recently when it broke through a support level at $15 in May, 2004. The stock appears to be finding a new support level at around $8.50, but needs to get through $18.00 to completely 'reverse' this trend. As you all know, I am NOT an expert technician, so review this chart as well and see what you think!

So what do I think about this stock? I actually like this stock a lot. Let me review: the stock had a great move yesterday, the latest quarterly report appeared outstanding, the five year revenue and earnings improvement is impressive, the growing free cash flow is attractive, and the balance sheet is beautiful! Valuation is a bit steep based on current p/e, but analysts are expecting such a rapid growth down the line that the PEG is actually under 1.0. Technically, the graph is less than ideal, with what appears to be a breakdown in price momentum.

Will I buy shares? Well, if you follow my trading strategy, you will know that I can't buy anything until I sell a portion of one of my current holdings at a gain....but if I was in the market, I probably would nibble on a few shares. The only other thing that bothers me about this stock is the price. I like to see stocks a little higher in price...makes the volatility a little more tolerable...less likely to quickly get stepped out on a small pullback causing me to hit my 8% loss limit.

Thanks so much for visiting my blog, Stock Picks Bob's Advice. As always, please make yourself at home and feel free to email me with any questions or comments at bobsadviceforstocks@lycos.com . I will probably respond right in the blog itself!

Have a great weekend everyone!

Bob