September 7, 2004 Aviall (AVL)
Hello Friends! Thanks so much for stopping by! I hope that you find lots of things that get you thinking but please always remember I am an amateur investor, so please consult with your investment advisors prior to making any investment decisions based on information on this website to make sure they are timely and appropriate for you! If you have any questions, comments, or words of encouragement, please feel free to email me at bobsadviceforstocks@lycos.com .

I was looking through the
list of top NYSE % gainers
today and came across Aviall (AVL). I do not own any shares nor do I have any options in this stock. AVL closed today at $21.30, up $.88 or 4.31% on the day. According to the
Yahoo "Profile"
, AVL "...is engaged in the distribution and supply of new aviation parts, supply-chain management and other related value-added services, primarily to the aerospace aftermarket and the provision of online inventory information services ot aerospace, defense and marine industries."

On July 14, 2004, AVL
reported 2nd quarter 2004 results
and raised earnings guidance for fiscal 2004. Net sales for the quarter ended June 30, 2004, came in at $314.0 million, a 25% increase over the $250.8 million for the same quarter last year. Operating income was $20.5 million, up $3.9 million or 24% from last year. AVL earned $.40/diluted share compared with a loss of $(1.35)/diluted share in the 2nd quarter of 2003. Excluding some non-recurring expenses in that quarter the pro forma diluted results in 2003 were $.24/share.
For a longer-term perspective, I like to check the Morningstar.com
"5-Yr Restated" financials on AVL
. In this view we can see that revenue has grown steadily since 1999, with accelerated growth since 2001. $372 million in sales in 1999 with $1.05 billion in sales in the trailing twelve months (TTM).
Earnings have been erratic with $.53/share in 1999, dropping to a loss in 2003 and the TTM. The latest quarter and the improved guidance suggests the company is turning around and is now profitable once again.
Free cash flow has improved from a negative $(93) million in 2001, to $42 million in the TTM.
The balance sheet, as reported by Morningstar.com, shows $11.4 million in cash and $493.9 million in other current assets, balanced against $158.6 million in current liabilities and $208.4 million in long-term liabilities.
What about "valuation"? If we take a look at
"Key Statistics"
from Yahoo, we can see that this is a small cap stock with a market cap of $691.7 million. The trailing p/e is reasonable at 17.30 with a forward p/e (fye 31-Dec-05) of 16.17. The PEG is thus nice at 1.19. (anything close to 1.0 with the PEG is reasonable to me.)
Yahoo reports 32.40 million shares outstanding with 30.60 million shares that float. Of these there were 525,000 shares out short as of 8/9/04, representing 2.692 trading days or 1.72% of the float. This does not seem to be a lot of shares out short.
No cash dividend and no stock dividends are reported on Yahoo.
What about "Technicals"? Looking at a
Point & Figure chart from Stockcharts.com
: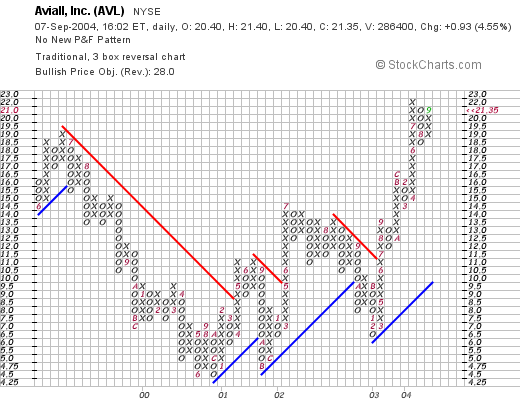 we can see that the stock was trading LOWER from June, 1999, when it was trading at around $19.50/share and then corrected all the way down to $4.50 in October, 2000. It has traded higher since and recently is trading well above its suport level as the stock price trades higher.

Overall I like this stock. The recent earnings report was solid, although the prior 12 months have not been very profitable for this company. The free cash flow is improving, the balance sheet is solid, and the valuation isn't bad. Technically the stock is breaking out to higher ground. As always, I am sitting on my hands until such time as one of my holdings in my "Trading account" is sold, and then I can add a new postion!

Thanks again for stopping by! If you have any questions, please feel free to email me at bobsadviceforstocks@lycos.com

Bob