September 8, 2004 Sierra Wireless (SWIR)
Hello Friends! As always, I am delighted that you could take the time to visit my blog. I am quite the amateur. The place is a mess :) so make yourself at home, you can sit on the sofa, or the Lazy Boy...and browse through the collection of posts that I have here on my blog,
Stock Picks Bob's Advice
. Just make sure you are aware that I am an amateur investor so please consult with your professional investment advisors prior to making any investment decisions based on information on this website. Also, if you have any questions or comments, please feel free to email me at bobsadviceforstocks@lycos.com.

As a review, and for those of you who are not familiar with my methods (or is it madness?), the first place I like to "prospect" for stock market ideas is in the lists of greatest percentage gainers for the day. You might ask "Why that list?" and I don't have a better answer than "If I am going to pick a stock TODAY to tell you about, why not pick a stock that is moving UP strongly today?" I am sure there are many other methods of looking at stocks, but that is just something I have been doing!
Anyhow, today on the
list of top % gainers on the NASDAQ
, I came across Sierra Wireless, Inc. (SWIR), a stock that I do NOT own any shares nor do I own any options. SWIR closed today at $19.15, up $3.18 or 19.91% on the day!

What drove the stock higher today was an
announcement
was a collaboration with Intel (INTC) that would "...deliver integrated wireless connectivity solutions to mobile professionals worldwide." In more 'techno-speak', they were collaborating to develop and promote "...integration in wireless local area networking (WLAN) and wireless wide area networking (WWAN) to provide a better user experience." Not being one who knows a WAN from a LAN, I will defer to more sophisticated observers, but the market thought this was indeed good news and rewarded the stock price accordingly.
Well the second thing I like to check when looking at a new stock pick is the latest quarterly report. In this way, I try to find out whether the latest earnings news demonstrates that the company is doing well...what do I look for?...I like to look at revenue, earnings, and any comments regarding future guidance. Hopefully all of these will be positive.
On July 21, 2004, SWIR
announced 2nd quarter 2004 results
. For the quarter ended June 30, 2004, revenue came in at $51.6 million, a 24% increase over the first quarter of 2004 (sequential growth), and a 149% increase over the $20.7 million in revenue in the same period of 2003. This in itself is a terrific report! Net earnings for the quarter came in at $6.0 million or $.23/diluted share, compared to $3.3 million or $.13/diluted share the PRIOR quarter (sequential growth), and compared to $.05/diluted share in the second quarter of 2003. In addition, they provided strong guidance of $57 million for the upcoming quarter or $.24/diluted share, again predicting continued sequential growth in both earnings and revenue for the upcoming quarter. I like this report a lot.
How about longer-term? If we take a look at
"5-Yr Restated" financials
from Morningstar.com, we can see that revenue has grown sequentially from $24.6 million in 1999 to $101.7 million in the trailing twelve months (TTM). Earnings which were positive at $.23/share in 1999, dropped sequentially to a low of $(2.57)/share in 2002, only to increase to a profit of $.12/share in 2003. With current earnings and projected earnings of around $.25/share each quarter, the company is working on around $1.00/share for 2004.
According to Morningstar.com, free cash flow has also been steadily improving recently with $(32) million in 2001, improving to $(7) million in 2002, and turning positive at $12 million in 2003. The balance sheet is also quite nice with $85.1 million in CASH, more than enough to cover BOTH the $30.1 million in current liabilities and the very small $2.3 million in long-term debt. In addition, Morningstar reports SWIR with an additional $25.3 million in other current assets. Looks pretty good to me!
The next think I like to review are some valuation parameters. For this, I like to check the
Yahoo "Key Statistics" on SWIR
. Here we can see that the market cap is a small cap $481.78 million. The trailing p/e is rich at 51.48, but the forward p/e is dramatically lower (fye 31-Dec-05) at 18.24. Thus, the PEG isn't bad, but not really 'cheap' at 1.53. Yahoo reports 25.16 million shares outstanding with 15.10 million of them that float. There are 1.85 million shares out short, representing 12.24% of the float as of 8/9/04, but even this level is only 1.183 trading days of short shares...so imho, using 3 days as a 'cut-off' this doesn't look like "squeeze" material to me. No cash dividends are reported and no stock splits are mentioned on Yahoo.
What about technicals? I am NOT much of a technician at all (!!!) so always take this portion of my examination with a grain or two of salt....but here goes.....looking at a point and figure chart for SWIR, from
Stockcharts.com
, a GREAT place to look at graphs: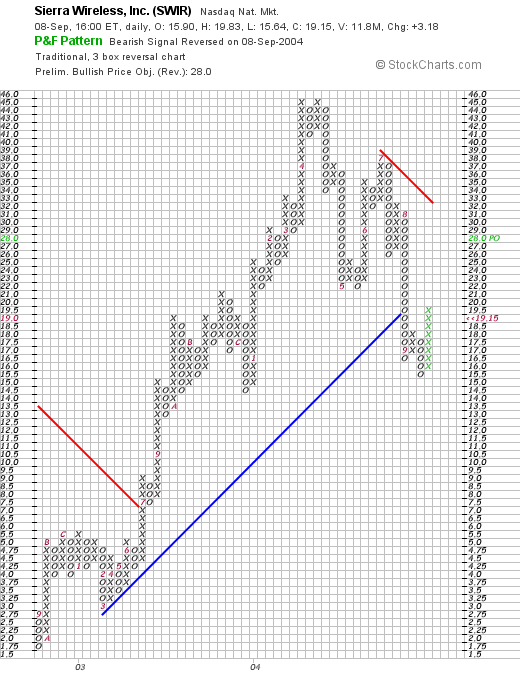 we can see that this stock was trading steadily higher from September, 2002, when it was as low as $1.75/share, until late August, 2004, when it broke down below a support line at about $19.50. (It had peaked around $45/share in April, 2004.) Currently, it is moving back ABOVE the support line, and this looks bullish to me. I would like to see the stock hold the current level and move higher to the $23 level to confirm its momentum. (Again, I am NOT a technician, but have provided you with a chart to review as well!)

So what do I think? Well, the world is certainly going wireless, and this stock is VERY interesting. Especially the recent collaboration with Intel, which with its "Centrino" chip and built-in wireless devices, is looking to grow into this segment. The latest earnings looks GREAT. The past five years has seen explosive growth. The free cash flow is turning nicely positive and the balance sheet is superb. Valuation might be a bit nicer, but then you can't always have EVERYTHING :). (It is ok to try though). And the graph looks ok to me. The stock has pulled back from its recent highs and looks to be moving higher once again.

Now if I just had some MONEY to invest lol. As you know, I just sold my shares of RAD and am waiting patiently (can you believe I am still SITTING on my hands) until I can sell a few shares of one of my current positions at a targeted gain level. So I can't buy anything anyway....but this kind of stock would be on my purchase list if I WERE in the market!

Thanks again for stopping by! If you have any questions, comments, or words of encouragement, I would love to hear from you at bobsadviceforstocks@lycos.com

Bob