September 11, 2004 Leadis (LDIS)
Hello Friends! It is hard to write anything at all about stocks without first thinking of the thousands that perished at the hands of terror three years ago. I salute all of those who lost their lives in NYC and at the Pentagon and in a field in Pennsylvania. I remember getting to work and having an associate show me the live shot of the World Trade Center first tower burning after being hit. My first thought was that it must have been just another one of those freak small plane accidents. Then the second tower was hit. Then the first came down followed not long after by the second. Those images don't just leave your mind. On a positive note, I open with the Daniel Liebeskind project drawing so that we may all look forward to the future as we memorialize the past.
I was scanning through the
list of top NASDAQ % gainers
yesterday and came across Leadis Technology Inc (LDIS). I do NOT have any shares or options in this company. And please remember, I am an amateur investor, so please consult with your professional investment advisors prior to making any investment decisions based on information on this website. LDIS had a very nice day today, closing at $12.68, up $2.73 or 27.44% on the day.

According to the
Yahoo "Profile"
, LDIS "...designs, develops and markets mixed-signal semiconductors that enable and enhance the features and capabilities of small-panel displays. The Company's core products are color display drivers with integrated controllers, which are critical components of displays used in mobile consumer electronics devices."

Doing a little detective work, the only thing I could see that drove the stock higher yesterday was their participation in an
SG Cowan & Co. Fall Technology Conference
yesterday with an associated webcast. This is about an hour long presentation, so you can listen on the net to what the company had to say if you register there. The introductory point is that Leadis sells to hand-set phone manufacturers, the company is only four years old, and has customers including Nokia, Samsung, and LG, which are the 3/5 top manufactures in this market, representing 55% of the hand-set phone market.

On July 28, 2004, LDIS
announced 2nd quarter 2004 results
.Revenue came in at $41.3 million, an increase of 19% over the prior quarter revenue of $34.8 million, and an over 200% increase over the prior year same quarter revenue of $13.8 million. Net income per diluted share came in at $.24/share an over 25% increase from the $.19/share reported the prior quarter and an over 300% increase from the prior year $.05 result. In addition, LDIS raised guidance for the 3rd quarter 2004 results to revenue between $40-$43 million from the $21 million the prior year. GAAP diluted eps is expexted to be between $.13 to $.16/share.
This company is only four years old so we don't have 5 year results, however looking at the
"5-Yr Restated" financials
from Morningstar.com, we can see how revenue has grown from $1.2 million in 2001, $7.9 million in 2002, and $84 million in 2003. With the current and upcoming quarter at around $40 million, the $160 million revenue target appears reasonable for 2004.
Earnings turned positive in 2003 at $13 million, and from the recently announced earnings report, we can see that net income was $7 million in the second quarter alone, with a target of $28 million for the year if we extrapolated the current result (?).
Free cash flow was $(1) million in 2001, $(4) million in 2002, but turned positive at $13 million in 2003.
According to Morningstar.com, the balance sheet looks just fine with $23 million in cash and $37 million in other current assets, enough to cover both the current liabilities of $33.5 million and the $14.6 million in long-term liabilities combined.
How about valuation? For this I like to look at
Yahoo "Key Statistics"
. Here we can see that this is a small cap stock with a market cap of only $348.38 million. The trailing p/e is very nice at 13.80 with a forward p/e (fye 31-Dec-05) of 15.85. The PEG is beautiful at 0.76, and the Price/Sales isn't too bad at 1.97.
Yahoo reports 27.48 million shares outstanding with only 6.00 million that float. There are 269,000 shares out short as of 8/9/04, representing 4.48% of the float or 2.745 average trading days, so in my view, this doesn't look too bad either. There are no cash dividends, and no stock splits reported on Yahoo.
How about "technicals"? Looking at
Stockcharts.com
for a
Point & Figure chart on LDIS
: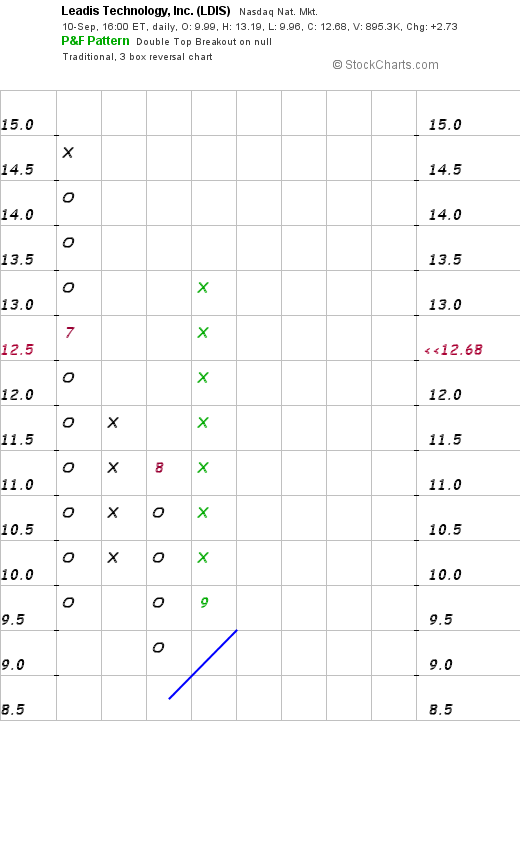 we can see a limited graph, with the stock coming public in June, 2004, dropping from $14.5 to $9.5 and then moving up from this new support level. This is a small company with limited technicals to follow.

So what do I think? Well this is a fascinating company with explosive growth. I do not know what the barriers to entry are but the company does have great recent earnings results, strong fundamentals, reasonable valuation, and might just be one of those that you can "hit out of the park." Unfortunately, I am not in the market to buy anything, but if I were, I might be looking at this. I am always worried about buying low-priced stocks though; if it pulls back just a point, you will hit your 8% stop on a $12 stock. But then again, we sure have seen some stocks really power ahead when they have news and fundamentals like this!

Thanks again for stopping by! If you have any questions, comments, or words of encouragement, please feel free to email me at bobsadviceforstocks@lycos.com

Bob









Posted by bobsadviceforstocks at 9:13 AM CDT |
Post Comment
|
Permalink
Updated: Saturday, 11 September 2004 10:54 AM CDT