October 4, 2004 Wipro Ltd. (WIT)
Hello Friends! Thanks again for stopping by. We have had a few days in the market with some upward momentum and actually my Trading Portfolio is getting close to a sale on one or two issues at a gain....so MAYBE I will be adding a new position soon (?) As always, please remember that I am an amateur investor, so consult with your professional investment advisors prior to making any investment decisions based on information on this website; please make sure all of your investment decisions are appropriate, timely, and likely to be profitable for you! If you have any questions or comments, please feel free to email me at bobsadviceforstocks@lycos.com .

If you listened to the Presidential debate last week or the Vice-Presidential debate tomorrow evening, you are sure to know that "outsourcing" is one hot topic. Scanning through the
list of top % gainers on the NYSE
today, I came across Wipro Ltd. (WIT). I do not own any shares of this stock nor do I own any options. WIT closed at $20.86 today, up $1.56 or 8.08%.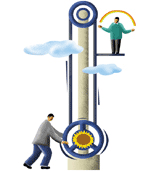 According to the
Yahoo "Profile"
, WIT "...is a global information technology (IT) services company." Based in India, it does a lot of business in "outsourcing" of software for many large corporations.
On July 23, 2004, WIT
announced 1st quarter 2005 results
. For the quarter, WIT earned $71 million, up from $38.8 million the prior year. Revenues were up 51% to $385 million during the latest quarter up from $255 million the prior year. On July 22, the company
announced results in Rupees
. On a per share basis, earnings per share were 4.69 Rupees, up 83% over the earnings per share of 2.57 Rupees the prior year.
How about longer-term? Taking a look at a Morningstar
"5-Yr Restated" financials
, we can see that revenue has grown steadily from $424.3 million in 1999 to $883.9 million in 2003.
Earnings have been a little less dynamic but have improved from $.06/share in 1999, to $.24/share in the trailing twelve months. Free cash flow has also grown steadily from $71 million in 2001 to $105 million in 2003.

The balance sheet is solid with $295.8 million in cash, almost enough to pay BOTH the current liabilities of $150.2 million and the miniscule long-term debt of $4.1 million two times over. In addition, WIT has $294.9 million in other current assets. This company is quite solvent!
How about "valuation"? Looking at
"Key Statistics"
from Yahoo, we can see that the market cap is a Large Cap $14.48 billion. The trailing p/e isn't cheap at 58.11 (quite steep actually), with a forward p/e (fye 31-Mar-06) of 37.25. Thus, the PEG, if these estimates are right, isn't too bad at 1.46. The Price/Sales is also quite rich at 9.53.
According to Yahoo, there are 694.33 million shares outstanding (!), with 111.0 million of them that float. Of these shares, 1.47 million are out short as of 9/8/04, representing 1.32% of the float or 10.131 trading days. In my view, this is significant (with anything over 3 days to cover significat.)
Yahoo reports a small dividend of $.0303/share yielding 0.16%. WIT recently had a 3:1 split on 7/2/04.
What about "technicals"? If we look at a graph from
Stockcharts.com
: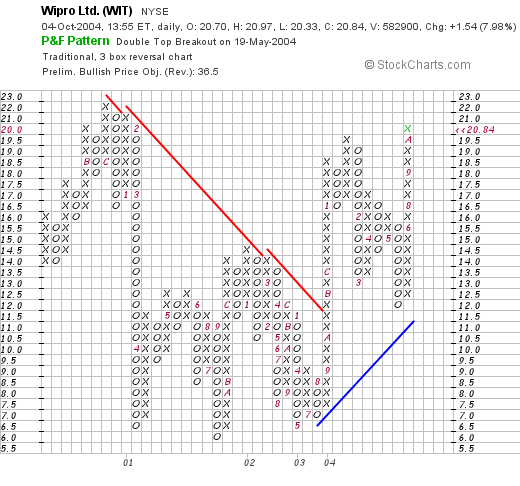 we can see that this stock actually peaked in February, 2001, at around $22/share and then declined sharply down to $6.50. It has consolidated at this level through August, 2003, and then broke through resistance in October, 2003, moving steadily higher along a new support level to its current level. Presently, it appears over-extended at the $22 level, and would look for it to pull back towards the $15 range before moving higher....but then again, that is just my take on the chart...please review as well!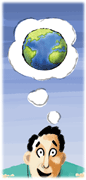 So what do I think about this stock? (Isn't this a great picture from the WIPRO website?) Overall, if we take away the lack of political correctness, this is a very dynamic company in a growing field. The earnings recently reported and the 5 year revenue growth is impressive. The balance sheet is superb, they are generating loads of cash and have relatively little debt with virtually NO long-term debt. Unfortunately, I am not the first to discover this stock and the valuation IS a bit steep. But then again, they are growing quickly so maybe it IS worth the price?

Currently, I have no cash to invest, that is, under my system, I need a partial sale from my trading portfolio before I add a new position....so I am sitting on my hands once again! If you have any questions, comments, or words of encouragement, please feel free to email me at bobsadviceforstocks@lycos.com .

Bob