November 5, 2004 ValueClick (VCLK)
Hello Friends! TGIF. We have had a wonderful week in the market with a very bullish performance for most of the indices. Today,
strong October jobs numbers were reported
and this appeared to strengthen the market further. Please remember, as you read my blog,
Stock Picks Bob's Advice
, that I am an amateur investor. Please consult with your professional investment advisors prior to making any decisions to make sure that such decisions are appropriate, timely, and likely to be profitable for you! If you have any questions, comments, or words of encouragement, please feel free to email me at bobsadviceforstocks@lycos.com .
Looking through the
list of top % gainers on the NASDAQ
, I came across Valueclick Inc (VCLK) which closed at $10.91, up $1.34 or 14.00% on the day. I do not own any shares of this stock nor do I own any options in any accounts that I am responsible for. (I have a couple of managed accounts where shares may be purchased or sold that I may not be aware of!). According to the
CNNMoney "snapshot"
, VCLK's principal activities "...are to provide products and services that enable marketers to advertise and sell their products."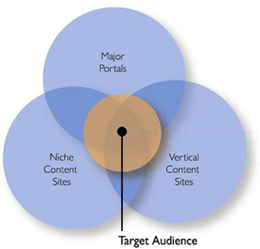 Yesterday, after the market close, VCLK
reported 3rd quarter 2004 results
. For the quarter ended September 30, 2004, VCLK reported revenue of $43.5 million, ahead of guidance of $37-$39 million and 92% ahead of the $22.7 million reported in the third quarter of 2003. GAAP (generally accepted accounting practices) net income for the third quarter was $7.6 million or $.09/share, ahead of guidance of $.06/share, and up from the $3.6 million in the third quarter 2003. VCLK also did something I really LOVE in a report, they RAISED GUIDANCE. For the fiscal year 2004, VCLK raised guidance in revenue from $154 million to $162 million. This was a nice report imho.
How about longer-term? Taking a look at the
"5-Yr Restated" financials
from Morningstar.com, we can see that revenue has grown steadily (except for a dip between 2000 and 2001) from $26 million in 1999, to $124.3 million in the trailing twelve months. (See above, 2004 revenue should be coming in at $154-$162 million).
Earnings, which were at $(.20)/share in 2001, have improved gradually, turning profitable in 2003 at $.13/share and improving to $.33/share in the trailing twelve months. Free cash flow has also been improving steadily from $(4) million in 2001, $(1) million in 2002, $12 million in 2003 and $22 million in the trailing twelve months (TTM).
Looking at the balance sheet as reported on Morningstar.com, we find that VCLK has $239.3 million in cash alone, easily covering both the $31.9 million in current liabilities and the $4.1 million in long-term liabilities over 6 times over! In addition, VCLK has another $23.7 million in other current assets.
What about valuation? Taking a look at the
Yahoo "Key Statistics"
, we see that this is a "small cap" stock with a market cap of $873.67 million. The trailing p/e is 28.49, forward p/e is 29.49 (fye 31-Dec-05), and the PEG is at 1.77. Yahoo reports 80.08 million shares outstanding with 73.40 million of them that float. Of these there are 2.77 million shares out short representing 3.77% of the float or 2.68 trading days of volume.
Taking a look at a Point & Figure chart from
Stockcharts.com
: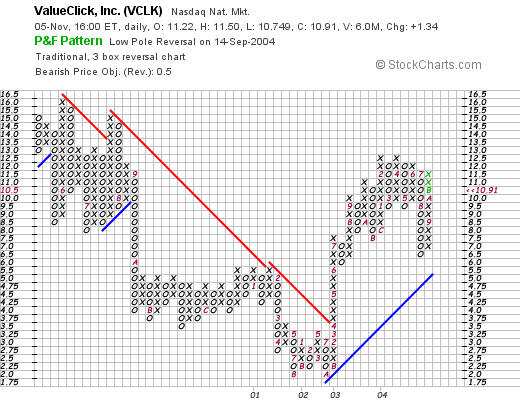 we can see that this stock has traded lower since May, 2000, from $16.00/share to a low of about $2.25/share in August, 2001. Since then, the stock broke through a resistance line in April, 2003, at $4.00/share and has traded steadily higher. The graph looks nice to me!

So what do I think? Summarizing some of the things I noted, the stock made a nice move today on a gorgeous earnings report (imho). The company has a record of growing its revenue and improving its earnings for the past five years. They are cash-flow positive and have a beautiful balance sheet with loads of free cash. Valuation is reasonable, imho, although the PEG is a bit high, I suspect this will drop as the current numbers get integrated into the Morningstar site. The graph is nice as well! In fact, this is a pretty picture!

Now, if I just had SOLD some of my stock at a profit so I could add a position! Thanks again for stopping by! Please remember that if you have any questions or comments, please feel free to email me at bobsadviceforstocks@lycos.com .

Bob






Posted by bobsadviceforstocks at 5:40 PM CST |
Post Comment
|
Permalink
Updated: Friday, 5 November 2004 5:51 PM CST