A Reader Writes "What About Sun Microsystems?"
Hello Friends! Thanks for stopping by my blog,
Stock Picks Bob's Advice
. Please remember that I am an amateur investor so please do your own investigation of all stocks discussed on this website, and consult with your professional investment advisors before making any investment decisions based on information here. If you have questions, or comments, please feel free to email me at bobsadviceforstocks@lycos.com .
I received a letter today from a reader who wrote:
Hi! I found your blog through blogarama.com and was wondering what
your take on Sun Microsystems is. I am having a lot of trouble finding
opinions and advice on the stock and hope that you will give me your
thoughts.

Thanks,

Jeff
Well Jeff, thanks so much for writing. I am sure you have read the disclaimer all over this blog, and I have to tell you it is true. I AM an amateur investor, and thus cannot tell you whether Sun Microsystems (SUNW) would be a good investment for you to make or not. In fact, I cannot tell you whether the stock will be appreciating in price in the near future or not....all I can tell you is whether it fits into my strategy of investing.
In other words, there are many ways to invest successfully in the market. My particular strategy involves momentum, both earnings and price, with a look at underlying fundamental issues. The investment in SUNW is more of a "turn-around" or contrarian "value" investment style, looking for stocks that are deeply undervalued which might have rapid appreciation in the future. That is a great strategy, but that is not what I do around here. I look for stocks that are already doing well, with nice same day percentage gains, great recent quarterly results, a nice Morningstar report, and a reasonable stock chart. Hopefully, my approach will be successful, but it is in no means to imply that there might not be better strategies that might be more successful in selecting stocks.
Well, that being said, let's take a look at SUNW and see what we come up with!

SUNW closed today, 11/24/04, at $5.21, up $.03 or 0.58% on the day. Taking a look for the most recent earnings report, I found that on Yahoo,
Sun reported 1st quarter 2005 results
on October 14, 2004. For the 1st quarter ended September 26, 2005, revenue came in at $2.628 billion, a 3.6% increase over the first quarter in 2004 fiscal year. Net LOSS for the first quarter came in at $(174) million or $(.05)/share compared with a net loss of $(286) million or $(.09)/share the prior year same quarter. So the revenue is growing sequentially and the loss is shrinking, so things are improving somewhat.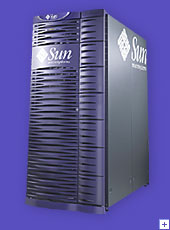 How about longer-term? For that I like to turn to the
Morningstar.com "5-Yr Restated" financials
which show that first, revenue hit a peak of $18.2 billion in 2001, and has been decreasing each year until 2004 when it came in at $11.185 billion. Apparently the last two quarters are showing signs of a turn-around which is positive. However, when I pick stocks for this blog, I avoid stocks that haven't been steadily increasing revenue the last five years.
Also on Morningstar, we can see that earnings were greatest in 2000 at $.55/share, and have been decreasing into losses with a bottom in 2003 at $(1.07)/share. 2004 was a little less bad with a loss of $(.12)/share and apparently the turn-around continues at SUNW.
How about free cash flow? Well this looks superb with $321 million in 2002, $664 million in 2003, and $2.0 billion in 2004. This means that the financials are likely improving and that the growing cash will provide some flexibility for the SUNW management. However, remember that they are still losing money at least in the earnings department.
Balance sheet? Appears adequate with $3.6 billion in cash and $3.7 billion in other current assets, compared with a significant $5.1 billion in current liabilities, and a $3.0 billion in long-term liabilities. Financially the company appears to be on solid footing.
Technicals? Let's look at a Point & Figure Chart from
Stockcharts.com
: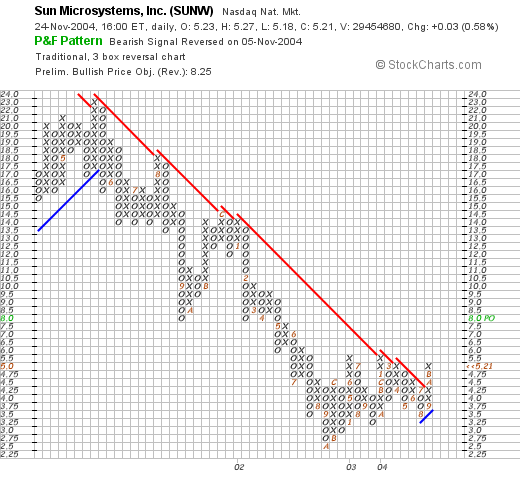 Here we can see that this stock peaked in May, 2001, at $23.00/share and has headed steadily lower. Recently, in what appears to be mid-September, 2004, the stock broke through a resistance level and has headed higher to its current level of $5.21. Quite frankly, in the short fun, this stock does look like it has been bottoming from its $2.50 low in October, 2002, and now may well be heading higher.

What do I think? Well this does not fit into the stock profile that I have been looking for here on Stock Picks. However, the recent earnings report shows improvement with slowly increasing revenue, and decreasing losses, and the balance sheet/free cash flow looks fine. I don't like the multi-year history of decreasing revenue, the persistent losses, and the "turn-around" nature of this investment. That is just not my style. However, if you like that kind of thing, this might be your cup of tea. No telling really!

Good luck and keep me posted! Thanks again for stopping by! I hope that review of SUNW was helpful for you! Regards and have a Happy Thanksgiving!

Bob