A reader writes, "What about Rogers Corp.?"
Hello Friends! I always enjoy receiving comments and questions from readers. Yesterday I received a nice note from pdhanks, Thank You for the kind words pd. I also received a question from Chingow, who asked me about Rogers Corp (ROG). Let me try to tackle that question. Even though pd is kind, I am indeed an amateur investor so please consult with your professional investment advisors before acting on anything I write! By the way, I do not own any stock in Rogers (ROG)...but wish to share with you anything I can find that either makes this stock an investment consistent with my goals or perhaps a fine investment that just doesn't fit into my investment goals.

First of all, Rogers (ROG) closed at $45.28 on December 17, 2004, down $(.37) or (.81)% for the day. According to the
Yahoo "Profile" on Rogers
, Rogers "...manufactures and sells specialty polymer composite materials and components that it develops for markets and applications around the world." O.K. sounds ok so far!

The first place I like to look when thinking about a stock is the latest quarter results. That way, I can try to get a feeling for how a company is doing right "now". On October 20, 2004, Rogers
announced 3rd quarter 2004 results
. They reported that quarterly income rose to $6.5 million or $.38/share, up from $6.3 million, but down from $.39/share last year. So THAT was a mixed report; revenue jumped slightly, but earnings edged lower. However, net sales jumped 53% to $86.7 million from $56.5 million last year. THAT is the kind of result I do like. Apparently $10.4 million in additional revenue was do to an acquisition of "Durel".
HOWEVER, as part of that earnings report, Rogers LOWERED expectations, predicting profit of $.40 to $.45/share on sales of $82-$87 million. Analysts had been expecting $.54/share on revenue of $91.7 million. I always PREFER companies that RAISE expectations above analysts views instead of lowering them. Raising expectations is sort of like raising the thermostat on a cold winter day (boy can I ever relate to THAT here in Wisconsin!), first you raise the thermostat and later the whole house warms up! If you lower that "thermostat" by lowering expectations, I am afraid there is a good chance, at least short-term, to see a decline in the stock price.

How about longer-term? My next step is usually to navigate over to the Morningstar.com site. For Rogers, looking at the
Morningstar.com "5-Yr Restated" financials
, I start with the easily understood bar graphs at the top of the page where the revenue results are displayed. I prefer to see continually increasing revenue bars. For Rogers, revenue actually declined from $247.8 million in 1999 down to $216.0 million in 2001. It has been improving recently, and Morningstar shows $363.5 million in the trailing twelve months (or TTM as Morningstar calls it!) With the last several years showing improvement, that isn't bad, but imho, I prefer steady growth all five years.
Earnings also have been a bit erratic dipping to $.98/share in 2001 from $1.19 in 1999, but since then they have been growing very strongly to $2.32 in the TTM. So this doesn't look too bad either.
Free cash flow? Well that is sort of the actual money either being generated or consumed by the operation in question. For ROG, according to Morningstar, Free Cash Flow has been positive, with $21 million in 2001, dropping to $5 million in the TTM. Again, this looks nice, but to look 'fabulous' I like to see positive and increasing free cash flow.
How about their 'balance sheet'? At least on Morningstar.com, this looks fine. They are showing $29 million in cash and $118 million in other current assets. That is plenty to cover both the $55.3 million in current liabilities and $30.6 million in long-term debt.

So what do I check next? My next step is to try to figure out 'valuation' questions, at least on a basic level. For this, I again turn to Yahoo, looking at the
"Key Statistics" on Rogers
. Here we can see that ROG is a mid-cap stock (see market capitalization definition
here
), with a market cap of $758.8 million. The trailing p/e is nice at 19.49 (anything under 20 with a reasonable growth rate is "nice" to me!), and the forward p/e (based on earnings estimates instead of actual recorded earnings) is 17.02 (fye 28-Dec-05). Also showing reasonable valuation is the PEG which is reported at 1.02. Anything near 1.0 is a good PEG imho.
Yahoo reports 16.76 million shares outstanding with 14.20 million of them that float. Currently there are 544,000 shares out short (as of 11/8/04) representing only 3.83% of the float or 6.044 trading days of volume. I arbitrarily use 3.0 trading days, and anything higher than that is a bullish indicator, imho, suggesting a more significant level of shares out short that eventually need to be 'covered' by being purchased.
ROG does not pay a dividend and the last stock split was in May, 200, when the company split 2:1.
How about 'technicals'? For this I turn to
the Point & Figure Chart on Stockcharts.com
. I have started to fairly exclusively rely on these "Point & Figure" style of charts which show buying pressure and upward price movement with columns of 'x's' and columns of 'o's' for descending prices. This graph looks like this: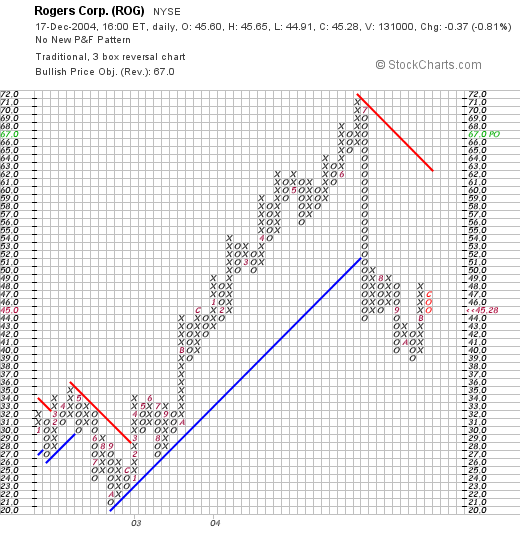 Here we can see what appears to be a very strong chart from October, 2002, when the stock was trading around $21 to a peak at about $71 in July, 2004. However, the stock really looks like it broke down after that and I am not convinced it has found an area of support where it appears to be moving higher. The chart looks discouraging to me.

So what do I think? Well, the latest quarter result leaves some things to be desired. Revenue DID jump strongly but earnings faltered and the company lowered expectations for the upcoming quarter. The Morningstar.com report looked nice, at least for the last several years, and valuation was reasonable. However, the chart leaves a bit to be desired imho.

This stock might turn out to be a fabulous investment. My thoughts are that it just doesn't fit into my criteria. That does not mean the stock might not rise from here and turn out to be a fabulous purchase. It just is that it doesn't fit into my target parameters. I hope you understand what I am saying! Also, I AM an amateur investor, so please consult with your professional investment advisors before making any decision one way or another. If you have any questions, you can post them on my blog, Stock Picks Bob's Advice, on my Xanga blog, or email me at bobsadviceforstocks@lycos.com .

Thanks so much for visiting, for participating in my blog, and for all of the kind words! Have a wonderful Sunday and a very happy Holiday Season!

Bob