A Reader Writes "Have you taken a look at CAT?"

Hello Friends! Thanks so much for stopping by and visiting my blog,
Stock Picks Bob's Advice
. As always, please remember that I am an amateur investor, so always consult with your professional investment advisors prior to making any investment decisions based on information on this website!
One of my "Xanga" friends, 'rise' wrote a comment/question the other day and I would like to use this opportunity to answer his comments.
Rise wrote: "
Bob, have you taken a look at CAT? They've had a great year and 2005 looks to be a good year for them too. Looks like a strong stock to me.
"

Well, first of all, I cannot predict the future! (Well that is sort of obvious) so I cannot tell you whether CAT will go up or down in price or be a good investment for you! That is up to your professional investment advisors. But let me see if it fits into the type of stock I like to review here on Stock Picks Bob's Advice.

First of all, Caterpillar, Inc. (CAT) closed at $91.12 today, up $.62 or 0.69% on the day. According to the
Yahoo "Profile"
, CAT "...operates in three principal lines of business. The Machinery segment designs, manufactures and markets construction, mining, agricultural and forestry machinery. The Engines segment designs, manufactures and markets engines for Caterpillar machinery and electric power generation systems; on-highway vehicles and locomotives; marine, petroleum, construction, industrial, agricultural and other applications, and related parts. The Financial Products segment consists primarily of Caterpilllar Financial Services Corporation, which provides financing alternatives for Caterpillar machinery; and engines...."
How about the latest quarter? Well, they ARE going to be reporting TOMORROW, so I will go to the latest one before that, which was the
3rd quarter 2004 results
which was posted in October, 2004.
For the quarter ended September 30, 2004, sales and revenues were $7.65 billion, up 38% from the $5.55 billion the prior year. "Profit" came in at $498 million or $1.41 per share, up 124% from the $222 million or $.62/share the prior year. This was a GREAT result!

How about "longer-term"? Looking at a Morningstar.com
"5-Yr Restated" financials
, we can see that revenue growth was fairly stagnant between 1999 and 2002, rising from $19.7 billion to $20.2 billion during that period. However, revenue growth did grow quickly since then with $28.1 billion reported in the trailing twelve months (TTM).
How about earnings? These also have been flat with $2.63 reported in 1999, increasing to $3.13 by 2003, and then growing quickly to $5.17/share in the trailing twelve months.
In addition, the company has been increasing its dividend every single year (!) from $1.25/share in 1999 to $1.52/share in the trailing twelve months.
Free cash flow, while erratic, has been positive, increasing from $19 million in 2001 to $593 million in 2002, but then decreasing slowly over the next two years to $216 million in the TTM.
The balance sheet is solid with $19.6 billion of cash and other current assets, balanced against $18.8 billion in current liabilities and $19.5 billion in long-term liabilities.

How about "valuation"? If we look at
"Key Statistics" on CAT
from Yahoo.com, we can see that this is a very LARGE cap stock with a market cap of $31.09 billion. The trailing p/e is reasonable at 17.05, and the forward p/e is also even nicer (fye 31-Dec-05) at 12.59. Thus, there is a PEG of 1.39 and a Price/Sales ratio of only 1.10. These parameters appear reasonable to me!
Yahoo reports 341.2 million shares outstanding with 341.2 milion of them that float. Of these 5.12 million shares are out short representing 1.50% of the float or 2.336 trading days of volume.
CAT does pay a dividend with a yield of 1.81%. The last stock split was a 2:1 split in July, 1997.
How about "technicals"? If we look at a
Caterpillar "Point & Figure" Chart from Stockcharts.com
: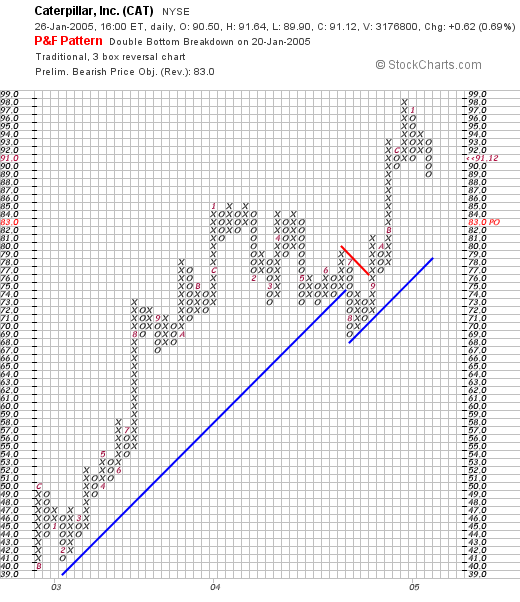 We can see a very strong graph from late in 2002 when the stock was trading around $41/share, to now, with one small exception, the appreciation in stock price was steady and uninterrupted. The chart looks nice to me!

So what do I think? Well 'rise', I agree with you for the most part. The latest quarter was GREAT, the Morningstar.com, however, does not show that steady growth but rather more of a cyclical growth the last month! Valuation is reasonable, the stock pays an increasing dividend, free cash and balance sheet are solid.

This particular stock does look nice to me. However, I would rather see a bit more consistent growth, and I prefer a little smaller stock to invest in....maybe that is just me, but it always seems like a fast-growing small cap stock will appreciate for a much longer period of time, than will this cyclical, large cap stock CAT.

Thanks again for stopping by. If you have any questions or commeents, please feel free to email me at bobsadviceforstocks@lycos.com .

Bob