January 27, 2005 Affymetrix (AFFX)
Hello Friends! Thanks so much for stopping by and visiting my blog,
Stock Picks Bob's Advice
. As I do over and over around here, I need to let you know that I am an amateur investor and you need to check with your professional investment advisors prior to making any investment decisions based on information on this website. If you have any questions or comments, please feel free to email me at bobsadviceforstocks@lycos.com.

As I posted earlier, I sold a portion of my Cooper (COO) stock at a nice gain, so it "entitled" me to purchase a new position. My strategy of portfolio management is simple. I plan on having up to 25 positions. When I sell a stock on bad news...either it hit a sale point on the downside, or something fundamental is announced that isn't very promising, I try very hard to "sit on my hands" and not replace that issue. On the other hand, if I sell a portion of a holding on a gain, I use that as an "internal market signal" from my portfolio, that is a signal that it is ok to add a position to my holdings (as long as I am under 25). On the downside, I plan to go down to just 6 positions which would be my minimum portfolio. Fortunately, I haven't tested that portion of my strategy yet!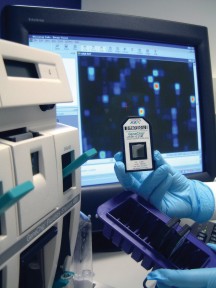 Once I knew I was back in the market for a stock purchase, I turned to the
list of top % gainers on the NASDAQ.
Affymetrix (AFFX) was on the list. Currently, as I write, it is trading at $40.62, up $4.29 or 11.81% on the day.
According to the
Yahoo "Profile" on Affymetrix
, the company "...is engaged in the development, manufacture, sale and service of systems for genetic analysis for use in the life sciences."
What drove the stock higher today was the
4th quarter earnings results
reported yesterday, 1/26/05, after the close of trading. Sales rose 21% to $107.7 million for the quarter up from $89.2 million the prior year. Quarterly income came in at $27.1 million or $.41/share, up from $16 million or $.26/share last year. However, 1st quarter guidance was for $.20/share on $90 million of revenue with full-year 2005 results of $1.12/share on $405 million in revenue. (The 2004 full year results just reported was $.74/share on $300.8 million). The street liked the whole announcement, and the stock moved higher!
How about longer-term? Looking at a
"5-Yr Restated" financials on Morningstar
, we can see the steady revenue growth from $109 million in 1999 to $327 million in the trailing twelve months.
Earnings, which were 'negative' in 1999 at $(.54)/share, turned positive at $.24/share in 2003 and $.60 in the trailing twelve months.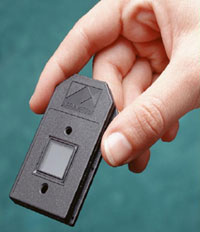 Free cash flow, which was a negative $(60) million in 2001, turned positive in 2002, and was a postive $28 million in the trailing twelve months (TTM).
The balance sheet also looks solid with $181.7 million in cash and $93.3 million in other current assets, plenty to cover both the $84.9 million in current liabilities and the $157.4 million in long-term liabilities.
How about "valuation"? Taking a look at
Yahoo "Key Statistics" on AFFX
, we can see that the market cap is a "large cap" level at $2.48 billion. The trailing p/e is rich at 55.43, the forward p/e is a bit better (fye 31-Dec-05) at 33.12. The PEG (5 yr expected) is moderate at 1.65, and the Price/Sales is also rich at 6.76. This stock is NOT selling at any bargain levels!
Yahoo reports 60.96 million shares outstanding with 60.70 million that float. Of these 11.58 million are out short (12/8/04)(!), representing 19.08% of the float or a short raio (12/8/04) of 15.953 days. We might be seeing a bit of a "squeeze" today with the announcement of fairly good results.
Yahoo reports no cash dividends for AFFX, and the last stock split was a 2:1 in August, 2000.
How about "technicals"? If we look at a
"Point & Figure" chart from Stockcharts.com
:
we can see that this stock was actually trading LOWER between April, 2002 and late July, 2002, when it dropped from $30.00/share to a low of $14.00/share. Since then, the stock has been forging ahead nicely to its current level of $40.69. The chart doesn't really look too "over-valued" imho.

So what do I think? Well the stock did make a nice move today, the earnings report, although apparently a little under 'street' expectations was solid, the guidance for the coming year was good as well. The short-selllers might just be scrambling to cover their shares....revenue has been growing nicely the last 5 years, the stock turned profitable and is growing its earnings, the free cash flow which WAS negative a couple of years ago has turned positive and the balance sheet looks solid. Valuation-wise, the stock does sell at a rich p/e and Price/sales although the 5-yr PEG isn't too bad being under 2.0.

Well, as you know, I liked it enough to buy some shares today! I hope it works out.

As always, if you have any questions, comments, or words of encouragement, please feel free to email me at bobsadviceforstocks@lycos.com.

Bob