February 2, 2005 Pacer Intl (PACR)
Hello Friends! Thanks so much for stopping by and visiting my blog,
Stock Picks Bob's Advice
. I know I probably don't need to remind you, but I am an amateur investor, so please consult with your professional investment advisors prior to making any investment decisions based on information on this website.

Looking through the
list of top % gainers on the NASDAQ
, I came across Pacer Intl (PACR). I do not own any shares nor do I have any options on this stock! PACR closed at $22.24, up $2.70 or 13.82% on the day. According to the
Yahoo "Profile" on PACR
, Pacer "...is a non-asset-based North American logistics provider. The Company provides its logistics services from two segments, wholesale services and retail services."

What drove the stock higher today, was the
4th quarter 2004 earnings report
which was released yesterday after the close of trading. For the quarter ended December 31, 2004, total revenue increased 16.3% to $530.8 million from $456.3 million last year. Net income increased to $17.0 million, from $11.4 million the prior year, a 49.1% increase. On a diluted earnings per share basis, this quarter PACR came in at $.44/share, up from $.30/share, a 46.7% increase. These were great results and the stock moved higher accordingly.
How about longer-term results? Taking a look at the
"5-Yr Restated" financials on Morningstar
, we can see that revenue has been steadily growing from $194 million in 1999 to the $440 million in the trailing twelve months. Earnings, which are only recorded since 2003, have increased from $.82 to $1.08 in the trailing twelve months.
Free cash flow has also been solidly positive with $7 million reported in 2001, increasing to $47 million in the trailing twelve months (TTM).
The Morningstar balance sheet looks adequate with no cash reported but $234.1 million in other current assets, as opposed to the $180 million in current liabilities and the $171.6 million in long-term debt.
How about "valuation" questions? Taking a look at
Yahoo "Key Statistics"
, we can see that this is a mid cap stock with a market capitalization of $829 million. The trailing p/e is reasonable (imho) at 18.05, with a forward p/e (fye 26-Dec-05) of 16.23. Thus, the PEG is nice at 1.11, and Price/sales even cheaper at 0.42.
Yahoo reports 37.28 million shares outstanding with 27.60 million of them that float. Of these, as of 1/10/05, there were only 673,000 shares out short representing 2.44% of the float or only 1.834 trading days of volume.
No cash dividend, and no stock dividends are reported on Yahoo.
What about "technicals"? Taking a look at a
Stockcharts.com Point & Figure chart on PACR
: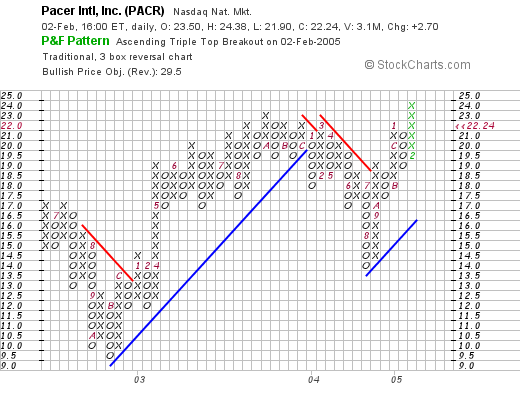 we can see that the stock bottomed late in 2002 at around $9.50, then climbed to $22.50, where it ran into resistance, broke down, and dropped to $13.50 in late August 2004. The stock has been moving higher since then to its current level around $22.24.

So what do I think? Well the stock just came out with a FABULOUS earnings report. The Morningstar five year record looks solid. We don't have much of an 'earnings' record however, although free cash flow looks nice, and the balance sheet is favorable. Valuation questions appear reasonable with a p/e that appears to be significantly lower than the current growth rate. In addition, the chart looks positive if not perfect, to me.

Well I guess in conclusion I like this stock and would consider purchasing some shares if I were in the market to do that! I am waiting on my Cantel which is close to a sell point now....maybe soon?

Thanks again for stopping by! Please remember that I am an amateur investor! If you have any questions or comments, please feel free to email me at bobsadviceforstocks@lycos.com.

Bob